Adult AD/HD Support Groups NE Meetings in February 2019

Hi Folks:
Some meetings in February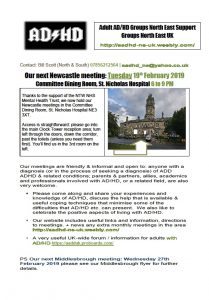 Newcastle: TUESDAY 19th February 2019 6 – 9pm Committee Dining Room, St. Nicholas Hospital NE3 3XT (3rd TUESDAY of the month)
Access is straightforward: go into the main Clock Tower reception, turn left down the corridor, 2nd room on the left (or it might be the 3rd).
Download the Newcastle flyer here.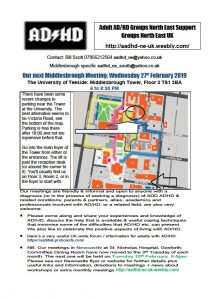 Middlesbrough: Wednesday 27th February 2019 6 – 8:30 pm Floor 3, room 2 Teeside University, Middlesbrough Tower (4th WEDNESDAY of the month)
Middlesbrough Tower is situated right in the heart of Middlesbrough. Take one of the lifts up to floor three, or use the stairs, and we are a few yards along the corridor on the left See the flyer for further details including parking which has recently changed. Victoria Road seems to be the nearest place, free after 6pm. We often gather in the foyer before we go up to floor 3 in case you find the room empty!
Download the Middlesbrough flyer here.
NB There may also  be a surprise meeting elsewhere in February, more details nearer the time!
best wishes
bill
bill scott
Adult AD/HD Support Groups NE
aadhd_ne@yahoo.co.uk
mobile / text: 07856212564
Website: http://aadhd-ne-uk.weebly.com