Adult AD/HD Support Groups NE Meetings in May 2019

South Shields: Tuesday 7th MAY (6-9pm)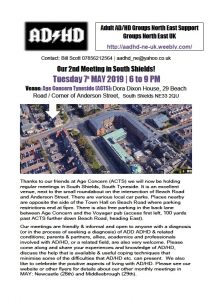 Venue: Age Concern (ACTS) Dora Dixon House, 29 Beach Road / corner of Anderson Street, South Shields NE33 2QU
Thank you again to Age Concern for their support, it really is an excellent place for us to meet.
Download South Shields flyer here.
Newcastle: Tuesday 28th MAY 2019 (6 – 9pm)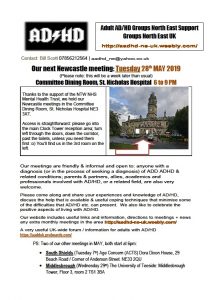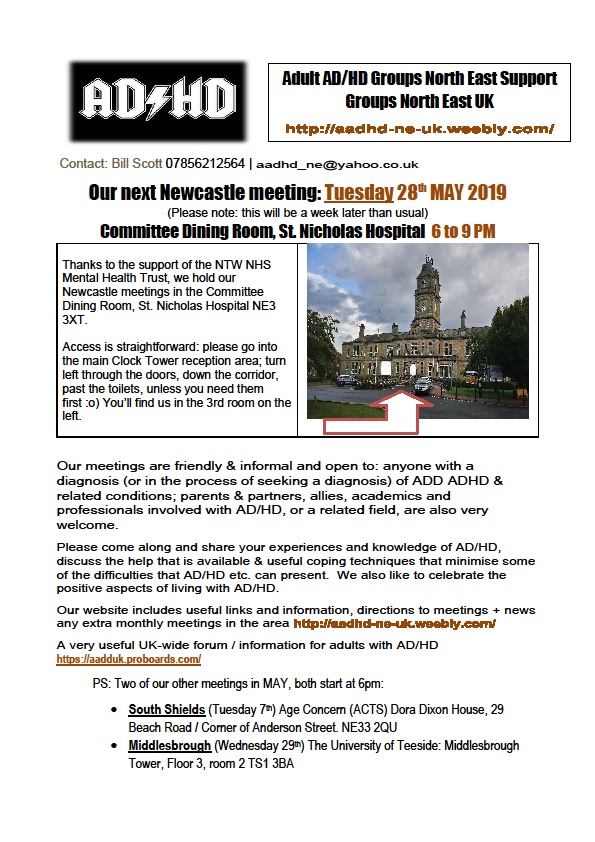 Venue: Committee Dining Room, St. Nicholas Hospital NE3 3XT
Access is straightforward: go into the main Clock Tower reception, turn left down the corridor, 2nd room on the left (or it might be the 3rd). Please see the flyer or website for further details. Because of conference commitments, this meeting is being held a week later than usual.
Download Newcastle flyer here.
Middlesbrough: Wednesday 29th MAY 2019 (6 – 8:30 pm)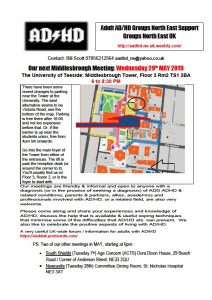 Floor 3, Room 2 Teeside University, Middlesbrough Tower TS1 3BA
Middlesbrough Tower is situated right in the heart of the hamlet of Middlesbrough. Take one of the lifts up to floor three, or use the stairs, and we are a few yards along the corridor on the left See the flyer or website for further details, including parking in the area, which has recently changed. Victoria Road seems to be the nearest place, free after 6pm. There is also the student carpark immediately opposite the old school at the top of Victoria Road which magically opens its barriers to give free parking after 4. If the barrier is up, we're in! We often gather in the foyer before we go up to floor 3 in case you find the room empty!
Download Middlesbrough flyer here.
We look forward to seeing you all in South Shields, Newcastle and Middlesbrough!
Beltane greetings
bill
bill scott
Adult AD/HD Support Groups NE
aadhd_ne@yahoo.co.uk
mobile / text: 07856212564
Website: http://aadhd-ne-uk.weebly.com