An Update from Time to Change – 8 August 2019

Opening up conversations about mental health can help end the shame and isolation felt by many of us with mental health problems.
That's why we're excited to share the launch of XY podcast, a new show all about men's mental health. Read on to discover the first episode with writer and presenter Jim Chapman.
In this newsletter you can also find out what being a Time to Change Champion means. If you have experience of a mental health problem and want to become more involved in helping end stigma and discrimination, read on.
---
Listen to XY podcast
"Solutions aren't always the most helpful thing. Sometimes the person you're talking to just needs to listen.
In the first episode of XY podcast, Jim Chapman talks about everything from his career and upbringing to his mental health journey.
---
I kept quiet because I feared the reaction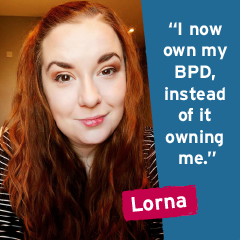 "I had been actively hiding my disorder for years, for one reason; fear of the stigma attached."
Lorna talks about how becoming a Young Champion inspired her to speak out and 'own' her borderline personality disorder diagnosis.
---
What is a Champion?
Time to Change Champions use their experience of mental health problems to change the way we all think and act about mental health. From having conversations to running events, how much you do is completely up to you.