An Update from Time to Change – 8 October 2019

This World Mental Health Day (10 October), we're encouraging everyone to Ask Twice.
When we hear "How are you?", the expected response is "Fine, thanks".
But the truth is, sometimes we say we're fine when we're not. By asking twice, you can find out how your friends, family and colleagues really are.
In this newsletter you can also read about all the progress we've made in changing attitudes towards mental health since 2007, plus have your chance to help shape the future of mental health care.
---
Ask Twice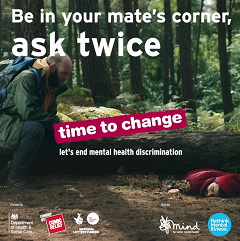 Sometimes we say we're fine when we're not. Asking 'how are you?' twice shows that you care and want to hear an honest answer. If a friend, family member or colleague is acting differently, ask twice to find out how they really are.
---
Our impact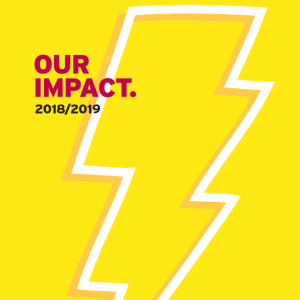 In our new Impact Report, we celebrate the amazing work of our social movement and our progress in changing the way everyone thinks and acts about mental health. With your help, we've improved 5.4 million attitudes towards mental health since 2007.
---
Help shape the future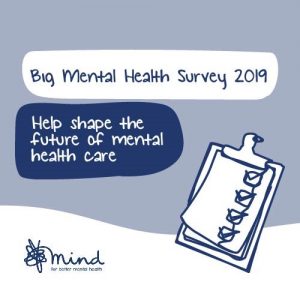 If you have experience of a mental health problem, you can share your experiences of getting support in Mind's Big Mental Health Survey. Whether you got support through a GP, nurse or voluntary organisation – or if you've tried to access services but haven't been able to – they want to know.
---
I was told to 'man up'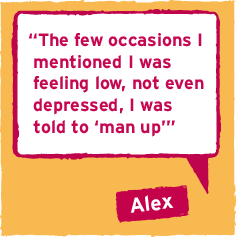 "From the age of 15 I knew I needed help, but I just lied to myself and tried to just make it through a day at a time."
Alex shares how negative reactions made him hide his mental health problems and how he's now encouraging others to open up.
---
Download resources
From posters to bunting, you can download all the resources you need from our website.
---

Stigma-free Halloween
Halloween can be a tricky time – read our eight tips for a fun, stigma-free Halloween.
---

Challenging stigma
If you've noticed stigmatising products or media coverage, here's how to challenge it.