Art and Liberation Newsletter – 30 November 2018

THE NEW PROGRAMME IS OUT ! CLICK HERE
We have the delight in sharing this review of our last Exhibition 'Art & Liberation' by Esther Beadle
"Art and Liberation is not a hardy indulgent whirlpool of our darkest times, but instead the unexpected dancing spectrum of living as an honest human."
Click here to be redirected to our website for a better reading
We are incredibly thankful to the over 101 artists involved in the Art & Liberation exhibition. We would like to thank the Holy Biscuit Gallery for their contribution in making this happen. Thank you from Chilli Studios, Heads & Tales and our amazing Volunteers for one of the most exciting exhibitions we have ever had.
The Art & Liberation exhibition has been a significant moment in our project's life to celebrate the art of those directly & indirectly affected by mental health conditions. Our aim is to raise awareness about the talent of each artist with mental health conditions and the powerful contribution art has in empowering & healing those affected.
We still feel over the moon for the overwhelming and warm participation with more than 250 people attending the exhibition!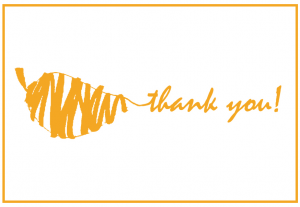 Few memorable moments from the exhibition launch event with the Chilli Choir & our Poets and Musicians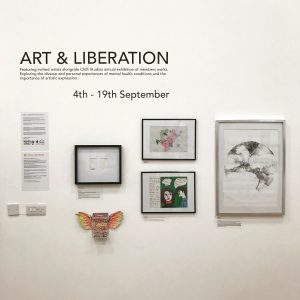 Chilli Choir & Chilli Music Programme
It was the first public performance of the newly formed Chilli Studios Choir so much talent
Music Fun & Entertainment by Danny and the Gang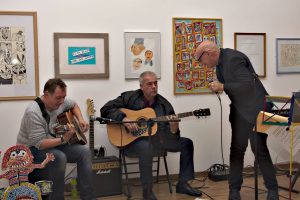 Art & Liberation: enriching the Heads & Tales Archive
As part of the Heads & Tales Mental Health Heritage project funded by Heritage Lottery Fund, we are aiming at delivering a new digital sustainable archive that will represent the history of Mental Health in the North East from people's perspective.
Below you can find some of the artworks & their stories that have been generously donated to enrich our new archive for the Mental Health community in the North East.
JAKE FRANCIS 'Recumbent Lady'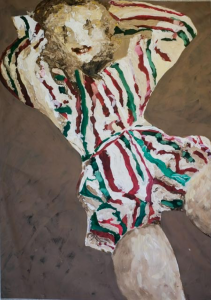 'Recumbent Lady', I instantly liked the original image. A photograph by David Bailey. I purposely altered legs and the face. It was just a slapdash technique I used. Now it's one of my favourite paintings.
Other people seem to find her ugly or scary, difficult on the eye, but to me, she is my version of life. Since discovering art it has provided me with a sort of diversion from the reality of life. I now have a different outlook on life. I see and notice things in a different way. For me making art sometimes brings a sort of mindfulness. Art allows me the freedom to do and be for myself. Art also gives me an outlet for creative expression that is safe, (I don't need to pull quite so many things apart).
Tony Brydon
 "My Heroes"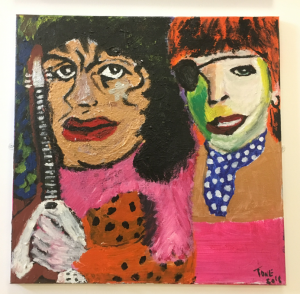 The process of making art helps my mental health. I feel free when I paint, I love it. I forget about everything else. I love Chilli Studios, it's made me more confident. It's made me more sociable because I have to leave the house and interact with people at the studio.
These paintings are of my heroes. They have greatly influenced and changed the barriers of music.
In terms of process, I take images from the Internet, blow them up, then add details from memory. I have a style of building up layers. I used to be a painter and decorator years ago. When I built the layers it becomes 3D, the more layers you build. It always changes and that's what I like. If I make a mistake, I just go over it. Layer up paint so it comes out of the page like 3D. Embossed. Layering up if the colours aren't vibrant enough. I want to challenge people. I don't want the paintings to look too much like the people, so they question who it is. It gets people thinking. I haven't studied art so I have to work things out for myself. You'll hear people say, 'You have to do things this way', but I couldn't be having that. I've got my own style.
KATHRYN WATSON "My Illustrated Mind series"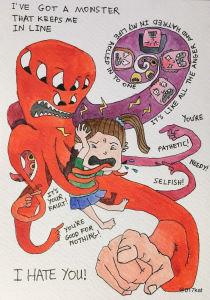 Art is helping to liberate me from the shackles that my life experiences have had on me. By this I mean, allowing me to communicate thoughts and emotions in a new way, to achieve a greater depth of understanding in others and help make myself feel heard. Also, because I depict my little self, small as she is, being tortured by the 'monsters' in my head, it has helped me gain a new perspective on my issues. It helps me see these 'monsters' or 'voices' as external from me, not part of me, internalised as they were. This is an essential step needed in the journey to challenge them. It has also helped me develop a sense of self-compassion, which I struggled with a lot. In the images, I see myself more objectively, in such pain, but also doing so well in others. I strongly believe that through arts there is a great potential to communicate with each other and ourselves, which we in the healthcare world have yet to fully appreciate.
I am a doctor with borderline personality disorder, depression and anxiety. I have been illustrating my experiences of my mental health problems and my journey through therapy. I have found this both an enlightening experience for myself and a useful aid to improve people's understanding of these conditions. I have received a wealth of positive feedback on social media from peers, those that have loved ones who suffer mental ill health, from health care professionals and people within the graphic medicine community.