Bottles & Jars Upcycling Workshop – 23 May 2019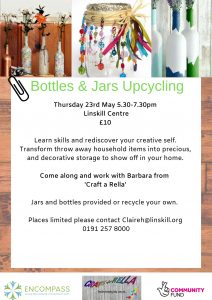 Good morning,
Please find information for an upcycling workshop in partnership with 'Craft a Rella'
This workshop is guaranteed to get those creative juices flowing and give you lots of ideas on how to upcycle your throw away household objects.
Places are limited so please let me know if you would like a space.
Download poster here.
Kind Regards,
Claire
Claire Howard
Community Development Worker (Adult Provision), Linskill and North Tyneside Community Development Trust, Linskill Centre, Linskill Terrace, North Shields, Tyne and Wear, NE30 2AY
T: 0191 257 8000
(Working days – Monday-Thursday.)
https://www.facebook.com/LinskillEngage/
www.twitter.com/LinskillCentre
Charity No: 1119143
Company No: 04827255