Easter Sugar Craft Workshop – 21 March 2019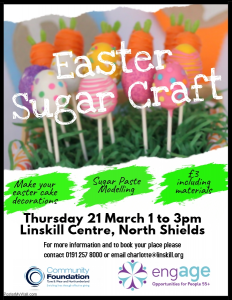 Good afternoon all,
As Easter is just around the corner, sort of, we are hosting an Easter themed Sugar Craft workshop – we had one last year focussing on Christmas cake toppings and now it's time for the bunnies and chicks to make an appearance.
If you fancy coming along please head to reception and book on – there are a limited number of places and the cost is £3.  You are also very welcome to ring up and pay over the phone if that is a better plan.
Download the poster here.
Thanks for having a read through,
Charly Mulvaney
Older engagement worker
Linskill and North Tyneside Community Development Trust, Linskill Centre, Linskill Terrace, North Shields, Tyne and Wear, NE30 2AY
Monday to Thursday 10-3pm
https://www.facebook.com/LinskillEngage/
Charity No: 1119143
Company No: 04827255