engAGE Film Club – 6 March 2019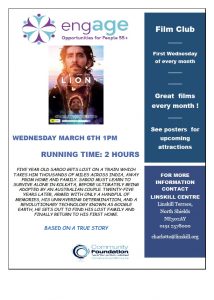 Good Morning,
Just a little hello and to say that we are looking forward to seeing you for the March Film showing on Wednesday 6th of March, starts at 1pm.  We are showing LION which is based on a true story…
In LION, five-year-old Saroo gets lost on a train travelling away from his home and family. Frightened and bewildered, he ends up thousands of miles away, in chaotic Kolkata. Somehow he survives living on the streets, escaping all sorts of terrors and close calls in the process, before ending up in an orphanage that is itself not exactly a safe haven. Eventually Saroo is adopted by an Australian couple, and finds love and security as he grows up in Hobart. Not wanting to hurt his adoptive parents feelings, he suppresses his past, his emotional need for reunification, and his hope of ever finding his lost mother and brother. But a chance meeting with some fellow Indians reawakens his buried yearning. With just a small store of memories and his unwavering determination, Saroo embarks on one of the greatest needle-in-a-haystack quests of modern times.
Download poster here.
Looking forward to hearing from you,
Charly Mulvaney
Older engagement worker
Linskill and North Tyneside Community Development Trust, Linskill Centre, Linskill Terrace, North Shields, Tyne and Wear, NE30 2AY
Monday to Thursday 10-3pm
https://www.facebook.com/LinskillEngage/
Charity No: 1119143
Company No: 04827255