"Finding Away", Mental health theatre written by Laura Lindow & Chilli Studios – 30 March 2019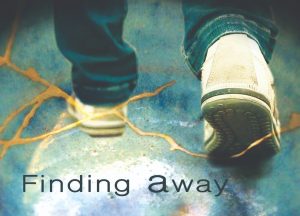 Chilli Studios are delighted to invite you to a unique and thoughtful performance of Finding Away. Please let us know if you can make the date or you can book tickets below.
Click here to REGISTER YOUR TICKETS!
"This vibrant, lyrical tale celebrates those who find the beauty in the breakage."
Finding Away
Saturday 30th March @ Blackfriars Hall, Newcastle, NE1 2TQ 
5pm Performance start. 4pm – 8pm bar & venue open        
Suggested Donation £6 or Pay as you feel
Written by Laura Lindow in collaboration with Chilli Studios, a Mental Health charity based in Byker. Celebrating the creative process, this performance piece has been developed from the rich ideas and inspiration generated in community drama and writing sessions.
Performed by Chilli Studio members alongside Paula Penman, Zoe Lambert and Ziad Jabero, and directed by Steve Byron.
"Somewhere. Somewhere between the darling arches and the grey motorway, high up amongst the roofs, nestles a place. A food place. A food and drink place. A food and drink and 'how you doing?' place. Where on this particular rain-soaked Newcastle day a quizzical few find their way. To discover their losses, to query their misgivings, to loosen their shadows, to dance if it takes them, and to share their buttery toast.
Broccoli-Beaks the bird beats time, and the tender stones of the building whistle and whine as the very bones of this place sing along in harmony, smashing life's smog to smithereens. Because where there's tea… there is hope."  
Joanne Burke
Art Coordinator & Worker
Chilli Studios | Newbridge Street |  Newcastle Upon Tyne |  NE1 2TQ
0191 209 4058 chillistudios.co.uk
CREATIVELY IMPROVING MENTAL HEALTH 

Follow us on: * Facebook    * Twitter   * Instagram    * YouTube    * Vimeo