Heads & Tales Mental Health Conference & Exhibition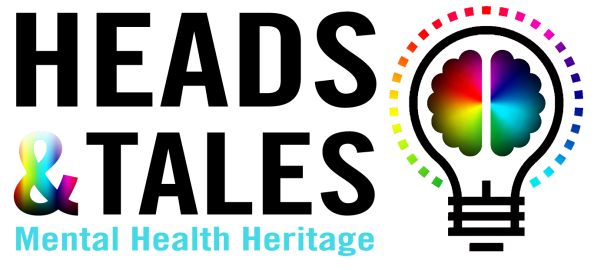 The Heads and Tales up coming events
A few very exciting events are coming up soon and we would like to invite you to join us in exploring together further aspects of Mental Health in the North East with our "Creative Legacies Conference" @ Blackfriars Hall (Speakers announced below from across sectors from art, health, politics, emergency services and activism! Timetable also attached).
Also please pop in to view, be inspired and enlightened by a diverse selection of artworks at our Heads & Tales exhibition @ Vane Gallery. There is also an Artist Talk by Dr Kathryn Watson who will be discussing her illustrated artworks in relation to her own personal story with mental ill health. The talk will be followed by a spoken Word night in collaboration with Born Lippy & Nicky Mills. 
 
Contents of email below:
Creative Legacies: Heritage & Mental Health Conference.
@Blackfriars Hall June 29th, Sat 1-6pm 
Heads & Tales Exhibition @Vane Gallery July 4th – 13th (Preview Wed 3rd 5-8pm)
"My Illustrated Mind" Artist Talk & Spoken Word night with Born Lippy
@Vane Gallery July 9th, Tuesday 6pm – 8pm (Booking essential)
"This will be a barbaric yawp – always passionate, always creative, sometimes chaotic too – that will be sounded loud, proud, and diverse across the rooftops of the North East and beyond"  Claire Mathews, Heads & Tales Steering group
The Mental Health Heritage project HEADS & TALES  is supported and funded by the Heritage Fund UK and through the great contribution of National lottery players.
---
COMING UP SOON! 
Creative Legacies: Heritage & Mental Health Conference
June 29th, Saturday 1pm – 6pm @Blackfriars Hall, Newbridge St, Newcastle, NE1 2TQ  £3-£6
"How can we create a legacy of equality, empathy and empowerment for mental health in the North East?"
Speakers from across sectors from the arts, health care, museums & emergency services will be discussing, exploring and challenging the role of heritage collections, peer-led initiatives and representation of people with mental health conditions. The event will be full of discussion and talks exploring and unveiling issues and opportunities to improve experiences and services for those directly or indirectly facing mental ill health in a challenging political climate.
The Heads & Tales conference is open to the public from those working in the arts, heritage and mental health to carers, people with lived experience of mental health conditions or just anyone who is interested in learning more about the work at Chilli Studios and the themes of the event. It will be an opportunity to explore and discuss Mental Health in a time of political uncertainty and public opportunities in the field.
CONFERENCE TIMETABLE ATTACHED TO THIS EMAIL!
Contact for details 0191 209 4058 or  jo@chillistudios.co.uk or book tickets below!
 CLICK HERE TO BOOK CONFERENCE TICKETS £6/£3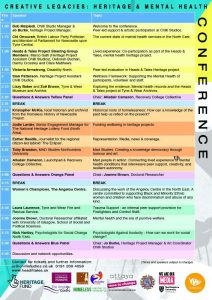 ---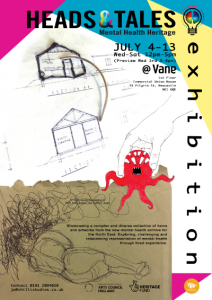 EXHIBITION
Heads & Tales Exhibition @Vane Gallery 
July 4th – 13th, Gallery open Wed-Sat 12pm-5pm (Preview Wed 3rd 5pm-8pm)
@Vane Gallery, Commercial Union House, 39 Pilgrim St., Newcastle NE1 6QE
As part of the final celebrational programme for the "Heads & Tales" mental health heritage project this exhibition will showcase works to celebrate the diverse and individual experiences of mental health conditions and the benefits of artistic expression. The show features over 50 invited artists alongside Heads & Tales project's participants and volunteers. The work on show includes a wide range of mediums from paintings, sculptures, moving image, audio, performances, sketchbooks and a few guest archive items from the Tyne & Wear Archives & Museums.
"I wanted a way to communicate the pain and stress of our current welfare system, both so people can learn (and hopefully empathise) with this dehumanising process, and to provide solidarity and representation to others who have a similar lived experience" Bel Pye, Artist.
"it's all part of our long-term reclaiming the languages of lunacy – refusing to be silenced, rewriting narratives, laughing at top-down narratives – reclaiming human rights" Gobscure, Artist. 
Possible Triggering Content Warning: Exhibition explores multiple aspects of Mental Health including Trauma, clinical, personal and political aspects. It is advised for children to be accompanied by an adult.
RESERVE FREE EXHIBITION TICKETS!
---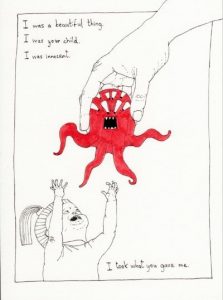 "My illustrated Mind"
Artist Talk, Spoken Word & Performance Night with Born Lippy
July 9th, Tuesday 6pm – 8pm (Booking essential)
@Vane Gallery, Commercial Union House, 1st Floor, 39 Pilgrim St., Newcastle NE1 6QE
Kathryn Watson, a medical doctor, began illustrating her experiences of mental illness in her works entitled my illustrated mind, after being diagnosed with depression, anxiety and borderline personality disorder (BPD), also known as emotionally unstable personality disorder (EUPD).
This collection describes a parallel world that centres around her inner vulnerable child. Surrounding her are various monsters, each representing a distinct and separate emotional state. Over time, the relationship between little self and each monster changes and evolves, as is simultaneously mirrored in her own life. Her aim with these works is to improve understanding, challenge stigma and change perceptions of these conditions. In addition to sharing work online (Instagram @myillustratedmind, Twitter @017kat), she has exhibited and spoken at several events, with more dates in the UK upcoming. Previous events include Art and Liberation by the Heads and Tales Heritage Project, In The Mind at Free Space Project, PsychArt18 and The Royal Academy of Arts.
This event will be followed by a Spoken Word & Performance night with BORN LIPPY! Organised and supported by Nicky Mills & Chilli Studios. Booking essential.
Possible Triggering Content Warning: Exhibition explores multiple aspects of Mental Health including trauma, Childhood trauma, abuse, self-harm, clinical, personal and political aspects.
BOOK FREE ARTIST TALK & SPOKEN WORD TICKETS
---
Heads & Tales is a two-year project led and shaped by participants to explore, rebalance, and celebrate the voice of people experiencing mental health conditions. We're aiming to develop a new archive with diverse perspectives of mental health featuring creative and new material, narratives and stories alongside reflections of contemporary and historic items from local museums and archives.
We have designed a programme that is based on equality, support and cohesion. Please see our full list of events and activity http://www.headntales.uk/programme
We would like to thank the broad participation and collaboration of our partners and we are grateful for the constant support received by our volunteers.
To support our project, you can visit our website at http://www.headntales.uk 
---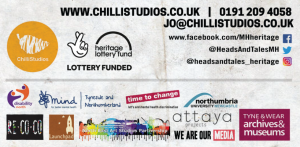 Joanne Burke
Art Coordinator & Worker
Chilli Studios | Newbridge Street |  Newcastle Upon Tyne |  NE1 2TQ
jo@chillistudios.co.uk 0191 209 4058 chillistudios.co.uk
CREATIVELY IMPROVING MENTAL HEALTH
Follow us on: * Facebook    * Twitter    * Instagram    * Youtube    * Vimeo    * Soundcloud
"Heads & Tales" Mental Health Heritage project proudly supported by Heritage Lottery fund.