Heads & Tales Newsletter – March 2019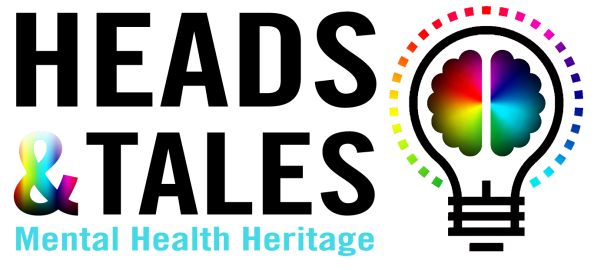 The Mental Health Heritage project Head & Tales aims to create a new sustainable archive for the North East, led and shaped by participants, volunteers and staff directly & indirectly affected by mental health conditions.
---
Welcome to our Newsletter for our Mental Health Heritage project Heads & Tales, proudly supported by Heritage Fund.
We launched into the second year of the project from January and we have been overwhelmed and delighted by the response. We are thrilled to get closer to the release of the first Mental Health Heritage Digital Archive in the North East.
We would like to send our thanks to a number of organisations and people. We would have never been able to achieve the present successes without the collaboration and constant guide of the Tyne and Wear Archives and Museums Team, our Artists, Staff, Volunteers, supporters and especially our Participants. It is thanks to all of you that our project will blossom into the new online resources that aim to rebalance representation on mental health. This project has been shaped and created by those directly and indirectly affected by Mental Health – by rebalancing and reflecting on the past; gifting a snapshot of the present; and as a legacy for future generations.
Contents of the email below: 
The conclusion of the Research Archive Session at Discovery Museum
Pic of the Week: the Curatorial Challenge, Is it George Elliot?
Conference & Exhibition Dates & Locations;
Do you want to acquire new skills? Become a Volunteer!
Some Statistics
Where to find us in the upcoming weeks


---
The Research Archive workshops at Discovery Museum have shaped our knowledge and given further context about the Heritage of Mental Health in the North East
Thanks to the incredible TWAM Staff, Zoe & Zoe, Suzanne, their volunteers and internships, we have experienced a fantastic journey into exploring the archives held at the Discovery Museum. This amazing public resource can be accessed through their reading rooms at the Discovery Museum. The supported sessions with the Tyne and Wear Archives team have expanded our research into the changing sphere of Mental Health Hospitals, centres, policies, laws and cultural perspectives through time. This research will be celebrated and combined with critical discussion to be released as part of the brand new Heads & Tales archive from people's perspectives. We are thankful for every effort, inspiring conversations and enduring determination that the TWAM Staff have made in providing essential materials and documents relevant to our project and for our participants.
"I've never really seen the archives as something for us, to do with us, to do with our history but also going forward from here, for the future! I'll definitely come back".
Debbie, Project participant & Steering Group Member
"The most interesting part of the project was the way history became humanised by reading the historical records seeing the handwriting of the people (from mental health hospitals)".
Danny Crossley, Project participant & Steering Group Member
---
Pic of the Week
A research challenge: Who is George Elliot?
The printed item "George Elliot Emperor of the World" was found during one of our archive session at Tyne and Wear Archives at Discovery Museum and is accompanied here by an artistic reinterpretation by one of our participants. We were enthusiastic at the sight of such work which has risen many questions about it's author & origins:
Is George Elliot the name of the artist? or someone with a satirical mind illustrating a well-known character of the North East in the late 1800s? Help Us!
The renown George Elliots of the 19th century:
1. George Elliot was an established businessman and mine's owner from Gateshead, then became a Conservative Party Member of the Parliament for North Durham in the mid 19th century. 
2. Nevertheless, George Elliot was also the pen name chosen by Mary Ann Evans, a Victorian writer who adopted a male pen name so that her works were taken seriously, in response to an 1856 essay she wrote for the Westminster Review "Silly Novels by Lady Novelists". We are intrigued by such mistery and would appreciate your opinion before making any accreditation, but similarities caught our attention.
Follow our #picoftheweek campaign on Instagram with more exciting contents from our participants.
Copyright Image (left): Tyne and Wear Archives DX410/8 Caricature of George Elliot entitled 'The Pit Boy's Triumph'. Time n.d.
Copyright Image (right): CC BY-NC-ND 4.0 Attributed to "Chilli Studios Ltd". 
---
DATES TO REMEMBER!
Celebrate the organisations, individuals, and graft that collectively created the Mental Health Heritage project Heads & Tales.
Conference Sat June 29th 1-6pm @ Blackfriars Hall, Byker
Join us with speakers from across the Mental Health and Heritage sector to welcome discussions about the experience and creation of the new Mental Health Archive for the North East and the legacy we wish to create together.
Heads & Tales Exhibition 3-13th July @ Vane gallery
At the beginning of July, the Heads & Tales project will showcase a complex and diverse collection of items from our new archive, alongside both local and national artists to explore the correlation between Art & Mental Health. It will also exhibit the talented works of our project's participants and volunteers in reinterpreting archival materials: sketchbooks, poetry, creative writing, collages and more.
Tickets will be soon available.
---
Fancy Volunteering with us? Join our Team!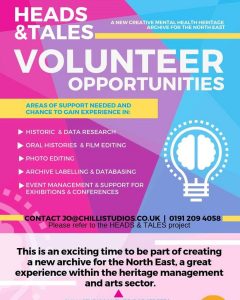 Did you know that the Heads & Tales project has plenty of volunteering possibilities that can help you in acquiring & developing skills in the heritage management & art sector?
Did you know that you would also contribute to raising awareness about a social issue of underrepresentation in archives?
Join us as a Research &/or Digital Volunteer as we are approaching the most crucial moment of this project in delivering the first Mental Health Digital Archive in the North East!!
Please share to anyone and don't hesitate to contact us for more details and information or visit our website.
---
Below you can see some Statistics about our Project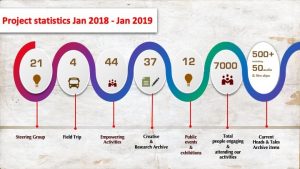 Steering Group: Meetings led by our participants to steer the project;
Field Trips: Wakefield Museum; Yorkshire Sculpture Park; Bethlem Museum; Bobby Baker's House;
Empowering Activities: Training, building  Confidence & Up-skilling Participants;
Creative & Research Archive: Looking back at 1800s – 1950s and artistically reinterpreting archival material;
Public Events & Exhibitions: Art & Liberation Exhibition; Women's Day at Byker Centre; History for Change Conference; Mental Health Panel at Discovery Museum.


---
Where to find us in the upcoming weeks
22nd March: Culture, Health & Wellbeing Conference at Hancock Museum
30th March: Finding Away, Theatrical Performance at Blackfriars Hall
5th April: "Presence" Social Media and #Tagging training day at Chilli Studios
Follow us on Instagram, Twitter & Facebook for more updates.

---