Healthwatch Newcastle Newsletter – 17 April 2019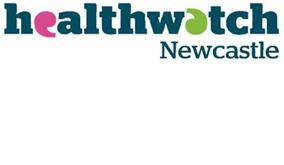 Help us choose our priorities for 2019—20
Every year we ask for your help in choosing our priorities from a list of health and social care topics. The list for this year is:
Children and young people's mental health (Newcastle and Gateshead)
Diabetes
GPs
Home care
Mental health
Special educational needs (SEND)
Following a public consultation, our Committee will make a decision on what areas we will focus on during 2019—20.
Find out more and help us decide (by 24 April) at www.surveymonkey.co.uk/r/HWNpriorities
---
Help shape the NHS long term plan — event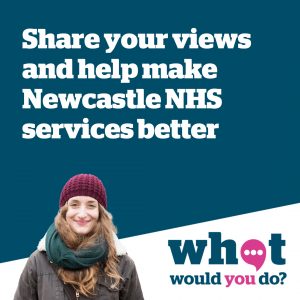 Tuesday 30 April, 1pm to 4.15pm, at Brunswick Methodist Church, Newcastle, NE1 7BJ
The government is investing an extra £20bn a year as part of the NHS long term plan, which sets out what the NHS wants to do better over the next ten years.
What can be done to improve support for people with cancer, mental health conditions, heart and lung diseases, learning disabilities, autism, and long-term conditions, such as diabetes and arthritis? The plan also looks at support for people as they get older and experience conditions such as dementia.
Your views can help the NHS in Newcastle get these changes right. Join us at our event to have your say. Refreshments will be provided.
Book your place (by Tuesday 23 April) at https://nhstenyear-newcastle.eventbrite.co.uk or call Freephone 0808 178 9282.
If you can't make this Healthwatch event you can still share your views:
What would you do to give people more control of their care? Take the survey at www.healthwatch.co.uk/what-would-you-do-general
What would you do to provide better support for health conditions the NHS has made a national priority? Take the survey at www.healthwatch.co.uk/tell-us-what-would-you-do
(Survey deadlines are Tuesday 30 April.)
---
Spotlight on health at home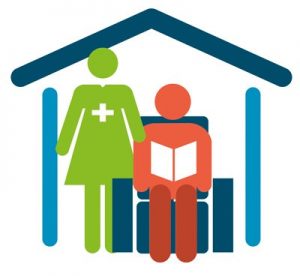 How easy is it for housebound people to use their GP practice, dentist, optician or pharmacy?
One of our priorities last year was to find out how easy it is for people who are housebound to use these services. Seventy-seven people completed our survey and our main findings were:
People who had received home visits from a GP, dentist or optician were generally very happy with the service they receive. People highlighted good quality of care and good staff manner and often felt that the visits met their needs.
People were very satisfied with the Repeat Prescription Delivery Service provided by pharmacies.
People would like it to be easier to get home visits or to start getting them.
People often mentioned that they tried to get to the services if a family or friend with transport were able to help them, even if they considered themselves housebound.
We also completed 56 mystery shopping phone calls to a number of GP practices, dental practices, opticians and pharmacies to find out how easy it is to get information about home visits (GPs, dentists or opticians) or the Repeat Prescription Delivery Service (pharmacies only). We found that:
Those services that provide home visits often give very good information about how to arrange home visits.
Dentists or opticians who do not provide home visits sometimes struggled to refer the mystery shopper to a dentist or optician who does.
Most pharmacies gave a comprehensive description of the Repeat Prescription Delivery Service and how to set it up.
Read the report summarising our findings and recommendations at www.healthwatchnewcastle.org.uk/about-us/reports
---
'Bipolar Mummy'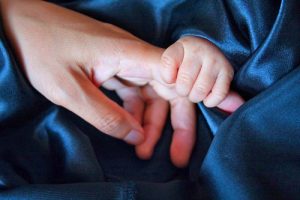 Next week's guest on our 'Health matters' radio show on Spice FM is Jodi Skillen, who is writing a book called 'Bipolar Mummy'.
Jodi is a full-time chiropractor as well as having bipolar disorder herself. She wants to help others who are bipolar, as well as inform people who have misconceived ideas about this mental health condition.
Join us next on Tuesday 23 April from 12 noon to 2pm on 98.8 FM or listen online at www.spicefm.co.uk
You can call us during the show if you have any questions or comments on 0191 273 9888 or via WhatsApp on 07881 988 988.
Catch up with previous shows at www.mixcloud.com/steph-edusei
---
Other news and events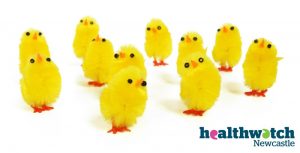 Stay well this Easter
Holiday periods can bring bugs and illnesses, including coughs and colds, sickness and upset stomachs. Although these are unpleasant, they usually clear up within a few days to a week and there's no need to visit your GP.
You can get quick, expert advice from your local pharmacist, who can tell you the best medicines or treatment to use. Many urgent care and walk-in centres will also be open.
If your child is poorly with a cold, sore throat or poorly tummy, use the downloadable NHS child health app to check their symptoms and the best treatment. Search for 'NHS child health' on Google Play or Apple's App Store to download.
Find out which services are open and are local to you at www.urgentoremergency.co.uk
NHS BAME recruitment drop-in event
Saturday 27 April, 10am to 3pm, at RVI, Newcastle upon Tyne
The North East Ambulance Service NHS Foundation Trust and the wider NHS are holding a recruitment event to attract people from Black, Asian and Minority Ethnic communities to work for them, and a campaign to join the Board.
At the drop-in there is the opportunity to speak to staff, view vacancies and there will be workshops on completing application forms and interview skills preparation.
Find out more about recruitment at http://tinyurl.com/y4wfj5w6
Safe Surgeries in Newcastle
HAREF has been working closely with Doctors of the World (DOTW) UK to establish the Safe Surgeries initiative in Newcastle. Launched in May 2018, Safe Surgeries are GP practices that commit to taking steps to tackle the barriers faced by many migrants in accessing healthcare. At a minimum, this means declaring themselves a 'Safe Surgery' for everyone and ensuring that lack of ID or proof of address, immigration status or language are not obstacles to patient registration.
Three local practices have become a Safe Surgery and are promoting inclusive registration for all: Second Street Surgery, Cruddas Park Surgery and West Road Medical Centre.
 
The Safe Surgeries toolkit lays out seven steps for practices to help ensure that everyone in their community can access the healthcare they're entitled to.
Read the toolkit information at http://tinyurl.com/y42bebzl
 
For more information about Safe Surgeries contact Ella Johnson on ejohnson@doctorsoftheworld.org.uk or 0207 167 5789.