Healthwatch Newcastle Newsletter – 21 November 2018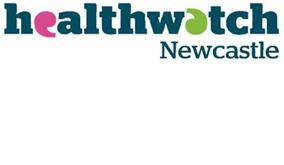 Committee meeting — in public
Wednesday 19 December, 10am to 12 noon, at Commercial Union House, Pilgrim Street, Newcastle
This meeting is held in public, where there will be an opportunity to ask questions about the agenda.
Please contact us in advance if you wish to attend. Also let us know if you have any special requirements, including paper copies of Committee papers (we cannot guarantee that papers will be available on the day).
You can view papers for Committee meetings at https://tinyurl.com/HWN-committee-meetings
---
Farewell Steve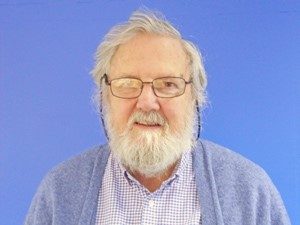 We are sad to say goodbye to Steve, one of our Healthwatch Champions who has volunteered with us for the past four years.
Steve helped in the planning of some of our work priorities, including our recent project on screening programmes in Newcastle. Steve also assisted in the design of some of our surveys, and in designing and planning focus groups. He has also used his editorial skills to proof read some surveys and reports, and we are pleased that he will continue to help us with this in the future.
We have really enjoyed having Steve as a Healthwatch Champion and would like to thank him for all his hard work over the years.
If you would like to learn more about what our Healthwatch Champions do please feel free to get in touch on 0808 178 9282 or melanie@healthwatchnewcastle.org.uk
---
Mental health — survey for the LGBT community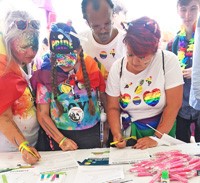 In partnership with Healthwatch Gateshead, mental health is one of our work priorities for 2018—19.
As part of this, we are interested to hear about the LGBT community's experience of local mental health services and their thoughts about how services can be improved.
The survey results will contribute to a Healthwatch report, which in turn will feed into the review of local mental health services currently underway.
All information will be treated confidentially and will remain anonymous and unidentifiable.
Please complete the short survey by Friday 30 November at www.surveymonkey.co.uk/r/HWmentalhealth
---
Tune in to 'Health matters'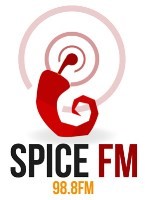 Tune in to our next radio show to hear us discuss brain injury care and employability training with Kelly Oliver Dougall from Cygnet North East.
You can call us during the show if you have any questions or comments on 0191 273 9888 or via WhatsApp on 07881 988 988.
Join us next on Tuesday 27 November on 98.8 FM or listen online at www.spicefm.co.uk
Catch up with previous shows at www.mixcloud.com/steph-edusei
---
Other news and events
Patient, public and carer engagement forum
Monday 26 November, 2.30pm to 5.30pm (registration from 2pm), at Gateshead Civic Centre
The forum is a space where Newcastle Gateshead Clinical Commissioning Group (CCG) can talk with patients, carers and the public. It is an opportunity for local communities to share their opinions with decision makers from the CCG, and contribute directly to decisions affecting healthcare provision.
Contact christianne.ormston@nhs.net or call 0191 217 2818 to book your place.
Find out more at https://tinyurl.com/y8cq4hf9
Glaucoma patient conference
Friday 30 November, 2pm to 5pm, at Northumbria University
This is the International Glaucoma Association's first North East patient conference. The speakers and topics will be:
• Prof Philip Bloom 'Glaucoma treatment: less is more'
• David Lunt 'Dry eye disease'
• Zoe Richmond 'Community eye care'
• Q & A with a panel of glaucoma experts
There will be a drinks reception from 5pm to 6.30pm. The event is free but booking is essential by phoning 01233 648 164 or emailing r.kew@iga.org.uk
Newcastle City Council budget proposals
Newcastle City Council has published a three year budget proposal. It is looking to save £20m in the next financial year, and £60m in total.
The council has created an online simulator that invites people to make changes to the budget and see how their decisions impact on the city. The simulator also pools together everyone's individual budgets to produce a 'People's Budget' to give an overview of all those who took part.
Explore the simulator at www.letstalkbudget.org.uk
Have your say on the budget proposals (deadline to respond is Sunday 6 January 2019) at https://tinyurl.com/Newcastle-budget2019
NHS at 70 – volunteers needed
The NHS turned 70 on 5 July 2018. To celebrate, stories are being gathered from NHS patients, workers and the general public.
Volunteers are being asked to help record stories in the North East from 1948 to the present day. An online digital archive will then be made available to everyone. 'Oral history' training will be provided.
Find out more by emailing peter.mitchell-3@manchester.ac.uk or phoning 0161 275 0560.
Help develop NICE guideline on babies, children and young people's experience of healthcare
The National Institute for Health and Care Excellence (NICE) produces guidance on the most effective ways to prevent, diagnose and treat disease and ill health, and provide social care support. NICE is looking for three lay people to join a committee who have an understanding of infant, children and young people's experience of healthcare and the issues important to them:
• A parent, guardian, or unpaid carer of a baby who has used NHS services in the last two years
• Two young people between the ages of 16 and 18 who have used NHS services in the last two years
The deadline to apply is Wednesday 12 December 2018.
Find out more at https://tinyurl.com/y7bp2eww
CQC inspection reports
The Care Quality Commission (CQC) recently published reports on two care services in Newcastle:
Ferguson Lodge is a residential care home that has been rated overall as 'good' ― see www.cqc.org.uk/location/1-123571256
St Cuthbert's Care Supported Living provides personal care to people with learning disabilities and/or autism spectrum disorders and has been rated overall as 'outstanding' ― see www.cqc.org.uk/location/1-109140679
Equipment chat bot
Newcastle City Council has developed a chat bot that you can 'talk' to regarding non urgent queries about equipment to help you to live independently.
It can signpost you to information and local services where you can access support, such as requests for equipment, or help to stay at home, such as meals on wheels and gardening.
The chat bot can be used 24 hours a day, 7 days a week, on any internet enabled device.
Find out more at https://tinyurl.com/chatbot-Newcastle