Healthwatch North Tyneside News – October 2019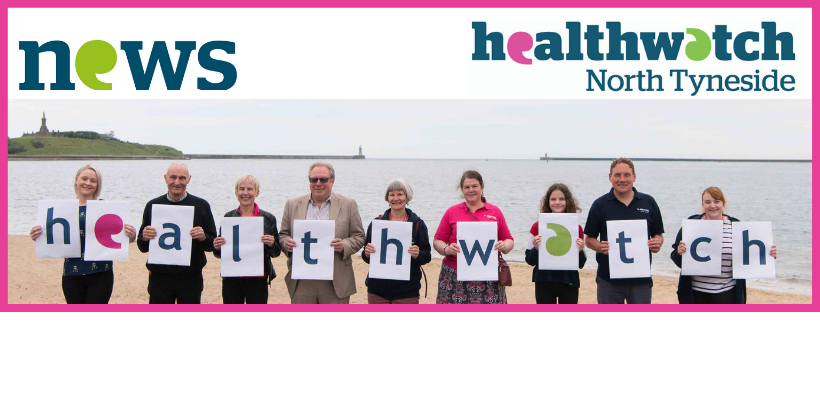 Highly commended for mental health work
Improving health and social care
Our work on mental health and the co-production approach we used was highly commended at this year's Healthwatch National Network Awards held in Birmingham.
The award celebrates our work to improve local mental health support by encouraging service users to share their experiences of mental health services. It also recognises the work we have done with NHS services and local organisations to respond to what local people said matters to them.
Jo Brown, Paul Jones and our Chair, Judy Scott, attended the award ceremony at the national Healthwatch conference and led a workshop on the importance of co-production to the success of this project.
More about our highly commended award work
Read the award winning stories from Healthwatch around the country
Read more about our work on mental health
---
Better mental health services for older people
We would like to hear your views and experiences of using mental health and dementia services for older people – what is working well? what could be done better?
We want to hear from people who are:
aged 65 and over and have experience of using mental health services;
aged 65 and over and have experience of using dementia and memory services; or
a carer or family member of someone aged 65 and over who has used either of the services above
Please contact Jo Brown to talk about how you can share your views with Healthwatch. We also want to hear from organisations working with people who have used these services.
Email j.brown@hwnt.co.uk or call Jo on 0191 263 5321.
More information about our work on older people's mental health
---
'Help yourself' young people's guide
The 'Help yourself' leaflet has been designed by young people for young people.
It includes a range of support suggestions for young people regarding their mental health and wellbeing.
Young people from Phoenix Detached Youth Project and North Tyneside Council's Participation Team worked in partnership on the project.
Launchpad North Tyneside supported them with this and we funded the printing of the leaflets.
The leaflets are being distributed to schools, GP surgeries and young people's organisations.
For more information contact Becky Rowe by email becky@pdyp.org
Find out more about Phoenix Detached Youth Project and North Tyneside Council's Participation Team and Young Mayor
---
Plans to merge GP surgeries
Have your say on the proposed merger
Collingwood Health Group and Appleby Surgery are proposing to merge practices with an estimated date of April 2020. They are asking for the views of patients and local organisations through to 25 November.
There are drop-in events at the two practices on the following dates:
Collingwood Surgery on Wednesday 16th October from 2 to 3pm
Appleby Surgery on Wednesday 16th October from 10 to 11am
Look out for posters and information at the practices or find out more here
Read more about the merger and find out how to have your say
---
News and resources
State of care report by the CQC
State of Care is the annual assessment of health care and social care in England by the Care Quality Commission. The report looks at the trends, shares examples of good and outstanding care, and highlights the following areas where care needs to improve:
The care given to people with a learning disability or autism is not acceptable
Other types of care are under pressure
More and better community care services are needed
Care services and organisations must work more closely together
More room and support need to be given for innovations in care
Read more and download the report
 
Strong bones after 50
Do you know what support should be offered if you break a bone and are over 50?
Watch this short video by the Royal College of Phyisicians to find out what to expect and what you can do to help yourself.
Sunday 20 October is World Osteoporosis Day. Osteoporosis is a condition where your bones lose strength, making you more likely to break a bone than the average adult.
Get information and support from the Royal Osteoporosis Society
---
Meet the Healthwatch team
Welcome to Helen
We are pleased to welcome Helen Bedford back to our Healthwatch staff team. Helen joined us this month in the new role of Engagement and Insight Officer and her main area of interest will be adult social care. You can contact Helen on 0191 263 5321 or email h.bedford@hwnt.co.uk 
 
Update on our board of trustees
We have had quite a few changes to our board over the past year. Go to our 'meet the team' web page to find out who's who.
 
Healthwatch volunteers
Our volunteers are an essential part of our Healthwatch team. They support us at local events by giving information and listening to people's views and experiences. They talked to patients and staff for our work on urgent and emergency care and some of them are now visiting GP practices. Two of our volunteers help with adminstration and research in the office.
We will be introducing you to some of the volunteers in future enews editions.
For more information about volunteering with Healthwatch go to our website or contact Amanda Graydon by email a.graydon@hwnt.co.uk or call her on 0191 263 5321.
---
Upcoming events
Talk to Healthwatch
Meet our Healthwatch volunteers, at their 'talk to us' sessions at customer first centres.
Wednesday 30 October from 2 to 4pm at the White Swan Centre 20th birthday celebration
Tuesday 5 November from 10 to 12.30 at the Oxford Centre, Longbenton
Go to the events page of our website to keep up to date with our activities around the borough. 
 
Mental health service user and survivor forum
Monthly forum for anyone who identifies as a mental health service user or survivor who would like to help influence services and work collectively with others with similar experiences:
Wednesday 30 October from 1pm at VODA, Queens Alexandra Road, North Shields
Contact bethlaunchpadnt@gmail.com for more information