Healthwatch North Tyneside News – September 2019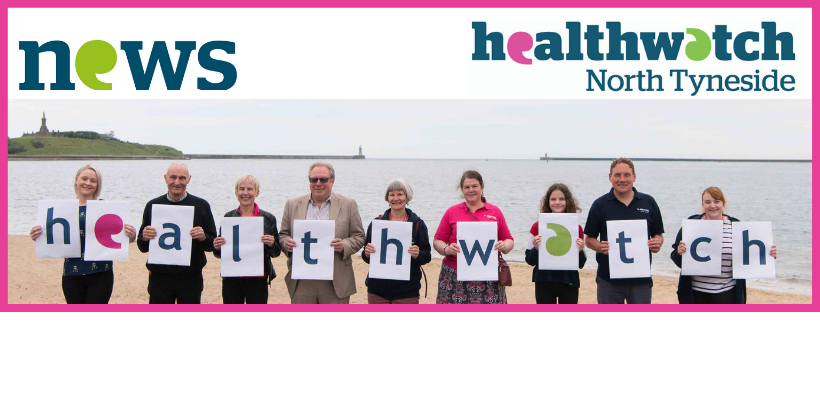 Mental health and dementia services for older people
We would like to hear your views and experiences – what is working well? what could be done better? 
Mental health for older people was highlighted as a priority for local people in our annual 'What matters to you?' survey. By sharing your views you can ensure service users and carers voices are listened to and help improve services in the borough for people aged 65 and over.
Are you:
aged 65 and over with experience of using mental health services;
aged 65 and over with experience of using dementia and memory services; or
a carer or family member of someone aged 65 and over who has used either of these services?
You can have your say by talking to one of our team by phone or in person. Or we can arrange to visit your group or service and talk to older people and carers about their experience.
For more information or to get involved contact Jo on 0191 263 5321 or email j.brown@hwnt.co.uk
---
Mental health work shortlisted for national award
Our work on mental health services in North Tyneside has been shortlisted for a national Healthwatch award for 'Improving health and social care'.
The award winners will be announced at the Healthwatch Conference on 1/2 October.

Read more about our work on mental health
Thanks to Launchpad North Tyneside and North Tyneside CCG for working with us to improve mental health services. And to North Tyneside VODA for this great video.
---
Have your say on access to GP services
We want to hear how easy, or difficult, you find it to make an appointment at your GP surgery; if you get to see your named doctor; and general feedback on the GP service.
We know that different GP practices have different approaches to accessing appointments and we want to know what you think good practice is so that we can recommend changes to how different practices work.
We already have over 600 completed surveys, please share the link below with your friends and colleagues and help us get a really good response before the survey closes in a few weeks time.
All completed surveys will be entered into a £25 prize draw.
---
New Chair appointed for Healthwatch
We appointed Judy Scott as our new Chair of Trustees at our recent AGM. Judy became a Trustee of Healthwatch in 2016 and has been an active volunteer for 5 years.
Judy has taken over from Iain Kitt who stepped down after two terms as a trustee. We would like to thank Iain for his tremendous contribution, helping to set up Healthwatch North Tyneside as a charity, being Treasurer for 4 years and then Chair of Trustees.
Read more about Judy and our Board of Trustees.
---
Upcoming events
SAFE week – 23 to 29 Sept
SAFE week is a local annual campaign to raise awareness about protecting children and vulnerable adults from abuse and harm. 
This year SAFE week is focusing on scams awareness. You can find out more about scams from Friends Against Scams and National Trading Standards.
Find out what's on from North Tyneside Council Facebook, Twitter and the SIGN Directory.
Watch more about safeguarding in North Tyneside on this short video

World Mental Health Day
Live music, creative activities, talks, raffle, tombola and opportunities to connect with local organisations supporting people's mental health including Healthwatch: 
Friday 4 October from 11am at Cullercoats Cresaaaaaaacent Club 
Free event, buffet lunch, tea and coffee provided.
More information

Talk to Healthwatch
Look out for our Healthwatch stall on our monthly visits to:
The Oxford Centre, Longbenton – Tuesday 8 October from 10 to 12
White Swan Centre, Killingworth – Tuesday 15 October from 9.30 to 12
Go to our events web page to keep up to date with Healthwatch activities
---
News and resources
Supporting your mental health
Mental health and the journey to parenthood
Thanks to everyone who shared their stories of mental health support and parenthood with Healthwatch last year. Your stories contributed to Healthwatch England's new report, which explores the experiences of new mums and shows that some women are not receiving the mental health support they should expect.
Read more about this report from Healthwatch England
Understanding Voices
New website offering information about voice-hearing aimed at voice hearers, their families and health professionals Go to Understanding Voices
Enrol now for LIFE Recovery College
NT LIFE Recovery College offers workshops, courses and activities aimed at the self-management of positive mental health and wellbeing, and at sharing Learning Insights From Everyone. Enrol now for free courses.
Find more information and a prospectus for LIFE Recovery College
 
Making Waves – for people living with dementia
People with dementia often say that they feel really isolated when they have been given a diagnosis, and don't know anyone else with dementia in their area. They say that meeting up with others 'in the same boat' can be a powerful and very helpful experience.
Making Waves would like to meet you at The Exchange, North Shields on the last Tuesday of each month from 2 to 4pm.
Download more information about Making Waves
 
Fighting all cancers together
FACT offer help, support and social opportunities for people going through the cancer journey and their families and friends. Find out about events and activities and the support on offer.
Go to the new FACT website
 
New carers' workshops
North Tyneside Carers' Centre offers training that will support carers and address needs and issues they have raised.
Download more information or to the Carers Centre website
 
Ambulance Service AGM
North East Ambulance Service will share a review of the service it provided in the North East from April 2018 to March 2019. This will be the first stakeholder event with new Chief Executive Helen Ray in post:
Thursday 26 September from 2 to 4pm at Winter House, Unit 7, Wynyard Business Park, Billingham, TS22 5FG.
Book your place at the NEAS AGM
---
Latest from the CQC
The Care Quality Commission has published new inspection reports for:
We would like to hear your experiences and feedback of care homes in North Tyneside.
Go to our
online feedback centre
, search for your care home and leave your comments.
---
Have your say
Vision really matters – National Eye Health Week 
Sight is the sense people fear losing the most, yet many of us don't know how to look after our eyes. 2 million people in the UK are living with sight loss, that is severe enough to have a significant impact on their daily lives. Half of this sight loss is avoidable. A sight test can detect early signs of conditions like glaucoma, which can be treated if found soon enough.
Read more about how to look after your eyes
Vision Matters want to find out what people think about sight tests, how often they have them and why – complete their short questionnaire here