International Women's Day – 8 March 2019

Newcastle CVS has created a news page with all the events they have been informed of so far. If you know of an event that you would like them to add to this list, please email information@cvsnewcastle.org.uk.
International Women's Day 2019 – what's on
---
Events and Activities in North Tyneside
Is your organisation planning an event or celebration for International Women's Day? VODA would love to share your #IWD2019 plans and activities in North Tyneside. So if you are planning something, let us know by either tagging us on Twitter @NTynesideVoda or drop us an email.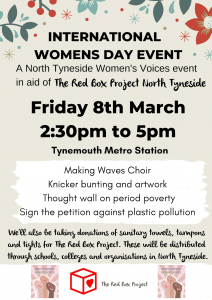 Download the poster for International Women's Day event, to be held by North Tyneside Women's Voices on 8 March 2019 from 2.30 pm to 5.00 pm at Tynemouth Metro Station.