National Survivor User Network (NSUN) Bulletin – 10 June 2019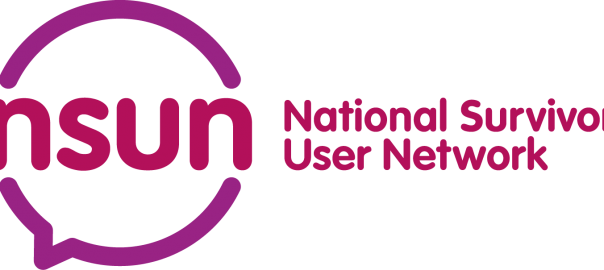 Welcome to the Monday 10 June 2019 edition of our weekly ebulletin. If there's anything you would like to share with the wider network please send to info@nsun.org.uk.
Previous bulletins can be viewed here.
---
Request for feedback on the bulletin
We have been sending the NSUN weekly bulletin to our members since March 2009. Feedback has told us that the bulletin is highly valued and we would really like to know what opportunities and activities you've taken up as a result of information we've shared.
Feedback request: We would appreciate you telling us what (if any) difference the information we've shared has made to you personally or professionally.
Have you got involved in research, workshops or projects?
Have you joined a group or applied for funding for your group?
Have you got involved in any national initiatives?
Have you had good responses to items you've advertised?
Please send any feedback to us directly by email.
---
NSUN News
Urgent request from the Equality and Human Rights Commission (EHRC)
The EHRC has just launched an inquiry into the experiences of disabled people within the criminal justice system. The inquiry will particularly focus on the pre-trial stage. That is because evidence for disabled people's experiences at this point is particularly lacking. The inquiry will address whether disabled defendants' needs are identified; what reasonable adjustments, if any, are made; whether there are particular barriers or helpful factors; and what recommendations should be put forward. The EHRC is interested in perspectives of NSUN members and so in interviewing two NSUN members with lived experience.
Find out more here.
Joint working and co-operation between organisations led by disabled people (DPOs) at an international level
Dorothy Gould provides a summary account of the event 1st June, co-hosted by the Department for International Development (DFID) and the Reclaiming Our Futures Alliance (ROFA). DFID is a government department responsible for providing international aid. Reclaiming Our Futures Alliance (ROFA) is an alliance of Disabled People and their organisations (DPOs) in England who have joined together to defend disabled people's rights and campaign for an inclusive society. Read more here.
Health and Wellbeing Alliance Webinar – Peer Support, User-Led Organisations, and Mental Health and Prevention
Date: Tuesday 18th June 2019
Time: 10.30am – 11.30am
This webinar, with Alison Faulkner and Emma Ormerod from NSUN, will provide a short overview of the role of local user-led organisations and peer support initiatives in the prevention of mental distress and social exclusion.
There is a significant role for prevention amongst people already in touch with mental health services who are at risk of further marginalisation and social exclusion. It is widely recognised that working alongside communities to understand their needs and build on existing strengths, assets and resilience is key. Book your place here.
Disabled People's Organisations meet with Minister for Disabled People
Read our account of a meeting between Sarah Newton MP and six Disabled People's Organisations (DPOs): Inclusion London/the Reclaiming Our Futures Alliance, NSUN, the Equalities National Council, Disability Wales, Independent Living in Scotland and Disability Action Northern Ireland. Read the report here.
---
Featured blogs and articles
I Won by Sam Ambreen
Read the latest article published on the Recovery In The Bin (RITB) website.
RITB is a 'User Led group for MH Survivors and Supporters who are fed up with the way co-opted 'recovery' is being used to discipline and control those who are trying to find a place in the world, to live as they wish, trying to deal with the very real mental distress they encounter on a daily basis.'
My First Experience Of Psychiatric Hospital
One of the first in a series of blogs from the Less Fear More Love blogger.
---
Joey: a play by Sean Burn
Touring until 15 June
'they gave lou reed e.c.t. cos he was bi. dont let 'em give yu'
Joey – a high octane monologue performed in BSL and English, is about what growing up in 1980s did to our minds but it's also about imagining possible, better futures. It's a new Wolsey Theatre Testing Ground Commission, in association with Greyscale.
"an epic, rebellious rollercoaster of a story that takes us out on the town squealing John Peel banshee, howling under every star." Disability Arts Online, 2017
12th June 2019, 7pm
ARC, Stockton Arts Centre, Dovecot Street, Stockton on Tees, TS18 1LL
Box Office: 01642 525199. Book tickets online.
13th/14th/15th June 2019, 8pm
Northern Stage, Barras Bridge, Newcastle Upon Tyne, NE1 7RH
Box Office: 0191 230 515. Book tickets online.
Visit the website for more information.
---
Peer Power Event – London
With Chris Hansen
Date: Monday 17 June 2019
Time:  6:30 pm – 8:30 pm
Venue: LARC 62, Fieldgate Street, London E1 1ES
F.E.E.L. meeting this month we will be talking about the importance of peer support with Chris Hansen. Chris is the Director of the organisation Intentional Peer Support, which was developed in the 1990s and is based in New Hampshire, USA.
A former member of the World Network of Users and Survivors of Psychiatry (WNUSP), Chris was also involved with the New Zealand delegation to the drafting of the UNCRPD – the Convention on the Rights of Persons with Disabilities that was adopted by the United Nations General Assembly on December 13, 2006, and entered into force on May 3, 2008.
Read more about Intentional Peer Support here.
The meeting is FREE (donations welcome) and open to anyone.
Email f.e.e.l.campaign@gmail.com for any query.
F.E.E.L. – Friends of East End Loonies meetings take place on the third Monday of each month 6.30 – 8.30 pm at
LARC, 62 Fieldgate Street, Whitechapel, London E1 1ES
Visit the F.E.E.L website for more information.
---
Research project on alternatives to restraint
Have you ever experienced restraint in mental health settings or know someone that has?
Researchers at Manchester Metropolitan University want to improve people's experiences in mental health settings for the better, by reducing & finding alternatives to restraint.
'Hospitals use different types of restraint to try & stop people harming themselves or others. Restraint can take many forms & include using equipment or physically limiting someone's movement, using medicine to control behaviour or limiting where a person can go so they can't use all of a hospitals facilities. All types of restraint belittle people's self-worth & independence & can cause very negative effects.'
The researchers would like to invite anyone who has experienced restraint in mental health settings or if you know someone who has, to help design a research project that finds alternatives ways of restraint. The group will be an informal discussion with around five to seven people.
The meeting is on the 3rd July at Manchester Metropolitan Birley Campus, Brooks Building, Room 1.22 on the 1st floor 53 Bonsall Street, Manchester, M15 6GX
To thank you for your time, we would like to give you a £10 high-street voucher after the discussion.
For more information or to sign up for the focus group please contact Elaine Craig on 0161 247 2847 or email e.craig@mmu.ac.uk
---
Mental Health Charter Alliance
Manchester
The Mental Health Charter Alliance are enabling service users and carers to have their say about mental health services in Manchester and raise their concerns about being let down or stepped down by them.
The Alliance are promoting the value of having a Mental Health Charter in Manchester and how it can benefit everyone who wants to live in a community which is fair and equitable for all.
Date: Wednesday 19 June 2019
Time: 12.45pm – 3.30pm
Venue: Harpurhey Neighbourhood Project, Upper Conran St, off Carisbrook St, Harpurhey, Manchester, M9 5UX
Register via Eventbrite here.
---
Event: Race, Sexuality and Mental Health
Dr Mónica Moreno Figueroa, a Senior Lecturer in Sociology at the University of Cambridge and Alex Leon, LGBT+ activist and writer, talk mental health within the QPOC (Queer People of Colour) community, discussing the difficulties of juggling multiple minority identities, its subsequent effect on mental wellbeing, and what can be done to ensure QPOC are catered for when it comes to mental healthcare services.
Date: 21 June 2019
Time: 6pm – 7pm
Venue: Waterstones, 22 Sidney Street, Cambridge, CB2 3HG
This event is part of the queer qandī fest (20-23 June) organised by QTI Coalition of Colour and Encompass Network: an arts and activism festival celebrating queers of colour, envisioning queer futures, highlighting creative forces and creating new narratives and representations.
The event is free to attend but booking is required via Eventbrite here.
The venue is accessible for wheelchair users.
---
Inclusion London
Consultation and training
Consultation on Inclusion London's campaigning priorities and training on Public Sector Equality Duty
Date: 4 July 2019
Time: 12.00pm – 5.00pm
Venue: 336 Brixton Road, London SW9 7AA
What this event is about: Inclusion London would like to invite organisations run by disabled or deaf people (DDPOs) to a meeting where we will discuss our campaigning plans and set priorities for our future campaigns, policy and justice work. This is a great opportunity to talk about our shared campaigns and influence Inclusion London's work. We will also share information on what support is available for DDPOs from our Policy, Campaigns and Justice team.
After this we will have a training session, delivered by Louise Whitfield, solicitor at Deighton Pierce Glynn. In this training you will learn how to use Public Sector Equality Duty to challenge the decisions of public bodies. The training will cover:
What Public Sector Equality Duty is and how it can make a difference to our work;
How it can be used effectively to scrutinise and challenge decisions about policies and decisions in individual cases;
How it can be used to lobby for positive change, encourage co-production and involvement of disabled people and DDPOs in policy-making.
This event is for organisations run by disabled or deaf people (DDPOs) only.
---
Challenging mental health policy
African Health & Wellbeing Day
Date: Saturday 13th July 2019
Time:  11am – 6pm
Venue: Conway Hall, 25 Red Lion Square, London, WC1R 4RL
As part of the programme there will be a panel discussion 
Panel Discussion: 4pm – 5.30pm
Challenging Mental Health Policy – Recommendations for Legislative Transformation
---
CQC review of restraint
Interim report published
Review of restraint, prolonged seclusion and segregation for people with a mental health problem, a learning disability and/or autism.
This report gives the interim findings from CQC's review of the use of restrictive interventions in places that provide care for people with mental health problems, a learning disability and/or autism.
Read more here.
---
HCUK Conferences
Healthcare (HCUK) Mental Health events
For all the latest upcoming healthcare conferences, please click this link:
For a 20% discount quote ref: HCUK20NSUN when booking.
For news and event updates follow on Twitter:
@HCUK_Clare for healthcare @SCUK_Kerry for social care
---

GOV.UK News
Government review confirms local authorities will continue to commission public health services
Review recommends that councils and the NHS work more closely to co-commission public health services, including sexual and reproductive health services. Read more here.
New deputy chief medical officer appointed for England
The Department of Health and Social Care has confirmed that Dr Jenny Harries OBE will be the new Deputy Chief Medical Officer for England. Read more here.
Support for health, care and VCSE leaders to build relationships that transform our healthcare system
(From the VCSE Health and Wellbeing Alliance)
A menu of support has been developed to inspire and equip health, care and voluntary sector leaders to work in partnership at ICS/STP level to support joint action that improves local health and care priorities, including various fee workshops and webinars including these ones in June:
Workshop: Support patients with complex needs through the voluntary, community and social enterprise sector – 13 June, London
Workshop: How can voluntary organisations engage strategically in health and social care reform? – 19 June, Manchester
Webinar: Leading local healthcare systems through change (Practice Development Network) – 25 June, online
Further details are available here.