National Survivor User Network (NSUN) Bulletin – 12 August 2019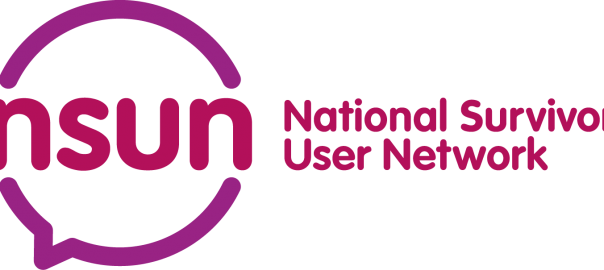 Welcome to the Monday 12th August 2019 edition of our weekly ebulletin – full of news, views, events and involvement opportunities.
Previous bulletins can be viewed here.
Bulletin items
If you would like to send us an event, involvement opportunity, blog article or anything else to share with the wider network in the bulletin, please email us at info@nsun.org.uk
You should write out a short ad (see examples below) with all the info needed, contact details, deadlines, and relevant web links etc. and attach an image we can use (e.g. your logo or other relevant image). We do not have the resource to edit your information so please submit ready in this way. Please note we cannot attach flyers, job descriptions or any other item to the bulletin.
Thank you!
---
Reminder: NSUN is England-wide!
If you have an event you want us to publicise then please let us know by emailing us at info@nsun.org.uk. Don't forget this is YOUR network so please get involved!
Our funding and articles only cover us to work in England although we still welcome members from all over the UK and indeed the world!
You can view our previous NSUN weekly bulletins and subscribe to get them in your mailbox if you don't receive them directly here.
---
NSUN News
NSUN Chief Executive Officer
The National Survivor User Network (NSUN) is a membership network led by people with lived experience of mental distress. We bring together over 600 local groups and 3,900 individual members to communicate, support each other, share experiences, give voice to their views and experiences in spaces of power and change things.
We are at an exciting stage of change and development, having finished a period of deep reflection and review. After 10 years in post Sarah Yiannoullou is standing down as Managing Director. During her tenure, NSUN has grown and is now recognised as an independent, authentic collective for the voices of lived experience. Founded on the principles of solidarity, equality, integrity and diversity, we aim to reflect the 'convention challenging ambitions' of our members.
We are looking for someone with exceptional leadership qualities, ambition, inspiration and visionary drive to take the organisation forward. This needs to be someone who can translate our strategic vision into both high-quality practical and fundable programmes and effective advocacy work. They will need to demonstrate an ability to inspire and motivate a team of staff and associates and a 4500-strong membership.
For the right candidate, this post will be both challenging and enormously rewarding, with the potential to develop and shape an already well-respected organisation into an even stronger force.
A supported handover period will be negotiated to suit the incoming CEO.
Please return the completed application form accompanied with your up-to-date CV by Friday 20thSeptember – 6pm
By email: info@nsun.org.uk
NSUN is recruiting new trustees
Are you someone who has had experience of mental distress and/or a personal or professional interest in mental health and are interested in becoming an NSUN trustee?
We are looking for new trustees to join the NSUN Board. This is a high-profile appointment to which you will bring your expertise and experience and an absolute commitment to promoting the rights of people with experience of distress, disadvantage and discrimination.
Please click on this link for full details of the role and how to apply.
The closing date for applications is Monday 16th September 2019 – 9am
Interviews will take place on Thursday 19th September and/or Friday 20th September 2019.
Both opportunities are posted on the NSUN website.
Save the date!
NSUN AGM 2019 is in York
Thursday 24th October 2019
This year our AGM will be in the glorious city of York – a historic northern city conjuring images of the stunning York Minster and the old cobbled Shambles.
As well as being a beautiful backdrop for this year's AGM, York has great travel connections to the rest of the country – always one of our prerequisites!
So, save the date – Thursday 24th October. We will send out more information and a link to Eventbrite where you can register to attend the FREE event.
We look forward to seeing you there!
Update about the United Nations Convention on the Rights of Disabled Persons (UNCRPD)
Dorothy Gould has provided an update on the most recent development concerning the UNCRPD. Work is now occurring on indicators for the 33 Articles which make up the UNCRPD. The idea is that these can then be used to demonstrate further what the UNCRPD means in practice and to track a country's progress with implementing it. Read the full update here.
Emma Ormerod presents at the Birmingham Mind Service User Conference
On Friday 19thJuly, Emma Ormerod presented at the Birmingham Mind Service User Conference on behalf of NSUN. The theme of the conference was 'Influencing change: ordinary people, extraordinary lives' and the title of Emma's presentation was ''Together we are stronger: influencing change and having hope in uncertain times'.
Emma spoke about NSUN's ongoing work and the Members' Manifesto. She focused on NSUN's campaign on the value of user-led groups highlighting the way in which user-led groups are uniquely placed to provide: 
a safe space 
a non-judgemental and inclusive approach
a place where your voice can be heard
genuinely equal and trusting relationships with people who have had similar experiences
social connection and emotional support
a sense of hope
Funding continues to be the biggest challenge for groups. Cuts are leading to overstretched organisations; funding is decreasing, but demand for the wide range of services that user-led organisations provide is increasing. This means that many organisations are running on the goodwill of volunteers and unpaid staff, and leaders and volunteers are experiencing exhaustion and facing 'burnout'.
Emma spoke about the way in which she is currently grappling with many of these issues and what it means to set up and run a 'member-led' organisation in the current climate through her work as co-founder and manager of Underground Lights Community Theatre. She stressed that despite the difficulties and uncertainties (e.g. with regard to funding) the members of the group continue to give her energy and hope. She ended her presentation saying that "together we are stronger. We are influencing change – not because we're performing plays about mental health or homelessness, but by being a member-led organisation – by showing people that we are actors and performers in our own right. Our experiences shape us and our lives, but they don't always have to define us. We can question, challenge and transcend those identities".
---
Featured blogs and articles
Suicide: Why do mental health professionals tell patients "It's your decision"?
A blog about suicide prevention and crisis help by Joy Hibbins, founder and CEO of Suicide Crisis, a charity which runs Suicide Crisis Centres
Published on the Saving Lives Blog 18 July
Service user perspectives on coercion and restraint in mental health 
Diana Rose, Emma Perry, Sarah Rae and Naomi Good
Published in BJPsych International August 2017
Links between Open Dialogue and a human rights approach?
The article Open Dialogue as a Human Rights-Aligned Approach (Von Peter et al, 2019) is an exploration of the extent to which Open Dialogue represents a human rights approach for people with lived experience. In discussing this, the authors draw particularly on core elements in the Universal Declaration of Human Rights, the United Nations Convention on the Rights of Persons with Disabilities and recent annual reports from the Human Rights Council. They recognise the importance of moving away from a dominant medical model and regard Open Dialogue as making some important contributions to an alternative and rights-based approach. Examples they put forward include Open Dialogue's mainly non-institutional and non-medical stance, its emphasis on mental health crises as life events rather than medical conditions and the place it gives to clients' own concepts of problems which they are experiencing and to their social networks. A shortcoming is that the authors describe Open Dialogue as 'adaptable to various cultural and structural conditions', but without addressing criticisms of it from racialised groups. They also acknowledge that there is only one study so far which has investigated whether Open Dialogue reduces involuntary admission; this provides evidence that it does. However, it is encouraging to see a call for therapies grounded in full human rights and, in that sense, the article is an important one.
Dorothy Gould
---
Crisis Care Consultation in the North East
North East Together (NEt), service user and carer network, want to hear from local service users and carers about their experiences of crisis services.
They're running a number of workshops to hear views about what matters most to people regarding crisis care. Discussions will help influence future crisis services.
Lunch and refreshments are provided as are reasonable travel expenses.
Monday 19th August 1pm at ReCoCo, Newcastle
Wednesday 28th August 1pm at Waddington Street, Durham
Thursday 5th September 1pm at St Mary's Centre, Middlesbrough.
Please contact Mish – mish.loraine@netogether.co.uk to book your place and find out more.
---
Mental Health Resistance Network picnic
'Picnics are a Health Outcome'
The Mental Health Resistance Network (MHRN) is hosting a picnic in Hyde Park on 14th August. It will be called 'Picnics are a Health Outcome'.
MHRN are challenging NHS England to remove the statement in their NHS long term plan that cites work as a health outcome for mental health treatments.
When: Wednesday 14th August 2019
Where: Hyde Park, London
Time:  3pm – 7.30pm
Watch out for updates on the MHRN Facebook page.
---
Intersectional stigma and mental well-being research
HEAR research on intersectional stigma and mental health equality recommendations championing peer-led and London becoming a Human Rights City.
Mental Health equality is an area of interest and expertise for many HEAR members. The causal links between exclusion, discrimination, isolation and poor mental well being are well documented.
Organisations run by and working with marginalised, including intersectional, Londoners have, therefore, extensive knowledge of the discrimination and barriers experienced by those with Mental Health Support Needs (MHSN) and have developed practical, efficient ways of overcoming them.
This is why Thrive LDN, the citywide movement to improve the mental health and wellbeing of all Londoners supported by the Mayor of London and led by the London Health Board partners, commissioned the HEAR Network to do some research on Mental wellbeing and equality in London.
What Londoners with Lived Experience Said is a literature review presenting HEAR members' expert knowledge of intersectional communities that are of significant interest to London policy makers.
The recommendations in What Londoners with Lived Experience Said are drawn from good practice and provide a framework that can work for many intersectional and marginalised Londoners. They include London becoming a Human Rights City and City of Sanctuary and health and social care prioritise peer-led interventions and Values based Commissioning and statutory partners pay user-led VCS for all statutory services (interpreting, advocacy, consultancy, public health) provided.
This paper also suggests some communities that require further outreach, focus and investment to improve Mental Health Equality; these are Londoners at risk of exploitation, faith communities and BAMER people; "Racism is a political issue. Inequality is a political issue. Mental health is a political issue. We should hold politicians to account" (National Survivor User Network, 2018, 'A Call for Social Justice Changes to Policy and Practice That Will Improve the Lives and Mental Wellbeing of Mental Health Service Users from Black and Minority Ethnic Communities')
---
Lived Experience of Restraint, Exclusion and Segregation
Have you or someone you care for been held, restrained, stopped from doing something or physically controlled by staff or carers? Or kept away from other people while in a care setting?
Advonet and CHANGE are working with the Care Quality Commission to collect stories about restraint, seclusion and segregation to help make care safer.
This will be done through a number of ways so if you are interested you can get in touch with the project by calling Ellen, the project co-ordinator, on 0113 244 0606 or email.
Find out more here.
---
Launch of XY Podcasts
XY is a show about mental health in men.
Through a series of interviews with chart-topping musicians, actors, models, directors and influencers, the XY podcasts discuss why men have such a problem when it comes to their mental health and try to get listeners to feel more open themselves.
Listen to the first five podcasts here.
---
CHANGE looking for members to join their committee
CHANGE are looking for members to join their committee.
The committee will oversee the work and plans for CHANGE.
The committee will work alongside Advonet and their board of trustees.
CHANGE is now looking for disabled people and people with
learning disabilities to join the committee.
The committee will work alongside Advonet and their board of trustees.
They are looking for people with a working knowledge of management and lived experience of disability.
They are also looking for people with good networks and knowledge of rights.
If you are interested in joining, please click here to download an information pack. Then, use the contact details in the information pack to apply.
Deadline for application is the 9th September 2019
To learn more about the formal partnership with Advonet please click here.
---
Patient and public involvement in research: What, why and how?
Webinar series
The newly formed International PPI Network will be delivering a regular programme of webinars that cover a wide range of issues related to patient and public involvement and engagement in health and social research in a global context.
The webinar series will open with an introduction to patient and public involvement in health and social care research. Acknowledging that different countries use different terminology, the presenters will explain how involvement in research differs from participation in research. They will go on to articulate why patient and public involvement is important and how it can improve research. Finally, the presenters will share their examples and key tips of how to do it. There will also be time for a question and answer session.
This webinar is designed to be of benefit to people who are interested in understanding and developing Patient and Public Involvement in health and social research. It will be especially of interest to people in countries where PPI is not yet fully developed. Whether you are new to patient and public involvement in research or more experienced but would like some context and/or tips then this seminar will be suitable for you.
When :Tuesday, 20th August 2019 12:00 UTC
Please click here to find out more and to register.
---
Thrive London news
Young Londoner-led World Mental Health Day Festival at City Hall
The Mayor's Peer Outreach Team, in partnership with Thrive LDN, will be hosting an all-day young Londoner-led festival to mark World Mental Health Day on Thursday, 10 October 2019. The day will potentially be the largest young Londoner-led event ever held at City Hall.
1) Register your attendance
2) Share the details with your networks
3) Be part of the programme or share your ideas for the festival's programme with the Mayor's Peer Outreach Team. You can do this by emailing culture@thriveldn.co.uk.
The festival will see various activities taking place throughout City Hall over the course of the day – including film screening, creative workshops, presentations and panel discussions.
---
New measurement of poverty developed by the Social Metrics Commission
The Social Metrics Commission's report developed a new measure of poverty because "the UK no longer has an official measure of poverty for children, adults or pensioners".
The findings of their report, "A new measure of poverty for the UK" include:
Of the 14.2 million people in poverty, nearly half, 6.9 million (48.3%) are living in families with a disabled person.
Disabled people are amongst the most likely to be in "persistent poverty"
Inescapable costs: Disabled people often need to spend more than non-disabled people just to make society accessible and to have a similar standard of living.
The Social Metrics Commission's full report is available here.
---
Care Quality Commission: People's experience of care
Share your experience
If you have experienced poor care, or know that poor care is being provided somewhere you can report it to the CQC, anonymously if you wish.
You can also tell CQC when you feel you have received good care.
CQC says that "By providing us with this information, you'll help us improve the overall quality of care in England. You'll also help us prevent poor care and abuse happening to others in the future."
Find out how to share your experiences here.
---
HCUK Conferences
Healthcare (HCUK) Mental Health eventsAA
For all the latest upcoming healthcare conferences, please click this link:
For a 20% discount quote ref: HCUK20NSUN when booking.
For news and event updates follow on Twitter:
@HCUK_Clare for healthcare @SCUK_Kerry for social care
---
GOV.UK News
Volunteering and claiming benefits
What to do if you claim benefits and do voluntary work. This guidance, published 17 July, explains the criteria for volunteering and the importance of continuing to meet the conditions of the benefit you get.
Read more here.
Health and social care staff: Brexit preparations update
Letter from the Secretary of State for Health and Social Care to health and social care staff updating them on Brexit preparations.
Read more here.
Commissioners and providers of social care: Brexit planning update
Letters to commissioners and providers of adult social care giving an update on actions to consider to prepare for Brexit.
Read more here.
Record number of disabled people benefitting from workplace funding
A record number of disabled people have been supported by the Access to Work scheme, as new figures reveal 36,240 people received the life-changing grant last year.
Read more here.
---
Quick Links