National Survivor User Network (NSUN) Bulletin – 16 September 2019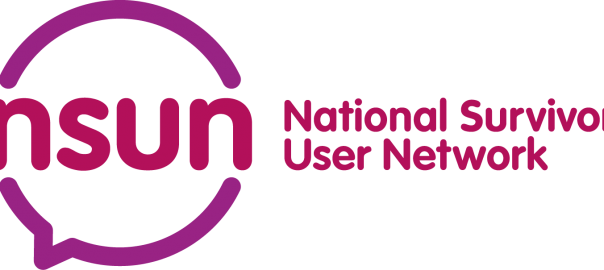 Welcome to the Monday 16 September 2019 edition of our weekly ebulletin – full of news, views, events, jobs and involvement opportunities… including the latest recruitment opportunities at NSUN!
Previous bulletins can be viewed here.
Bulletin items
If you would like to send us an event, involvement opportunity, blog article or anything else to share with the wider network in the bulletin, please email us at info@nsun.org.uk.
You should write out a short ad (see examples below) with all the info needed, contact details, deadlines, and relevant web links etc. and attach an image we can use (e.g. your logo or other relevant image). We do not have the resource to edit your information so please submit ready in this way.
Please note we cannot attach flyers, job descriptions or any other item to the bulletin.
Thank you!
---
Reminder: NSUN is England-wide!
If you have an event you want us to publicise then please let us know by emailing us at info@nsun.org.uk. Don't forget this is YOUR network so please get involved!
Our funding and articles only cover us to work in England although we still welcome members from all over the UK and indeed the world!
You can view our previous NSUN weekly bulletins and subscribe to get them in your mailbox if you don't receive them directly here.
As well as browsing the news from the wider membership you can also find out more about some of our work:
NSUN News
NSUN is RECRUITING – NSUN Chief Executive Officer
Closing date: Friday 20th September
The National Survivor User Network (NSUN) is a membership network led by people with lived experience of mental distress. We bring together over 600 local groups and 3,900 individual members to communicate, support each other, share experiences, give voice to their views and experiences in spaces of power and change things.
We are at an exciting stage of change and development, having finished a period of deep reflection and review. After 10 years in post Sarah Yiannoullou is standing down as Managing Director. During her tenure, NSUN has grown and is now recognised as an independent, authentic collective for the voices of lived experience. Founded on the principles of solidarity, equality, integrity and diversity, we aim to reflect the 'convention challenging ambitions' of our members.
We are looking for someone with exceptional leadership qualities, ambition, inspiration and visionary drive to take the organisation forward. This needs to be someone who can translate our strategic vision into both high-quality practical and fundable programmes and effective advocacy work. They will need to demonstrate an ability to inspire and motivate a team of staff and associates and a 4500-strong membership.
For the right candidate, this post will be both challenging and enormously rewarding, with the potential to develop and shape an already well-respected organisation into an even stronger force.
A supported handover period will be negotiated to suit the incoming CEO.
Please return the completed application form accompanied with your up-to-date CV by Friday 20th September – 6pm
By email: info@nsun.org.uk
Details NSUN website.
NSUN Members' Event and AGM 2019 York –
REGISTRATION NOW OPEN!
Thursday 24th October 2019
Registration to attend this year's NSUN members' event and AGM 2019 in York is  now OPEN!
NSUN is delighted to invite you, our members, to our 2019 Members' event and AGM – this year being held in the glorious historic city of York. The theme for this year's event is 'The Value of User-led Groups'.
The Value of User-led Groups has been our main campaign for 2019. This event will bring us together to talk about the current state of the user-led groups' landscape and to discuss ideas about how to continue to fight for their continued survival.
This is a FREE event where you can meet with other members and feel more connected to the network.
Registration is through eventbrite where you can also find out more information.
Places are limited so book early to avoid disappointment.
We look forward to seeing you in York!
SRN is on Twitter!
Mental health knowledge built by service users and survivors. The Survivor Researcher Network (SRN) has a new Twitter account. You can find us at @SurvivorResNet.
Find out more about SRN and how to join here.
---
Featured blogs and articles
'Traumatic stress disorder it's probably about time I started writing about all the things I've done because it seems that everyone else is #Arts #Health and #Wellbeing.'
Blog by Michelle Baharier (@DyslexicRant)
I Want People To Be Aware Of How Scared I Am Of Getting ill Again
I am worried that if I am referred to the CMHT, I might only be able to see a patronising CPN once a week for three months, with very occasional psychiatrist meetings. Things the CPN said to me have included 'Well, if you're going to kill yourself it's your choice'.
Blog from Recovery In the Bin by Jo Edge @hagenilda
There's no place like home: housing and mental health
By Mark Brown, writer in residence for Centre for Mental Health
'Centre for Mental Health's writer-in-residence Mark Brown has been investigating this important yet rarely discussed topic, speaking with people who have first-hand experience of housing problems while living with mental health difficulties about how this affects their day-to-day lives and their health.'
Beyond the Room podcasts from Mental Elf
Refocus on Recovery conference – 03/03.09.19 #RonR2019 
The aim of the conference was to advance the field of recovery research and to create an international community of influence. The conference brought together leading researchers and people who use mental health services, their carers and informal supporters, mental health workers and professionals. As well as the podcast, all other information and presentations can be accessed here.
Mental Health Nurse Research conference – 13.09.19 #MHRN2019
Podcasts on Sound Cloud including Recovery in the Bin @RITB
Access to the Recovery in the Bin keynote talk 'A survivor-led conceptualisation and critique' here.
---
North East Together – Crisis Care workshop
Over the next few years there will be increased investment in Mental Health Crisis Care across the country to provide new services and improve existing ones.
North East together have been asked by The North East Clinical Network to organise and run a series of workshops to find out what matters to people with lived experience of mental health conditions when it comes to Crisis Care. The discussions at the workshops will help influence the provision of future crisis services.
Due to demand and interest we have added an additional workshop to those already scheduled. the Workshop is aimed at those living in North Tyneside or Northumberland but members outside those areas are also welcome.
Date: Friday 20th September 
Time: 1pm to 4pm
Venue: Meadow Well Connected, Waterville Road, North Shields NE29 6BA
Refreshments and lunch will be provided as will reasonable travel expenses for unpaid service users and carers.
Email Mish Loraine for more information or to book your place.
---
Short-term outcomes for long-term depression
Long-term outcomes of trials in the National Institute for Health and Care Excellence depression guideline
'The forthcoming National Institute for Health and Care Excellence depression guideline reviews short-term outcomes for long-term depression. We present effect sizes for long-term outcomes in trials that report these data. Psychological therapies become more effective, whereas antidepressants become less effective over the long term. We review other forms of longitudinal research that support these findings.'
Read more here.
In November 2017, the signatories (including NSUN) sent this position statement to David Haslam, Chair of the National Institute for Health and Care Excellence (NICE), to formally request a second stakeholder consultation of the next revision of the guideline on the Recognition and Management of Depression in Adults, prior to its formal publication. We did this because, along with many other stakeholders, we were extremely concerned about significant flaws in methodology, lack of transparency and several inconsistencies we found in the draft document published in July 2017.
Read more here.
---
Mental Health and Me: breaking the cycle of abuse
Black mental health conference
On the back of the success of our 'Mental Health & Me: the Unspoken Taboo in the Black Community' Conference, we are planning another Black mental health conference in October during Black history month.
The aim of the conference is to start a conversation around highlighting and breaking the cycle of abuse within the Black community, that is often passed off as culture rather than abuse.
Where: Victoria Hall, Norfolk Street, Sheffield S1 2JB
When:  Sat, 12 October 2019
Time:  09:00 – 17:00 BST
Click here to find out more and book your ticket
---
New suicide prevention signposting website for Sheffield area
Sheffield Flourish have launched a new suicide prevention signposting website for Sheffield.
The site is for anyone who's having suicidal thoughts or feelings, or who's worried about someone else. You can use it to search for local and national help, support and information (and there are also learning and training resources).
Sheffield Flourish built this website from the ground up, in partnership with Sheffield City Council, by collaborating with local people who have experienced suicidal thoughts.
Click here to view the new website
---
Transforming mental health in your community:
a local guide to delivering the NHS Long Term Plan
The NHS Long Term Plan contains at its heart a commitment to drastically improve the availability and quality of mental health services across England.
Mind's new online publication 'Transforming mental health in your community: a local guide to delivering the NHS Long Term Plan' is aimed at anyone who wants to shape local strategic plans and sets out the key questions every local plan needs to answer to ensure it meets the national ambition to transform mental health services. It also highlights the critical role that communities and the voluntary sector must play in co-producing and delivering mental health services.
For more information contact Vicki Ensor at v.ensor@mind.org.uk
---
Leadership in the field of Lived Experience Practitioner working
Discussion day
Hosted by Pioneer and C&I NHSFT. For people who are using lived experience as part of their work within mental health services.
The day is an opportunity to think about what the tasks are and what leadership is in the field of Lived Experience Practitioner working. We want to offer the space to think about issues around leadership/representing the LXP movement: challenges, collaboration, co-ordination, speaking out and decision making.
Pioneer and Camden & Islington NHS Foundation Trust invite you to meet others who are doing similar work or are in the same field. You don't need to be part of the NHS, you might be working in 3rd sector, ULO or operating as an individual and are passionate about LXP working and its value.
We acknowledge different groups and individuals hold different views on the movement and wish to come together to acknowledge the value of that as a collective; to discover where similarities and differences lay.
The aim is to understand how we can better support and ally with each other.
Date:  Fri, 25 October 2019
Time: 10:00 – 16:30
Location:  St Pancras Hospital, 4 Saint Pancras Way, London  NW1 0PE
To find out more and register, click here
---
Experts by Experience Mad Language workshop
Experts by Experience are holding a workshop called Mad Language.
The focus of the workshop will be looking at the impact of language on mental health, asking questions such as how do people use and think about language and how does this affect the stigma of mental health? There will be speakers and an open discussion and a chance to ask questions and have informal conversations with like minded people.
The workshop is open to anyone, but places are limited to 20 so please do email us at ebye@bridgecollective.org.uk if you are intending to come. Places will be allocated on a first-come first-served basis.
Date: Thursday 10th October
Time: 2pm-4pm
Location:  The Bridge Collective, Unit 4, King Street Business Centre, King Street Exeter EX1 1BH
---
Post-Hospital-Discharge Peer Support vacancy
Sound Minds' peer support service 'Canerows' has a fixed term contract vacancy for someone to offer peer support to people leaving hospital.
We are looking for someone who has their own experience of using mental health services as an inpatient to join our friendly peer support service supporting people who have recently been discharged from mental health hospitals. The role involves liaising with local community mental health teams with good links with one in patient ward at Springfield Hospital.
CLOSING DATE: Tuesday 24th September
Find out more and how to apply here
---
Mental Health in the Community –
Third Mental Health Partnership Thinktank Event
The mental wellbeing of those that live, work in and visit Birmingham and Solihull is of real importance: How someone feels about themselves, the resilience they have, the support around them and their access to opportunities all impacts how we thrive as humans.
The third Leadership Thinktank of the Mental Health Partnership is focusing on prevention – specifically exploring what we do and can do within communities to develop positive mental wellbeing.
We will be encouraging local leaders to consider ideas around:
·        Community capacity
·        Social movements
·        Community cohesion for mental wellness
·        Community engagement
Exploring what we can all do to help stimulate vibrant and mentally well communities and support a preventative approach to mental wellbeing.
Who can attend?
Anyone who has an interest in the topic area of Mental Health in the Community.
Who is the event aimed at?
We have a wide spread of attendees including representatives from the police, council, local government, fire service, charities, third sector, commissioning groups, academics, clinicians, Birmingham & Solihull Mental Health Trust employees, experts by experience, carers and families.
We will hear from two guest speakers John Diamond and Carl Harris who are experts in their field.
When:  Thursday 19th September
Time: 9.00 – 13.00
Where: Grant Thornton Offices, Colmore Building, 20 Colmore Circus, Queensway, Birmingham, B4 6AT
Please register via email: rebecca.morris34@nhs.net or call 0121 301 1305.
---
If you have been discharged from hospital within the last FIVE years can you help?
Mental health discharge experience survey
My name is Sarah Rae and I work as a service user researcher. Some years ago, I was discharged from a psychiatric ward which was a difficult process. Readjusting to living in the community was also very challenging.
This is one of the reasons I have initiated a project which aims to help people transition more easily from inpatient mental health settings to the community. Research suggests that many other service users struggle with being discharged and do not feel adequately supported. The aim of the project is to improve the discharge experience for everyone.
I am collaborating with academic researchers from two universities, a frontline staff nurse, a research clinical psychologist and a consultant psychiatrist. People with lived experience of mental health challenges will be actively involved throughout the project.
If you have been discharged from a mental health hospital within the last five years, I would be very grateful if you could complete this short anonymous survey. Your unique insights will help us to understand the key issues and shape the research from a lived experience perspective.
---
Social Spider CIC a finalist in UK Social Enterprise Awards
Social Spider CIC has been shortlisted in the UK Social Enterprise Awards, recognising it as one of the leading social enterprises in the country.
Social Spider CIC, based in Walthamstow, London, is a finalist in the Transformative Community Business category. It publishes three monthly community newspapers; the Waltham Forest Echo, the Enfield Dispatch and Tottenham Community Press. Each newspaper is written by and for local people, celebrating local successes, covering local news and holding those in power to account. In the last year it has launched its third newspaper, Enfield Dispatch, and celebrated the 50th issue of the Waltham Forest Echo. Each paper features over ten community contributors per issue who work with our editors to tell their stories and write about the issues affecting them.
Social enterprises are businesses which trade for a social or environmental purpose. There are 100,000 social enterprises in the UK contributing £60bn to the UK economy, each one being set up to tackle some of the biggest challenges we face from homelessness to climate change.
The UK Social Enterprise Awards run by Social Enterprise UK, the national membership body for social enterprises, recognise the nation's most pioneering social enterprises. Social Spider CIC will be joining other shortlisted organisations at the prestigious awards ceremony held at London's iconic Guildhall on 4 December.
Previous winners have included a coffee company set up to create jobs for people who are homeless, an employee-owned community healthcare provider and a company set up to tackle funeral poverty.
Commenting on being shortlisted Anna Merryfield, Community News Director at Social Spider CIC, stated:
"Being recognised for the achievements of our newspapers is a fantastic feeling and a great opportunity to acknowledge the hard work of our small team. The decline of local news is a threat to the cohesion of our communities and to the functioning of our democracy. By engaging local people in the production of our newspapers we can provide a platform to amplify the things that matter to them and disseminate information. It's important that all communities have access to a trusted source from which to gather information about the place they live."
Visit the Social Enterprise UK website for more information.
---
Peer Support Coordinator opportunities
Surrey and Bournemouth
Together has 2 x part-time Peer Support Coordinator positions opportunities.
This role involves coordinating peer support within some of our accommodation-based services, working with groups of volunteer Peer Supporters and people who use our services.
Lived experience of mental distress is required for the role. More details, including a link to download Job Descriptions and Person Specifications can be found in the links to the Job Vacancies page of the Together website below.
One post is based in Surrey, across 4 accommodation bases (a mixture of residential and supported living services).
Click here to view Surrey vacancy
The other post is based in Bournemouth across 2 residential services there.
Click here to view Bournemouth vacancy
Application deadline:  20th September
---
Webinar – Public Mental Health
Date: 30 September 2019
Time: 12:00 – 13:00
Better mental health means we need a strategic vision for the prevention of mental illness and the promotion of mental wellbeing. A Public Health approach to mental health and wellbeing identifies the system-wide action & tools necessary for realising better Public Mental Health. Local authorities and the voluntary and community sector, in their stewardship and 'delivery roles', must work in partnership if they are to realise the potential this offers for improving the mental health of people and communities.
Join our webinar to learn more and for the opportunity to inform a new national Strategic Framework for Public Mental Health. The webinar will also identify ways to help ensure that the assets, skills and capabilities of VCSE organisations – and the people and communities they work with and for – are locked into the development and delivery of local Public Mental Health Delivery Plans.
The webinar will be led by Greg Fell, Director of Public Health, Sheffield City Council, with contributions from Jude Stansfield, National Adviser: Public Mental Health & Healthy Communities, Public Health England.
We are keen to encourage people to join this webinar live and ask the presenters questions, but if you cannot join on the day – do send your questions in advance, and we will put them forward on your behalf. This webinar will be recorded and will be made available shortly after.
Registration: Book your place here.
---
The Centre for Society & Mental Health at King's College London
The Centre for Society & Mental Health is the first interdisciplinary research centre in the UK to bring together world-leading expertise and research on the impact of social transformations on mental health.
The Centre will look at the impact of rapid social change on mental health. It is funded by the Economic and Social Research Council (ESRC) and spans two faculties at King's College London – the Institute of Psychiatry, Psychology & Neuroscience and Faculty of Social Science & Public Policy.
It will look at issues faced by young people, disadvantaged communities and in relation to work and welfare, with the aim of identifying policies and practices that can make communities more resilient.
Watch the video here featuring Dr Diana Rose.
Read more about the focus areas, objectives and key themes here.
---
Mental Health and the Journey to Parenthood
'Mental health and the journey to parenthood', a new report from Healthwatch
In this new report, Healthwatch shares what parents have told them about their experiences of mental health problems during and after pregnancy, and call on services to give people more opportunities to talk about their mental wellbeing.
Read the full report here.
---
Book: Austerity's Victims
There are approximately 1,000,000 adults with a learning disability in the UK who have suffered because of government measures since 2010.
'Austerity's Victims' exposes the reality, describing in detail the lives of five men living in Cornwall. Their income, below the relative poverty threshold, is compared with national/county medians and the Minimum Income Standard of the Joseph Rowntree Foundation. Their quality of life, as support and benefits are cut away, is also examined and shown to fall a long way short of the wellbeing defined in the 2014 Care Act.
Austerity's Victims provides invaluable evidence for the fight against this injustice.
Available on Amazon here.
---
HCUK Conferences
Healthcare (HCUK) Mental Health events
For all the latest upcoming healthcare conferences, please click this link:
For a 20% discount quote ref: HCUK20NSUN when booking.
For news and event updates follow on Twitter:
@HCUK_Clare for healthcare @SCUK_Kerry for social care
---

GOV.UK News
Edward Argar MP has been appointed Minister of State for Health
The latest health minister was announced as Edward Argar on 10th September, who will take responsibility for pensions among other areas. Edward Argar replaces Chris Skidmore as Minister of State for Health and Social Care.
Read more here.
Supporting healthy and active later life: apply for funding
Organisations can apply for a share of £37.5 million to develop ideas that could help people to enjoy healthier and more active lives in older age.
Find out more here.
Transforming Healthcare Together National Conference – 26th September 2019 – Birmingham
Chaired by  Dr Neil Churchill, Director for Experience, Participation and Equalities, NHS England and Ben Cairns, Director and Co-founder of Institute for Voluntary Action Research, this conference will be an excellent opportunity to meet and hear from others working in collaboration across sectors to deliver better health and care outcomes.
The event brings together organisations that have been involved in the NHS England and NHS Improvement, Building Health Partnerships and STP/ICS Accelerator programmes. It is an ideal opportunity for NHSE/I colleagues, STP/ICS leads, commissioners and clinicians interested or involved in building relationships with the VCSE to find out how engaging with the VCSE can help transform our healthcare system.
It will be an interactive event with workshops that show the impact that cross sector collaboration can have, as well as a plenary session focusing on creating the conditions to take collaborative working with VCSEs and ICS/ STP to the next level.
To book your free place here.
Consultation on Advancing Our Health – Prevention in 2020s
The Department of Health & Social Care is seeking your views on proposals to tackle the causes of preventable ill health in England.
'We know that our health is shaped by the environment in which we live, the choices we make, and the services we receive. We need to take action on each of these.'
This consultation closes at 11:59pm on 14 October 2019
See here for all versions of the consultation.
---
Quick Links