National Survivor User Network (NSUN) Bulletin – 17 June 2019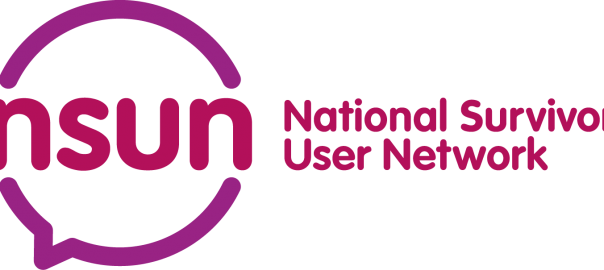 Welcome to the Monday 17 June 2019 edition of our weekly ebulletin. We have a bumper edition today, full of news, views, events and involvement opportunities. If there's anything you would like to share with the wider network please send to info@nsun.org.uk.
Previous bulletins can be viewed here.
---
Request for feedback on the bulletin
We have been sending the NSUN weekly bulletin to our members since March 2009. Feedback has told us that the bulletin is highly valued and we would really like to know what opportunities and activities you've taken up as a result of information we've shared.
Feedback request: We would appreciate you telling us what (if any) difference the information we've shared has made to you personally or professionally.
Have you got involved in research, workshops or projects?
Have you joined a group or applied for funding for your group?
Have you got involved in any national initiatives?
Have you had good responses to items you've advertised?
Please send any feedback to us directly by email.
---
NSUN News
Health and Wellbeing Alliance Webinar – Peer Support, User-Led Organisations, and Mental Health and Prevention
Date: Tuesday 18th June 2019
Time: 10.30am – 11.30am
This webinar, with Alison Faulkner and Emma Ormerod from NSUN, will provide a short overview of the role of local user-led organisations and peer support initiatives in the prevention of mental distress and social exclusion.
There is a significant role for prevention amongst people already in touch with mental health services who are at risk of further marginalisation and social exclusion. It is widely recognised that working alongside communities to understand their needs and build on existing strengths, assets and resilience is key. Book your place here.
URGENT request from the Equality and Human Rights Commission (EHRC) – TWO NSUN MEMBERS WITH LIVED EXPERIENCE REQUIRED
The EHRC has just launched an inquiry into the experiences of disabled people within the criminal justice system. The inquiry will particularly focus on the pre-trial stage. That is because evidence for disabled people's experiences at this point is particularly lacking. The inquiry will address whether disabled defendants' needs are identified; what reasonable adjustments, if any, are made; whether there are particular barriers or helpful factors; and what recommendations should be put forward. The EHRC is interested in perspectives of NSUN members and so in interviewing two NSUN members with lived experience.
If you are interested in being interviewed, please contact Dorothy Gould URGENTLY at gould.dorothy@gmail.com or on 07565 399 422.  Dorothy can then give you further information and put you in touch with EHRC if that seems helpful.
Find out more here.
---
Featured blogs and articles
We can find 'our people' on social media – but not if mental health content is over-regulated
'We can find our people on social media – but not if mental health content is over-regulated', writes @MarkOneinFour. Featured in Mental Health Today 10 June
SCREAM IF YOU WANNA GO FASTER. The Signposting Roundabout from Hell
What I need is advocacy and access to legal help to challenge discriminatory decisions that leave me being denied access to mental health or social care services. Excluded from all services and thrown in the dustbin. Someone help me get off this roundabout…
NSUN member Deborah shares her experiences of her fight for support.
---
Marsh Awards at Peerfest!
The Marsh Awards for mental health peer support 2019 recognise excellence in mental health peer support in England and Wales. The awards are run by The Marsh Christian Trust, Mind and Peerfest partner organisations.
Please nominate your peer-led support group for an award.
The categories are:
Doing it for ourselves
Innovative peer support
Peer support in marginalised communities
Every project chosen will receive a cash prize and also hear about other event and learning opportunities offered by Mind and Peerfest partners.
For more information and to nominate your group download the nomination form.
The nomination needs to be completed collectively with representatives of the group/project. Nominate here!
Please email the completed form to peersupport@mind.org.uk.
Nominations close on 31st July 2019.
---
Time to Change Lived Experience Advisor wanted
Closing date:01/07/2019
Interview date:12/07/2019
Time to Change is looking for an individual with lived experience of mental health problems to be a member of the Time to Change Senior Management Group.
Time to Change is a growing movement of people changing how we all think and act about mental health problems. Our campaign is run by Mind and Rethink Mental Illness, and thousands more organisations have joined us to make change happen.
Click here for more information and how to apply
---
Advisory board vacancies at UCL IoMH
2 x carers, 2 x service users
UCL's Institute of Mental Health is looking for skilled, energetic and enthusiastic candidates to join their IoMH advisory board – 2 x carers and 2 x service users.
The representatives will be actively involved in all functions of the Advisory Board, including commenting on the delivery of vision of the IoMH, reviewing progress on objectives and providing expert opinion.
Closing date: 5pm, Wednesday 31 July 2019
---
Perinatal MH Lived Experience Advisory Panel (LEAP) members wanted
East London NHS Foundation Trust for a research study called PAAM. The study is conducting qualitative interviews with South Asian and Black women with Perinatal Mental Illness in order to improve access to Perinatal Mental Health Services.
This is an important research study that is aiming to improve Perinatal Mental Health Services for ethnic minorities. We are looking for members for our Lived Experience Advisory Panel (LEAP), to help shape our research and give input on research materials and activities.
Members must be female, South Asian/Black, and must have experience of any kind of perinatal mental illness (Post-natal depression, post-partum psychosis, anxiety, etc.). We are also inviting  carers/partners/family members of South Asian/Black women with perinatal mental illness to join.
Members can claim up to £80 per meeting, childcare and travel costs are also included.
For more information and to apply, please contact Fatima Umar – fatima.umar3@nhs.net.
Your application form needs to be sent via email by 5 PM on 28th of June 2019
If you have any difficulties with emailing, or have any questions then please call Philip on 020 7540 4380 extension 2307
---
Voice Hearer Facilitator wanted
The Wellbeing Co.
New grass roots mental health and wellbeing organisation in Edmonton, North London, looking to set up an intro to hearing voices group.
We are looking for a keen individual with lived experience of hearing voices who is passionate about supporting/working with other voices hearers and sharing their coping mechanism and ideas of living a full life in spite of your voices.
Group will run once a week and or as decided between both facilitators. If you wish to have an informal chat about this position please give Nichola a call on 07506 793101 or email on info@thewellbeingco.org.uk
---
Users and Survivors Respond to World Psychiatric Association Articles Ignoring Disability Rights
In an open letter to the World Psychiatric Association (WPA), users and survivors defend the UN CRPD and call for relinquishment of psychiatric power.
Click to read article on MIA here
---
Refuge: Latest album
Refuge is a 4 piece acoustic/rock band, specialising in the field of mental health & wellbeing.
Their latest album, Perception, is mentored by & feat vocals from Mark Morriss of 'The Bluetones' and previously Gaz Birtles of 'The Beautiful South'.
Listen to the track 'Within' here featuring Mark Morriss.
All sales of this album support the mental health hospital ward work that the band provide.
Refuge are collaborating with a mindfulness coach to create a second album of relaxation & body scan practices set to music #MindfulMeds.
The band is made up of: Pete Hirst – lead singer, Phil Seaman – lead guitar, keys, Backing vocals, Sam Munton – bass guitar & Doug Jenkinson – Drums
Featured on: BBC Introducing, with tracks from albums Moving InWards, Within & their latest album Perception. Find out more on the Refuge website.
---
EU migrants in Manchester Event
Parasol is a new human rights initiative which is enabling EU nationals to play a more active role in British society.
Parasol are co-hosting a meeting with the University of Manchester on the theme of 'EU Migrants in Manchester: Conviviality, Belonging and Brexit'.
Date: Monday 1st of July
Time: 12.30 – 4.00pm
Address: Cross St Chapel, Cross St, Manchester, M2 1NL
The event will be introduced by Dr Alina Rzepnikowska-Phillips, Head of Research at Parasol and a Lecturer at the University of Manchester with her latest research findings on the experiences of EU nationals in the context of Brexit.
The Parasol team and invited speakers will also be exploring the findings of our recent research into the Human Trafficking and Modern Slavery, Labour Exploitation and Domestic Violence of European nationals in Greater Manchester as well as our Community development projects in North Manchester – Harpurhey Together and Our Life – which are promoting understanding, friendship and creative drama between local residents from various backgrounds.
The meeting will conclude with a panel discussion and a Q&A session.
Please confirm your attendance via Eventbrite.
For more details about Parasol's recent research, please see the Executive Summary below. Follow the Parasol Project on Twitter.
---
Suicide Crisis news
Suicide Crisis is a registered charity which runs a Suicide Crisis Centre and a Trauma Centre.
They have been providing services for over five years and have never had a suicide of a client under their care. Their work has been described as "inspirational" and "extraordinary" by the South West Zero Suicide Collaborative, one of three pilot schemes for the Government's zero suicide initiative.
Conference: Towards Zero Suicide: Preventing Suicide, Saving Lives
National zero suicide conference in Manchester: Joy Hibbins, founder and CEO of Suicide Crisis, will be a headline speaker at the event on 11 July. 
Other regions consider setting up Suicide Crisis Centres based on our model: requests to explore adopting our model come from other parts of England and Wales
]Suicide Crisis have been invited by NHS trusts and individuals in other regions to share details of our model of service and will be visiting those regions later in the year. The regions are considering whether a similar Crisis Centre would work in their area.
Suicide Crisis is being given advice and support in how to take our model of Suicide Crisis Centres to other areas by the Eastern Academic Health Science Network (AHSN). The Academic Health Science Networks were established by NHS England in 2013 "to spread innovation at pace and scale".
Visit the Suicide Crisis website for more information.
---
Research focus group on restraint
Have you ever experienced restraint in mental health settings or know someone that has?
The researchers would like to invite anyone who has experienced restraint in mental health settings or if you know someone who has, to help design a research project that finds alternatives ways of restraint. The group will be an informal discussion with around five to seven people.
Date: Wednesday 3rd July
Venue: Manchester Metropolitan Birley Campus, Brooks Building, Room 1.22 on the 1st floor 53 Bonsall Street, Manchester, M15 6GX
For more information or to sign up for the focus group please contact Elaine Craig on 0161 247 2847 or email e.craig@mmu.ac.uk
---
Co-production Festival: Oxford
Co-production Festival Theme – Building a Bridge to Co-production
Date: Tuesday 2 July 2019
Time: 10.00am -5.00pm
Venue: The King's Centre, Osney Mead, Oxford OX2 0ES
Oxfordshire's co-production festival marks National Co-production Week.
There will be speakers, activities and workshops throughout the day.
The festival is intended to be a celebration and opportunity to learn and share local experiences of co-production, as well as take part in fun activities and entertainment.
Places are limited, so if you would like to join in, please email contracts.admin@Oxfordshire.gov.uk
---
Westminster Forum event: London
Next steps for mental health services in England – prevention, specialised services and service user engagement
Date: Tuesday, 23rd July 2019
Time: 9.30am
Venue: Central London
Speakers:
Claire Murdoch, National Mental Health Director, NHS England and Chief Executive, Central and North West London NHS Foundation Trust
Amy Wattingham, Lead Lived Experience Practitioner, Oxleas NHS Foundation Trust
Lily Makurah, National Lead, Public Mental Health, Public Health England
Maria Bavetta, Champion Network Manager, Maternal Mental Health Alliance and Co-Founder, Maternal OCD
Follow us @WHFEvents | This event is CPD certified
Concessionary rate places for small charities, unfunded individuals and those in similar circumstances are £85 plus VAT. Please be sure to apply for this at the time of booking.
For those who cannot attend:
Copies of the briefing document, including full transcripts of all speeches and the questions and comments sessions and further articles from interested parties, will be available approximately 12 days after the event for £95 plus VAT;
Concessionary rate: £50 plus VAT.
---
IMROC case study: Developing Primary Care Networks
Developing Primary Care Networks and Community Focused Approaches: A Case Study
The 'Live Well' Model Report: An integrated approach to support, enable and empower people who are lonely, inactive and/or have long term conditions(s) to live well in their communities.
The Live Well model brings together best evidence for community development, social prescribing, health coaching, health education and volunteering – all linked and developed through a core coproduction forum.
This paper describes the development and outcomes of the pioneer Live Well service.
---
Callout for women's experiences of sexual health conversations with health professionals
Have you ever felt that your rights weren't being respected in relation to your sexual and/or reproductive health?
For example, have you ever had a difficult conversation with a health professional about any of the following subjects:
a) your sexual behaviour
b) whether or not you should be taking contraception and what method you choose
c) whether you would be able to be a good parent if you had a child
Clare Dolman is a service user researcher who will be speaking at the Royal College of Psychiatrists' Congress about how women are treated by professionals when they have conversations about their sexual health and contraceptive options. She wants to get your input to represent a wider spectrum of views.
Can you help Clare by telling her about your experiences, positive or negative? Any responses will be treated completely anonymously.
Please contact Clare via email at clare.dolman@kcl.ac.uk or call on 0208 8763663.
Deadline: June 28
---
Call out for individual to help challenge mental health inequality
Scottish mental health charity Miricyl have been campaigning over the last year for more equitable funding of mental health research. They estimate mental health research gets about half the level of funding compared to that of physical illnesses, a loss of £150m each year.
The government hasn't taken this on board and so most recently they have engaged leading equality and human rights lawyers Leigh Day to challenge the funding using the Equality Act. To support their case, they are now looking for an individual based in England to help them.
The individual needs to have a mental illness and be eligible for legal aid, i.e. be on a low income or benefits and not have any substantial savings.
This will not involve appearing in court. The lawyer, Rowan Smith, will take your information, make the claim for legal aid on your behalf and help you prepare a witness statement about your illness. This will then get submitted in writing to the court for its consideration.
If you would like to challenge inequality and be part of potentially creating £m of new funding please get in touch with alexconway@miricyl.org or call 0131 623 1269.
---
Dear GP zine now available
Satirical magazine
The Dear GP collective began on Twitter when a group of us began sharing frustrations about the letters we receive from mental health professionals. These letters are usually written by the professional to a patient's GP, sometimes copied to the patient themselves. The language is often dehumanising, and the mental health professional's own subjective analysis is privileged over anything the patient might say.
After the idea took hold, we decided to collect all the letters in a zine, along with art and repurposed clinical notes, in order to extend the solidarity to others offline who know these frustrations so well.
Click here to find out how to download the zine for free or buy a physical copy. All money raised will be donated to mental health user-led groups. PLUS the first run of zines is in support of NSUN!!!
---
RCPsych resources published
RCPsych have now officially published two toolkits to support local systems to better identify and address mental health inequalities and support coproduction in commissioning.
Working Well Together was commissioned by NHS England to support delivery of the Five Year Forward View for Mental Health and the NHS Long Term Plan.
Advancing Mental Health Equality (AMHE) is a resource to support commissioners and providers to tackle mental health inequalities in their local areas.
---
HCUK Conferences
Healthcare (HCUK) Mental Health events
For all the latest upcoming healthcare conferences, please click this link:
For a 20% discount quote ref: HCUK20NSUN when booking.
For news and event updates follow on Twitter:
@HCUK_Clare for healthcare @SCUK_Kerry for social care
---
GOV.UK News
Committee invites ideas for DWP "model budget", as Government looks at spending plans
The Work and Pensions Committee has launched a new inquiry examining DWP's spending priorities and how it makes its spending decisions, in light of the announcement of a forthcoming cross-government Spending Review.
We are inviting ideas and "model budgets" to suggest what DWP's spending priorities should be – and what trade-offs it might have to make – for the next three years. The benefits freeze is due to end before next year's Budget.
The Committee will be looking at DWP's spending priorities and how DWP makes its spending decisions. We'll also consider how DWP plans to achieve its own performance and customer service objectives, and at its use of caps and freezes and how they relate to its spending decisions.
Read more here.
Supporting the development of primary care networks: series of webinars
NHS England is continuing to support the development of primary care networks through a further series of webinars aimed at those working within primary care and the wider NHS.
The webinars will focus on a range of topics, such as how to best use technology to develop services and the role of pharmacy within PCNs, and will include examples of work already in progress across the country with a chance to ask questions and find out more about next steps in relation to the development of primary care networks.
Current webinar dates and themes are as follows, there is no need to register in advance, simply click on the link below at the start time.
Introduction to Primary Care Networks:
Engaging with people and communities: