National Survivor User Network (NSUN) Bulletin – 20 November 2017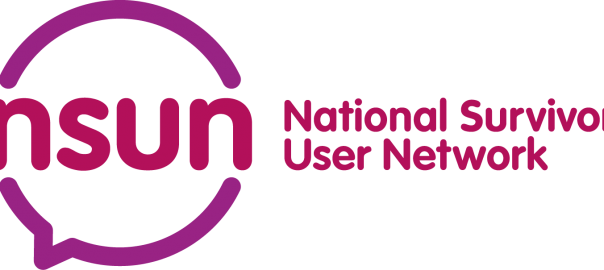 This week's bulletin looks at welfare news (specifically Universal Credit) and the Autumn Budget.We also share updates concerning our recent activities, along with a spread of general weekly and membership news.
NSUN news – our latest activities
Survivor Researcher Network (SRN) news
Norms of Belief and Norms of Action in Clinical Practice: Emma Ormerod attended the Inaugural Advanced Studies Seminar at St Catherine's College, Oxford on 2nd November. The seminar is part of a wider prorogramme (funded for one year) that is focusing on the difficulties that are widely experienced in translating research into practice. Bringing together people who use services, practitioners and policy makers, the seminar saw wide ranging discussion about the challenges and potential for values-based practice and shared decision making within a variety of clinical settings.
Mental Health Research Moot:  Members of the SRN working group attended the "Research Moot" to join different organisations to discuss their work and potential ideas for research with staff and third year mental health students.
News from the London & BME Co-ordinator:
Last week Raza Griffiths was an invited panelist at a Kings College event looking at barriers to BME healthcare. The audience, mainly made up of students training to be health professionals, had robust and wide ranging discussions on the need for treating 'mental health' as a social justice issue requiring wide scale socio-political change with the panel.
Raza emphasised the importance of BME mental health activism being more connected to and involving of students, whose knowledge, experience and enthusiasm is invaluable. Raza said "It's time we built broader alliances to our common benefit. I'm really glad I went."
Some of the feedback from the audience participants included:
"I will write articles about the issue [barriers to healthcare for BME communities including to mental healthcare] and continue to speak out about it"
"[we should] host more events like this in the student community"
[on how individuals are taking action around BME mental health and social justice]:" Working on mental health on my PhD in relation to women and BME"
"brilliantly articulated talk. Would be helpful to know more as services in Newham to target MP on specific issues as well as … cuts to services"
"Will take action. Really think the social justice and systemic political approach … is necessary and needed"
NSUN attends Psychology at Work APPG
NSUN attended the launch of the British Psychological Society's report Psychology at Work: Improving wellbeing and productivity in the workplaceat the Houses of Parliament on Tuesday 14th November via an APPG for Psychology panel discussion. The panel chaired by Dr Lisa Cameron (APPG chair), consisted of two of the report's co-authors, Dr Ashley Weinberg and Dr Nancy Doyle, and John Levell of he British Dyslexia Association.
This report brings together the latest evidence from across psychology and makes recommendations to employers and the Government on how to create healthy workplaces. It also explores how support in the workplace for people with psychological conditions that affect cognitive functions – collectively known as neurodiversity – could be improved, as well as an examination of the issue of welfare interventions in this context."
Find out more and download the report here.
Metropolitan Police Service (MPS) Mental Health Consultative Forum
Last week Naomi Good co-chaired the Mental Health Consultative Forum  with two other NSUN members attending, Errol Franklin and Shakti Mathers. Discussion and debate included approaches to Street Triage around the country, particularly the SIM (Serenity Integrated Mentoring) is a mentoring programme for people struggling to cope with highly intensive patterns of behaviour. This programme trains police and integrates mental health care and  policing. The progarmme won  an award on the Isle of Wight.
Member's blogs
On power and privacy– In the light of the almost daily revelations about workplace sexual harassment and abuse, Alison Faulkner wants to highlight not only the devastating impact that sexual abuse or assault can have on someone, but also the impact of secrecy.
What should happen when things go wrong? – this blog, written by Martin Coyle in light of the Mental Health Act review, has been re-published on our website as technical errors forced us to take the initial page down. If you wish to share this, please copy the new link. Many thanks to all for your understanding with this.
Selected blogs
Changes in welfare and Universal Credit
#ScrapUniversalCredit – news shared by DPAC and FEEL
The changes in the welfare system and the Universal Credits is the hot topic of the moment, affecting or possibly affecting everyone soon, employed and unemployed alike: it needs to get scrapped out.
Gail Ward (Disability Campaigner DPAC/BlackTriangle) has been running very useful workshops in regards. Highly recommend to follow her blog www.blueannoyed.wordpress.com/ (list of highly relevant blog posts at the very bottom of the email) and DPAC website for updates and guidance.
MP launches petition to ask for mental health spending to be ring fenced
#MentalHealthMatters
On November 22, in his Budget, the Chancellor Philip Hammond can make a difference and ring-fence mental health budgets to make sure that the promised money actually reaches local mental health services.
Luciana Berger MP is calling on the Chancellor to ring-fence mental health spend in his Autumn Budget. You can read Luciana Berger's full message and sign the petition here.
Tackling Self Harm in Schools
A project by Self Injury Support Bristol
Self-harm is a common and growing problem; it is also the strongest predictor of eventual death by suicide in adolescence, increasing the risk up to ten-fold. Around 10% of adolescents will have self-harmed by the time they finish school.
The Tackling Self Harm in Schools project will tackle the pressing issue of self-harm in schools from a number of different angles.
Aims:
Train around 50 staff in a range of roles (teaching/tutors and pastoral) from 5 different secondary schools in both rural and urban areas
Run a range of emotional wellbeing workshops across years 7-11 (we will be guided by schools about which age groups would benefit the most)
Offer/promote self-help materials and support services to all students and signpost them to other support services
Run policy workshops with 5 staff and 5 students in each school ( around 50 in total) so that the school will have a policy that has the best chance of being useful
Run 5 feedback workshops to find out what students and staff liked and didn't like about the project and what could be done better if it happened again
Review current self-help materials on our website and create new materials as designed by students and staff.
For more information, please visit the website or contact the organisation on info@selfinjurysupport.org.uk
Call for participants:experiences of ceasing non-suicidal self- Injury
What helped and what hindered: A qualitative study into people's experiences of interventions on their journey of ceasing non-suicidal self- Injury (NSSI)
The focus of this research is to gain in depth understanding of your experiences of what assisted you and hindered you in stopping non-suicidal self-injury (NSSI). You will be asked some questions about your experiences and perceptions in a confidential interview that will last one hour. The interview can be done either face to face, by telephone or Skype.
This research is important as it has the potential to provide critical information regarding the type of treatment, intervention, and support which helped you in stopping non-suicidal self-injury (NSSI); with the aim of informing and supporting others.
If you are 18 yrs old or above, and this is something that you would like to volunteer and contribute towards please contact Lorna Robinson (counselling psychology postgraduate student in the Department of Health and Social Sciences, University of the West of England,Bristol. Supervised by Dr. Zoe Thomas, zoe2.thomas@uwe.ac.uk
Working with self harm – a fresh approach
Rai Waddingham invites you to this half day workshop in Canterbury
Date: Thursday 21 December
Time: 9.30 – 4.30pm
Venue: Augustine House, CCCU Library, Rhodaus Town, Canterbury, Kent, CT1 2YA.
Cost: from £20 (concs) to £75 (full price).Whilst there is a growing awareness of the prevalence of self-harm, it remains a challenging area for many who are trying to support those who use it as a survival strategy and/or means of expressing difficult feelings.This workshop will provide a space for anyone who is involved in supporting people who self-harm to develop a greater understanding of the experience, their own reactions and ways of talking with someone about their self-harm without fearing making matters worse.
For further information and to book a place please click here.
Mental Health Act debate
Date: Wed 22 November 2017
Time: 17:30 – 20:30
Venue: Wolfson Lecture Theatre
Institute of Psychiatry, Psychology & Neuroscience, King's College London, 16 De Crespigny Park, London SE5 8AF
Participants will express views (for and against) on the statement…
''This house believes that fundamental reform of the Mental Health Act is required to reduce discrimination and unnecessary detention''
You can attend for free. Registration is open here.
FEEL's 10 years anniversary and monthly meeting
Friends of East End Loonies (FEEL) invie you to celebrate as well as discuss the latest news
Date: Monday 20 November
Time: 6.30pm
Venue: LARC, 62, Fieldgate Street,
Whitechapel E1 1ES
Ten years ago last week (15th Nov to be precise) the first gathering of the Friends of East End Loonies took place in Whitechapel.
FEEL already celebrated a decade of campaigning and achievement with other mental health Survivors and friends at the awesome Loonies Fest.
Some memories are collected on
Facebook
 .
Some more were shared by courtesy of Cheryl Prax
here
.
FEEL also had the "debut of the song "Prescriptionpath" by Sam & Daryl.
Research opportunity: study of peer support
ENRICH is a national research study of peer support that aims to find out whether employing 'Peer Workers' in Mental Health Trusts can improve peoples' experiences and outcomes of discharge from mental health inpatient care.
As part of the study, the research team is looking to speak with services or projects who currently deliver one-to-one based peer support as part of secondary mental health care.
Eligible participants will be recompensed £20 for their time if taking part in a voluntary capacity or outside their normal working hours, and will be asked to take part in telephone interviews which take approximately 30-40 minutes to complete.
Please note that for each organisation, the research team would need to speak with four individuals or one "team": a Peer worker, supported peer, a peer worker coordinator and another mental health worker.
This research has ethical approval and is coordinated by Dr Steve Gillard at St George's University.
Deadline for expressions of interest and recruitment: 12 December.
For more information please contact james.byrne@sussexpartnership.nhs.uk  You can read the HRA summary here
CQC publish resource on human rights and equality approach
CQC has published 'Equally Outstanding', a resource on how a human rights and equality approach can improve the quality of health and care.
Several organisations contributed to the development and content of the guide, including ourselves and the LGB&T Partnership.
The full document is available here and is well worth a read.
Mental health in the news: austerity, welfare, Universal Credit
The Independent:
Landmark study links Tory austerity to 120,000 deaths – government accused of economic murder
Universal Credit cuts will hit women, ethnic minorities and poor families the most,say researchers
Government refuses to investigate whether people claiming Universal Credit are forced to use food banks
Disability News Service
Research linking care cuts to 120,000 deaths 'is fresh evidence austerity kills'
The Guardian:
Peabody Trust says 42-day wait means 60,000 households, with over 40,000 children, will receive no income until after festive season
Lincolnshire property company defends sending eviction letters ahead of universal credit rollout
Up to 75,000 benefit claimants were underpaid for years
Observer view on the budget: The chancellor must finally banish the ghost of George Osborne and help the poor
The Mirror:
'Chaotic' roll out of Universal Credit benefit scheme will 'cause evictions, homelessness, spiralling debt and even suicide' – In a message to Whitehall, public sector bosses, advice services and a string of MPs have all demanded an immediate halt to the policy – insisting it will send the UK's poorest people into a downward spiral
BBC news:
Universal credit: Households to miss out on benefits over festive season
FDA.gov:
FDA approves pill with sensor that digitally tracks if patients have ingested their medication
GOV.UK news
PIP Assessment Guide
Focus on the Autumn Budget, to be introduced on 22 November.
What this budget will contain should heavily influence the Universal Credit rollout and possible cuts to welfare
Latest budget date confirmed
Budget representations: guidance updated
Guidance
 on how to submit a Budget representation, which is a written representation from an interest group, individual or representative body to HM Treasury
NHS England – National promotion
Between  20 to 24 November, NHS England intends carrying out a targeted national promotion – primarily to people from BME backgrounds who have experienced cancer treatment – to encourage more feedback on care and treatment. NHSE are particularly keen for posters to be displayed in cancer support and BME community settings and their social media assets to be used on websites, in e-newsletters and on Twitter and Facebook.  Can you help?.
The co-ordinator for the initiative is Gillian Radcliffe, Communications Manager for Insight & Feedback:
gillian.radcliffe@nhs.net
.
Meaningful digital access for people with longterm conditions workshop
Date: Thursday  07 December 2017
Time: 10:00-14:00
Location: London
The objectives of the workshop are to:-
To provide evidence which can be used as the basis for a future GMS Contract.
To qualify and quantify what is meaningful digital access by people with long term conditions.
To use the evidence collated from this meeting to promote resourcing more detailed valid reproducible data.
Contact Jana Dale by telephone on 07920 785893 or email jana.dale@nhs.net
Quick Links
Disclaimer: Not all material included in this newsletter are generated by NSUN. Where possible we try to share materials which reflect the diversity (geographical and other) of an entire national network. We welcome suggestions from you, so please email the editor info@nsun.org.uk. Sharing is not endorsing
Sources: Friends of East End Loonies (FEEL) ,DPAC, Sussex NHS Partnership, CQC, 38Degrees petition site, The Mirror, The Independent, The Guardian, BBC News, NHSE, Gov.uk