National Survivor User Network (NSUN) Bulletin – 21 October 2019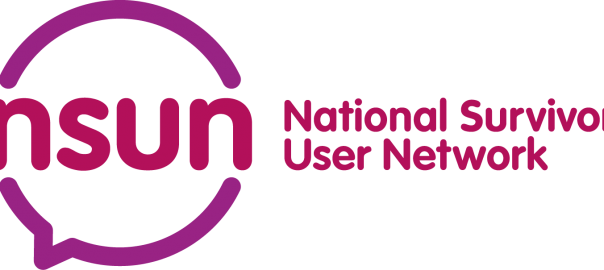 Welcome to the Monday 21st October 2019 edition of our weekly ebulletin – full of news, views, events, jobs and involvement opportunities.
---
Bulletin items
If you would like to send us an event, involvement opportunity, blog article or anything else to share with the wider network in the bulletin, please email us at info@nsun.org.uk.
You can view our previous NSUN weekly bulletins and subscribe to get them sent directly to your mailbox here.
This bulletin is FREE. If you would like to make a donation to help support the continuation of this work you can do so here.
---
Our work
As well as browsing the news from the wider membership you can also find out more about some of our work:
NSUN News
Announcement of new Trustees and CEO
Following a busy couple of months of recruitment we are very excited to announce that we now have six new Trustees who will go forward to the vote at the AGM and have appointed a new Chief Executive Officer.
After 10 years, Managing Director Sarah Yiannoullou will be handing over the reins in January 2020. This is now possible following confirmation of funding for the next three years.
Sarah says,
"The last few years have been difficult for so many small to medium sized groups and organisations. It's been important to communicate this at the highest levels and raise awareness of the reasons why so many groups have disappeared. Working in partnership with other user-led organisations, beyond the mental health world, has provided the solidarity and strength that has helped us pull through some difficult times. Whilst people are facing such damaging cuts to their support and benefits the need for collectives at a local, regional and national level are needed now more than ever.
It has been an absolute priviledge to serve such a unique network over the last 10 years. As you might expect, I look back and reflect on what could have been done better or differently but I've learnt so much and met so many inspirational people that my reflections move quickly on to what we've achieved as a collective and the potential of what can be accomplished in the future.
So, it is with great pleasure and excitement that I announce the appointment of Akiko Hart as the new NSUN CEO. Akiko will take up the post in January 2020.
The hand over process has been carefully considered and discussed with funders. We want to make sure that the future of the network is protected as best it can be through a managed succession plan and a supported hand over period.
Read Akiko's message to the membership here.
I'm also delighted that Akiko will be joining us at the NSUN AGM this week.
It's an exciting time for NSUN and reassuring that the new year brings new energy, a clear direction and a more certain future.
---
NSUN AGM & Members' Event 2019 – York
We're looking forward to our 7th Members' Event and AGM this coming Thursday (24.10.19). For those of you who can't make it to York, you can follow us live on Twitter at  #nsunagm19. Last year we focused on the 'future of peer support' and we'll be feeding back on the progress we've made in taking some of the ideas and suggestions from members on the day.
This year the focus is on the 'value of user-led groups'. This has been our main campaign for 2019. On World Mental Health Day we raised awareness of  the crisis that many user-led organisations are facing. These groups and organisations play a vital role in supporting people through some of their most difficult moments in life.
---
The Freedom Drive for Disabled People: European Network on Independent Living (ENIL)
At the start of October, Dorothy Gould travelled to Brussels to join in the Freedom Drive. Read Dorothy's report on the event.
The Freedom Drive is a bi-annual event designed to bring together disabled people from the whole of Europe in support of independent living and community involvement. The campaign is again based on Article 19 of the United Nations Convention of the Rights of Persons with Disabilities, UNCRPD and General Comment 5 about the Article. It was exhilarating to be with people from so many countries in Europe, all wanting to achieve the same goal and all campaigning for it, despite major obstacles, including austerity issues similar to those facing us in the UK. It was encouraging as well to receive support from ENIL team members and delegates about the fact that independent living also means an end to substitute decision-making, sectioning and forced treatment, with the necessary resources in place to make that feasible. Some particular highlights of the Freedom Drive were:
A workshop in which we heard about governments' responsibility to make full use of the UNCRPD in their implementation of the United Nations' Sustainable Development Goals, SDGs, (https://www.un.org/sustainabledevelopment/sustainable-development-goals/). The SDGs are a blueprint, to which governments, including the UK government, have signed up. They are designed to achieve a better and more sustainable future for people across the world
A march to the European Parliament and dialogue with its members about the vital need for fully supported independent living and community inclusion which result in us having the same rights as any other citizens
Presentations from keynote speakers across Europe (including Simone Aspis and Tara Flood from the UK) about issues and needs across Europe and from Japanese delegates, too. Japan, in partnership with the USA, is also promoting a World Independent Living Network.
Dorothy Gould: gould.dorothy@gmail.com
SRN is on Twitter!
Mental health knowledge built by service users and survivors. The Survivor Researcher Network (SRN) has a new Twitter account. You can find us at @SurvivorResNet. Find out more about SRN and how to join here.
---
Featured blogs and articles
Protest Art exhibited in Museums, new trend unfolds?
Blog from Friends of East End Loonies published 16 October.
'Museum and Galleries offering some space to the reactionary voices and messages from psychiatry survivors, activist and artists that are rising awareness about the damages psychiatry – and generally medicine – has been causing for far too long and still is: from severe addictions to damaging medication and tortures, rather than treatments, to the most brutal approach of chaining people (in Indonesia), in unison what everyone is demanding is care, awareness and change.'
"It doesn't mean they aren't after you": sexual minorities and paranoia
Published 21 October, Mental Elf
Dr Sarah Carr Senior Fellow in Mental Health Policy at the University of Birmingham and former Chair of NSUN, reviews the research paper Sexual minority status and symptoms of psychosis: The role of bullying, discrimination, social support, and drug use – Findings from the Adult Psychiatric Morbidity Survey 2007
---
. 
Life Stories: Surviving Suicide
Talk for Health World Mental Health Day performance
NSUN celebrated World Mental Health Day with the UK premiere performance of Life Stories: Surviving Suicide, devised by theatre director Jeremy Weller with nine Talk for Health graduates.
Founder and CEO, Nicky Forsythe said…
"It was an extraordinarily powerful evening and we thank you so much if you were able to be a part of it. We especially thank the performers for their bravery in sharing their stories.
One of the performers – both a Talk for Health graduate and Trainer – said:
"The things people shared were incredibly powerful, and it created change for all the people I connected with, during and after. The great thing was the freedom to talk about these things in a creative way. Because there was no taboo it was really liberating. It gave me confidence."
… Talk for Health is a small social enterprise providing a much-needed service. Only 16% of those who might benefit from NHS therapy get access to it. We have demonstrated over 6 years  – commissioned by Islington CCG and other funders –  that our group peer counselling method is as effective as therapy and with longer lasting impacts (see the annual report)."
NSUN had the pleasure of worked with Nicky during the early days of setting up the Talk for Health programme and is delighted to see how the programme has gone from strength to strength. It was particularly powerful to hear directly from people who have graduated from the programme and see and hear them express their experience so bravely and so creatively.
Email info@talkforhealth.co.uk or visit the website for more information.
---
Campaign for National Independent Living Service
Reclaiming Our Futures Alliance
In April of this year, the Reclaiming Our Futures Alliance, an alliance of Disabled People and organisations led by Disabled People, held a parliamentary launch of their campaign document about independent living (ROFA National Independent Living Support System (NILSS) document ). This focuses on disabled people's right to live independently and to be included in the community, in accordance with Article 19 of the United Nations Convention on the Rights of Persons with Disabilities and the Convention guidelines about implementing Article 19, in General Comment 5. Particular reasons for the campaign are the devastating impact of austerity measures, still more so for people who experience discrimination in more than one way, and the major obstacles that these present to independent living and community involvement.  In line with Article 19 and General Comment 5, the campaign report also emphasises that the use of institutions, including involuntary detention in psychiatric hospitals and forced treatment, have no place in independent living. The call is for a new, free-standing law, drawn up in consultation with user-led organisations, to implement an independent living bill of rights and for enough funding to ensure that necessary support is in place.  The campaign document is an exciting one.
It is being developed further; for example, at a meeting on 6th September, there was the chance to make further suggestions about it, including further aspects of independent living which could be added. Considerable though is also going into ways of creating understanding of independent living in its true sense and winning support for it.
For more information, contact Dorothy Gould at gould.dorothy@gmail.com
---
Peerfest 19 – Register now!
National celebration of peer support
Come and experience a showcase of diverse groups from around England and Wales that all champion mental health peer support in their own unique ways. If making peer support special to your own community, culture, faith, customs and beliefs is something you're passionate about – join us at Peerfest19.
Sign up here to book your place
Registration on the day starts at 11am, with peer-led activities throughout the afternoon, and find out who the Mental Health Peer Support Marsh Award Winners are! Peerfest19 will finish at 7pm.
When: 3rd December 2019
Where: West Bromwich Albion Football Club, 9 Birmingham Road, West Bromwich
B71 4LF
We've spent 6 months working together with peer-led groups to make sure Peerfest19 is set to give a nod back to its roots – lively, loud and fun!
Plus we'll be launching Mind's Maternal Mental Health Peer Support Principles at a workshop conducted by the mums with lived experience who facilitated this project.
We strive to ensure everyone is able to attend Peerfest19, whatever their circumstances. A limited number of bursaries are available to help with travel and expenses. For more information, speak to us on 07500 778321 or email peerfest@mind.org.uk
---
HEAR: Stronger Together for Health and Wellbeing
London event
As part of its Stronger Together project, funded by the Awards for All-National Lottery Community Fund, HEAR invites you to an event for people and organisations involved in campaigns, lobbying and other activities aimed at improving health and well-being or tackling discrimination, poor services or inappropriate commissioning, inadequate access etc.
Date: Friday 8 November
Time: 14:00 – 16:30
Venue: Voluntary Action Islington, 200a Pentonville Road, N1 9JP
This event is for anyone who is an 'expert by experience', has lived experience that they are using in their campaigning, is part of a peer-led service or supports this type of work in their organisation or group.
Programme of contents to follow, but if you would like to attend please email: Christine@hearequality.org.uk
---
Communicating Self-Harm and Suicide in Families
Birmingham event
Communicating Self-Harm and Suicide in Families
Date: Saturday 2 November
Time: 14:30-17:30
Venue: Midlands Arts Centre – MAC, Cannon Hill Park, Birmingham, B12 9QH
Suicide accounts for around 800,000 deaths globally per year. Given that self-harm is the strongest predictor for suicide completion, supporting families dealing with these issues is incredibly important.
The event includes interactive arts-based activities and a Q&A discussion with a panel drawn from charities and local organisations, academics and researchers, as well individuals with lived experience of self-harm and suicide. The event aims to explore ways in which individuals struggling with self-harm and suicidal thoughts or behaviour can better communicate within their family, and for families to reflect on how to support individuals who self-harm or are suicidal.
All welcome to attend! Please visit the online event page for full details.
---
Mental Health Policy Group
Manifesto for the next Prime Minister
The Mental Health Policy Group consists of six national organisations working together to improve mental health: Centre for Mental Health, the Mental Health Foundation, NHS Confederation's Mental Health Network, Mind, Rethink Mental Illness and the Royal College of Psychiatrists.
The Mental Health Policy Group have published their Towards Mental Health Equality – A Manifesto for the Next Prime Minister July 2019
---
Job Opportunity: Peer Impact and Engagement Officer
McPin Foundation
Are you interested in mental health research & translation but also in communications and engagement? Do you have excellent people skills?
Would you like to be part of the coordination team for the 8 Mental Health Research Networks?
The McPin Foundation is hiring a Peer Impact and Engagement Officer. The person will be encouraged and supported to draw on personal experiences of managing mental health problems within the post – this is what the 'peer' in the job title refers to.
The role is based at McPin's London office but will work closely with Professor Elaine Fox of the University of Oxford, the Mental Elf and others in the coordination team.
The role is 4 days a week and pays £27,000 FTE
For more information and to apply, click here
---
Involvement opportunity
McPin Foundation
We are looking for people with a primary diagnosis of depression living in the London and the surrounding regions to participate in workshops aimed at developing a virtual reality therapy to help people with depression. We are particularly interested in people who have received treatment for depression through Improving Access to Psychological Therapy (IAPT) services. If you have been referred to therapy through the NHS, this is probably IAPT – see our FAQ document for more details. But this is not essential! We need people who would say that depression is the main mental health issue that they experience.You do not need any experience of or knowledge about virtual reality or depression research to participate in this opportunity.
For more information, please click here, or contact Anja Hollowell by email anjahollowell@mcpin.org or phone 0207 922 7871.
Deadline November 13th.
Documents for this opportunity can be found on the project page here
---
Free Talking for Wellbeing Programme
Launch event
Building on a successful run in Islington, Talk for Health is bringing their free talking for wellbeing programme to Camden!
Please join them for the launch event at their first-ever Super Café:
When: Monday, October 28th, 6-8pm
Where: UCL BaseKX, 103c Camley St, London. N1C 4PF
Talk for Health is a local social enterprise working to improve mental health through therapeutic talk and listening. At this free event for up to 100 people, you will get a cuppa, relax and find out how to take care of your emotional health as well as lift your own and others' wellbeing through good listening, truthful talking and empathic listening.
For more details and to register click here.
---
Help to set the research agenda for occupational therapy
Online survey
Complete an online survey and tell us what you think should be on the occupational therapy research agenda.
If you have experience of occupational therapy then please share your thoughts with the Royal College of Occupational Therapists. We are working to set the research agenda for the profession by identifying what's important to people who access occupational therapy services, their carers/family and occupational therapists.
We are asking for 5 to 10 minutes of your time to fill in a survey questionnaire.
It is available online here.
Survey closes on 5 November 2019
---
Mental Diversity Law Conference: Nottingham
Save the date!
Date: 23-24 June 2020
Venue: University of Nottingham
The event is preceded on 22 June with a preconference for research students and early career researchers.
Final plans are still to be made but the plenaries sessions:
Law, politics, activism and academia at the interface – a roundtable discussion in the context of law reform, austerity, political expectations and practical experiences.
How should the Council of Europe respond to the UN Convention on the Rights of Persons with Disabiliites?
Judging and Identities – asking judges and tribunal members with specific backgrounds (eg., BME, service user, carer)  to reflect on that background in the context of their work on mental health tribunals and similar bodies
resource from the Wellcome Trust  will support attendance of people with lived experience of mental distress – so in this conference, they expect at least 20 per cent of delegates and half the plenary speakers to have that background.
'Registration information and a formal call for papers will be available in due course – but for the moment, please save the dates!'
---
Events reminder
Advanced Studies Seminar: Supporting Voice-hearers in the Workplace – Oxford
When: Wednesday 23 October
Where: St Catherine's College, University of Oxford, Oxford OX1 3UJ
Time: 10:00 – 16:00
If you would like to have a place to attend the Seminar, please email Dr Roz Austin. More information available here.
Healing Our Broken Village – 11th Annual Black Mental Health Conference
When:  Thursday 24 October
Where: New Testament Assembly.
7 Beechcroft Road, Tooting, London
SW17 7BU View Map
Time: 2:30 – 19:30
Find out more and book your place here.
Leadership in the field of Lived Experience Practitioner working 
When:  Fri, 25 October 2019
Where:  St Pancras Hospital, 4 Saint Pancras Way, London  NW1 0PE
Time: 10:00 – 16:30
To find out more and register, click here to book your ticket
Transcranial Magnetic Stimulation for Depression
When: 5th November 2019
Where: St Francis of Assisi Church Hall, Church Road, WGC, Herts AL8 6QJ
Time: 13:00 – 14:00 
Book online here or call Herts Viewpoint on 01707 386136
---
HCUK Conferences
Healthcare (HCUK) Mental Health events
For all the latest upcoming healthcare conferences, please click this link:
For a 20% discount quote ref: HCUK20NSUN when booking.
For news and event updates follow on Twitter:
@HCUK_Clare for healthcare @SCUK_Kerry for social care
---
GOV.UK News
Cabinet Office Roundtable: next steps for a cross-government approach on disability
A new cross-government disability team has now been established in the Cabinet Office. The Office for Disability Issues (ODI)  is transferring from the Department for Work and Pensions to the Cabinet Office and will be incorporated into the new disability team. The initiative is said to represent recognition of the fact that disabled people face barriers across many parts of their lives and so that coordinated cross-government action is vital. The disability team will also be part of the new Equalities Hub alongside the Government Equalities Office and the Race Disparity Unit. The stated intention behind this is the achievement of meaningful progress on equality, including issues for people experiencing more than one form of discrimination (intersectional issues). On 27th September, a range of stakeholders including NSUN, were invited to a roundtable organised by the Cabinet Office to give our views about government priorities for disabled people. Some key issues which I raised/supported on NSUN's behalf were:
The under-representation of user-led groups at the roundtable (not more than 25%), despite the government's responsibility to ensure our full and equal involvement under the United Nations Convention on the Rights of Persons with Disabilities and despite the level of expertise which we have to bring
The inadequate emphasis on user-led organisations in the regional stakeholder groups that have been launched
The need to address the funding crisis for user-led groups – and to ensure payment and cover expenses for meetings such as this
The need to tackle major trauma and disadvantages caused by austerity measures and major problems arising from a lack of integration between services
The importance of bringing in the sorts of resources which enable an end to substitute decision-making, detention in psychiatric hospitals and enforced treatment, so that people with lived experience have the same rights as anyone else
The need for a significant increase in user-led services, including those focusing on issues such as gender, ethnicity and sexual orientation; we have so much expertise ourselves.
NHS England webinars
Quick Links