National Survivor User Network (NSUN) Bulletin – 24 June 2019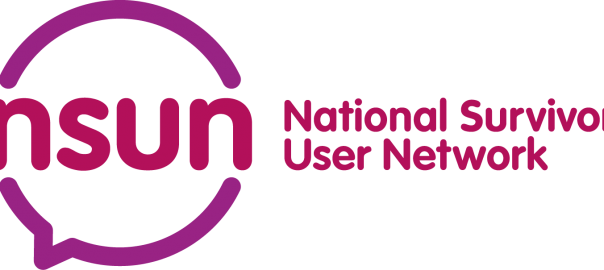 Welcome to the Monday 24 June 2019 edition of our weekly ebulletin – full of news, views, events and involvement opportunities. If there's anything you would like to share with the wider network please send to info@nsun.org.uk.
Previous bulletins can be viewed here.
---
Request for feedback on the bulletin & 4Pi
We have been sending the NSUN weekly bulletin to our members since March 2009. Feedback has told us that the bulletin is highly valued and we would really like to know what opportunities and activities you've taken up as a result of information we've shared.
Feedback request: We would appreciate you telling us what (if any) difference the information we've shared has made to you personally or professionally.
Have you got involved in research, workshops or projects?
Have you joined a group or applied for funding for your group?
Have you got involved in any national initiatives?
Have you had good responses to items you've advertised?
Please send any feedback to us directly by email at info@nsun.org.uk.
Request for feedback on the use of 4Pi
We are currently reviewing how the 4Pi National Involvement Standards are being used across the country. If they are being used we want to know what difference they have made to involvement and co-production practice.
If you work with or for an organisation using the 4Pi framework, please email Angela Newton at anjynewton@hotmail.com.
---
NSUN News
URGENT request from the Equality and Human Rights Commission (EHRC) – TWO NSUN MEMBERS WITH LIVED EXPERIENCE REQUIRED
The EHRC has just launched an inquiry into the experiences of disabled people within the criminal justice system. The inquiry will particularly focus on the pre-trial stage. That is because evidence for disabled people's experiences at this point is particularly lacking. The inquiry will address whether disabled defendants' needs are identified; what reasonable adjustments, if any, are made; whether there are particular barriers or helpful factors; and what recommendations should be put forward. The EHRC is interested in perspectives of NSUN members and so in interviewing two NSUN members with lived experience.
If you are interested in being interviewed, please contact Dorothy Gould URGENTLY at gould.dorothy@gmail.com or on 07565 399 422.  Dorothy can then give you further information and put you in touch with EHRC if that seems helpful.
Find out more here.
---
Featured blogs and articles
Why do we allow people to go through the problems mental health difficulty causes alone?
"Sometimes we all need someone on our side, so why do so many people with mental health difficulties find themselves completely alone in distressing situations?"
The latest piece by @MarkOneinFour as part of the 'Writer in Residence' series for the Centre for Mental Health.
Health and well-being in the community: Trauma Matters event
A blog by Matthew Mckenzie, published on 'A Caring Mind' website.
"When I travel and network with mental health forums, groups or organisations, I am amazed with the work "We Coproduce" does. They have done so much for the community not only in their own area, but further afield."
---
Manchester Users Network
Protest at Trust Headquarters
Members of Manchester Users Network gathered outside the Greater Manchester Mental Health NHS Foundation Trust headquarters to raise their concerns about vulnerable people being stepped down (under the name recovery), from secondary care services to primary care services.
'Being 'stepped down' without proper consideration and consultation with people is putting them at great risk of homelessness, losing benefits including bus passes, readmission in to hospital and sadly, suicide.'
At their recent meeting on 19 June, they also discussed their concerns about the CQC only allowing people who have only used services within the last 12 months to share their views and the Trust's involvement policy excluding people who have not used services within the last 12 months.
---
Survivors Voices Peer Support Gathering
London
Survivors Voices is a small, national peer-led organisation run by and for adult survivors of abuse and inter-personal trauma and those who support them.
The next Survivors Voices gathering is booked for Sunday 15th September, from 10.30am to 4.30pm, at a venue in South West London.
'As ever, the gathering is open to people who have experienced any form of abuse, with supporters welcome if they are attending with a survivor friend or family member.'
Contact via the website.
---
Dear GP zine now available
Satirical magazine
The Dear GP collective began on Twitter when a group of us began sharing frustrations about the letters we receive from mental health professionals. These letters are usually written by the professional to a patient's GP, sometimes copied to the patient themselves. The language is often dehumanising, and the mental health professional's own subjective analysis is privileged over anything the patient might say.
After the idea took hold, we decided to collect all the letters in a zine, along with art and repurposed clinical notes, in order to extend the solidarity to others offline who know these frustrations so well.
Click here to find out how to download the zine for free or buy a physical copy. All money raised will be donated to mental health user-led groups. PLUS the first run of zines is in support of NSUN!!!
---
Loneliness and Isolation Project
Acclaimed artist Tony Fisher is seeking participants for his next project after receiving an Arts Council grant to explore the subject of wellbeing.
The project explores themes which he has battled personally over more than 40 years, and result in a year of touring exhibits and talks.
Tony says: "I want to do specific research on the theme of loneliness, isolation and wellbeing. I will work with anyone suffering from isolation and I will produce an image to reflect this."
In the process of this work, he has become a passionate advocate for disability, mental health and the arts, travelling internationally to collaborate with organisations, make work and raise awareness.
Find out more here and visit the Facebook page.
---
Marsh Awards at Peerfest!
The Marsh Awards for mental health peer support 2019 recognise excellence in mental health peer support in England and Wales. The awards are run by The Marsh Christian Trust, Mind and Peerfest partner organisations.
Please nominate your peer-led support group for an award.
The categories are:
Doing it for ourselves
Innovative peer support
Peer support in marginalised communities
Every project chosen will receive a cash prize and also hear about other event and learning opportunities offered by Mind and Peerfest partners.
For more information and to nominate your group download the nomination form.
The nomination needs to be completed collectively with representatives of the group/project. Nominate here!
Please email the completed form to peersupport@mind.org.uk.
Nominations close on 31st July 2019.
---
The UK's First Social And Economic Rights Bill
Two years ago, human rights campaigners Koldo Casla and Peter Roderick first discussed creating a bill enshrining social and economic rights in the UK. With a draft version now out for consultation, their vision is creeping closer to reality.
Ella Braidwood finds out more about the campaigners behind the bill.
Read more here.
---
Race on the Agenda: recruitment
Communications Officer
Race on the Agenda Creme Project Communications Officer – 28th June Deadline
Race on the Agenda are currently seeking an exceptional individual to take on the role of Communications Project Officer, working alongside our project partners Runnymede Trust and Black Training and Enterprise Group (BTEG), based in their London offices.
Salary Grade: £35,000
Conditions: Non-contributory pension of 5% (after six consecutive months); 26 days annual leave; 37.5 hour week. 3yrs, Full-time
To find out more about the CRÈME project, the role and how to apply visit the website.
---
Time to Change Lived Experience Advisor wanted
Closing date:01/07/2019
Interview date:12/07/2019
Time to Change is looking for an individual with lived experience of mental health problems to be a member of the Time to Change Senior Management Group.
Click here for more information and how to apply
---
National Co-production Week: Sharing Power
Co-production Festival Theme – Building a Bridge to Co-production
Monday 1 July to Friday 5th July
Join our webinar – a free online taster for SCIE's new training session 'Co-production: Holding accessible and inclusive meetings' more below
Our Co-production Week blog is packed with examples of co-production across a range of sectors and organisations.
Our Podcast from guests including Oxfordshire County Council's Co-Production Team and Walsingham Support Services on co-production in action – more details coming soon
Join our Twitter Event from 7-8pm on 3rd July- see more @SCIE_socialcare
We're launching 'Breaking Down The Barriers to Co-Production' a short report based on co-production week 2018


---
New Guide to Children's Mental Health
When a child is faced with a mental health issue, it can be bewildering for parents, especially if they have spent a lifetime trying to give that child the best life they can. But self-flagellation and parental anxiety does nothing to help kids in crisis. What panicked parents need is a way to feel like they are part of the solution. Mind Kind offers a parenting philosophy with kindness at its core.
In Mind Kind, distinguished psychotherapist, mother and grandmother Dr Joanna North offers, not prescriptive parenting techniques, but a guide to rethinking your parenting mindset. She aims to help parents become more aware of the types of emotional support children may need. Through following this practical advice, you can help your child grow a strong and resilient mind, even when going through difficult times.
PUBLISHED July 2019 Mind Kind is available from Exisle Publishing and wherever good books are sold.
---
Art exhibition calls for contributions
State of the Art
We welcome anyone (artists, those with lived experiences etc) to submit their art online – either through the online form via the link below or emailed to art@beckyinkster.com – to be shown as part of our Digital Gallery associated with the Digital Innovation in Mental Health 2019 conference. The theme of the work will address any questions relating to technology, innovation, mental health, policies, ethics, social media etc.
Click here to find out more and submit your work
---
Health Foundation briefing published
NHS plan jeopardised by unfinished business on funding and rising demand
The Health Foundation has published a new briefing "Investing in The NHS long term plan: job done?"
Their analysis finds that delivering on the vision in the plan will be extremely challenging without urgent government action on wider health funding, including in workforce, capital, prevention and social care.
Without this investment, over-stretched services and poorly maintained facilities mean the health service will continue to struggle in the face of rising demand.
---
Free online courses: Future Learn
Supported by the King's Fund
The Future Learn programme offers a number of free online mental health courses.
Other categories include:
Westminster Forum event: London
Next steps for mental health services in England – prevention, specialised services and service user engagement
Date: Tuesday, 23rd July 2019
Time: 9.30am – 1pm
Venue: Central London
Speakers:
Claire Murdoch, National Mental Health Director, NHS England and Chief Executive, Central and North West London NHS Foundation Trust
Amy Wattingham, Lead Lived Experience Practitioner, Oxleas NHS Foundation Trust
Lily Makurah, National Lead, Public Mental Health, Public Health England
Maria Bavetta, Champion Network Manager, Maternal Mental Health Alliance and Co-Founder, Maternal OCD
Follow us @WHFEvents | This event is CPD certified Book Online
---
HCUK Conferences
Healthcare (HCUK) Mental Health eventsFor all the latest upcoming healthcare conferences, please click this link:
For a 20% discount quote ref: HCUK20NSUN when booking.
For news and event updates follow on Twitter:
@HCUK_Clare for healthcare @SCUK_Kerry for social care
---
GOV.UK News
Health & Wellbeing Alliance: Dentistry Report
Shaping Our Lives on behalf of the Win-Win Alliance, facilitated a focus group to discuss how special care dental services could be redesigned to work better for patients. Findings from the focus group are now available in the Special Care Dentistry Focus Group Report.
The focus group was facilitated by Becki Meakin, General Manager of Shaping Our Lives on behalf of the Win-Win Alliance. The Win-Win Alliance is a member of the VCSE Health and Wellbeing Alliance and is a consortium of user-led organisations including Disability Rights UK, NSUN, CHANGE and Shaping Our Lives. The Win-Win Alliance provide expertise on the involvement of disabled people in shaping health and social care services.
NHS England Interim People Plan
The Interim NHS People Plan, developed collaboratively with national leaders and partners, sets a vision for how people working in the NHS will be supported to deliver that care and identifies the actions NHSE will take to help them. Download the plan here.
Supporting the development of primary care networks: series of webinars
NHS England is continuing to support the development of primary care networks through a further series of webinars aimed at those working within primary care and the wider NHS. The webinars will focus on a range of topics, such as how to best use technology to develop services and the role of pharmacy within PCNs, and will include examples of work already in progress across the country with a chance to ask questions and find out more about next steps in relation to the development of primary care networks.
Introduction to Primary Care Networks:
Engaging with people and communities:
Quick Links