National Survivor User Network (NSUN) Bulletin – 28 October 2019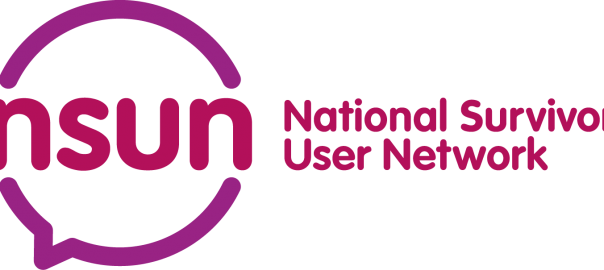 Welcome to the Monday 28th October 2019 edition of our weekly ebulletin – full of news, views, events, jobs and involvement opportunities.
---
Bulletin items
If you would like to send us an event, involvement opportunity, blog article or anything else to share with the wider network in the bulletin, please email us at info@nsun.org.uk.
You should write out a short ad (see examples below) with all the info needed, contact details, deadlines, and relevant web links etc. and attach an image we can use (e.g. your logo or other relevant image). Please submit ready in this way.
Please note we cannot attach flyers, job descriptions or any other item to the bulletin.
You can view our previous NSUN weekly bulletins and subscribe to get them sent directly to your mailbox here.
This bulletin is FREE. If you would like to make a donation to help support the continuation of this work you can do so here.
---
Our work
As well as browsing the news from the wider membership you can also find out more about some of our work:
NSUN News
NSUN AGM & Members' Event 2019 – York
Thank you to those of you who were able to join us in York last week for the 8th Members' Event and AGM. If you weren't able to make it you can read the twitter feed on #nsunagm19 and here.
The theme this year was the 'value of user-led groups'. This has been our main campaign for 2019. On the day we heard some impassioned speeches from our keynote speakers and then from our members' during the Soap Box session. These will be available on our YouTube channel soon.
In the 'Featured blogs and articles' section we've included Mark Brown's speech from the day and Stephanie Taylor King's article following the event.
We also used the opportunity to raise awareness of the crisis that many user-led organisations on World Mental Health Day.
NSUN announces new CEO
Last week we announced the appointment of Akiko Hart (@AkikoMHart) as the new NSUN CEO. Akiko will take up the post in January 2020.
Akiko attended the AGM & Members' event and has written this message to the membership in advance of joining NSUN.
The Freedom Drive for Disabled People: European Network on Independent Living (ENIL)
At the start of October, Dorothy Gould travelled to Brussels to join in the Freedom Drive for Disabled People. Read Dorothy's report on the event here.
SRN is on Twitter!
Mental health knowledge built by service users and survivors. The Survivor Researcher Network (SRN) has a new Twitter account. You can find us at @SurvivorResNet. Find out more about SRN and how to join here
---
Featured blogs and articles
User-led organisations are the people's story of mental health
Read Mark Brown's text of the speech he delivered at the NSUN AGM & Members' event 24 October 2019.
'User-led groups are far more than just a different way of delivering services. They are a collective story not of mental health services, or mental health professions, or mental health treatments but mental health lives. The history of user-led organisations is a people's history of mental health.'
Oppressed minorities must come together
Stephanie Taylor King shares her reflections following teh NSUN AGM & Members' event.
'This week, I attended NSUN's annual event in York and, from speeches to conversations with my peers,  it was clear that we were all sharing a feeling of dislocation, of being part of broken, under threat,  communities.'
---
NSUN Members' Manifesto 2019
Our Members' Manifesto 2019 was launched at the NSUN AGM & Members' event 24 October 2019.
It draws on feedback from our AGM & Members' event 2018, the 2018 survey about the manifesto and a wide range of project and influencing work.
The 2019 Manifesto is an updated version of the Members' Manifesto 2017 'Our voice, our vision, our values' .
This is our third version since 2015. We aim to review the Manifesto every two years.
---
Peerfest 19 – Register now! 
National celebration of peer support
Come and experience a showcase of diverse groups from around England and Wales that all champion mental health peer support in their own unique ways. If making peer support special to your own community, culture, faith, customs and beliefs is something you're passionate about – join us at Peerfest19.
Sign up here to book your place
Registration on the day starts at 11am, with peer-led activities throughout the afternoon, and find out who the Mental Health Peer Support Marsh Award Winners are! Peerfest19 will finish at 7pm.
When: 3rd December 2019
Where: West Bromwich Albion Football Club, 9 Birmingham Road, West Bromwich, B71 4LF
We've spent 6 months working together with peer-led groups to make sure Peerfest19 is set to give a nod back to its roots – lively, loud and fun!
Plus we'll be launching Mind's Maternal Mental Health Peer Support Principles at a workshop conducted by the mums with lived experience who facilitated this project.
We strive to ensure everyone is able to attend Peerfest19, whatever their circumstances. A limited number of bursaries are available to help with travel and expenses. For more information, speak to us on 07500 778321 or email peerfest@mind.org.uk
---
Peer Specialists in the Mental Health Workforce: A Critical Reassessment  
Mad In America
This article outlines peer support in the US context and some similar challenges to those reported by/for peer support/lived experience workers and practitioners working in the NHS in the UK.
Read the full article here.
By Darby Penney & Peter Stastny, MD
Published 16 October 2019
---
UK Black History Month exhibition (London)
Dates:
Until Thursday 31 October
Special event Tuesday 29th October from 17:30 – 19:00 (with speakers and refreshments)
Venue: Green Bean Cafe, Resource for London, 356 Holloway Road, London N7 6PA
Hosted by Galop.
To celebrate UK Black History Month, two members of the Galop team, Nikki Nathan Lucas and Taranjit Chana have designed and produced this exhibition. It includes their choices of the people they believe should be celebrated for their contributions to Black history. They also recognise there are many, many more people that should be up there.
Galop is the UK's LGBT+ anti-violence charity. For over 35 years they have provided advice, support and advocacy to LGBT+ survivors and campaigned to end anti-LGBT+ abuse and discrimination. Working around three key areas – hate crime, domestic abuse and sexual violence – their mission is to make life safe, just and fair for LGBT+ people.
The Exhibition is displayed at Resource for London and open to visitors 7 days a week (8:30am-6pm).
---
Job: Hearing Voices Manager, Mind in Camden 
London
Salary: Starting from £27,034 inc. ILW (28 HPW) or £20,276 inc. ILW (21 HPW)
Closing date: Midday 04 Nov 2019
Interview dates: Friday 8th & Monday 18th November 2019.
This post is funded until 31st March 2020, and we are currently fundraising for the next phase of the projects. It is anticipated that the projects will continue to be funded beyond March 2020.
The Hearing Voices projects have been continuously funded for over 10 years.
Read more about the post and application process here.
---
Free Programme: Talking for Wellbeing (London)
Talk for Health Taster
Date: Friday, 1st November 2019
Time: 3:00 – 5:00 pm
Location: Islington Town Hall, Upper Street, London, N1 2UD
WHAT'S THE IDEA?
It's important to take care of our emotional wellbeing, just as it is to take care of our bodies. One way of doing this is to connect in a truthful and empathic way with others.
WHO IS IT FOR?
Anyone who wants to take care of their wellbeing and support others.
WHAT ARE YOUR NEXT STEPS?
Come to a Taster. Then you can:
Come to TALK FOR HEALTH CAFES; continue talking for wellbeing and gain communication skills.
Do our in-depth 4-day Talk for Health Programme.
Follow these with ongoing groups for strong peer networks.
It's all FREE and is commissioned by the NHS. You will learn and have space for:
Honest talking – being the real you
Empathic listening
Basic counselling skills
How to set up and be part of an ongoing group to talk for wellbeing.
Register here to attend the next Taster or for more information contact info@talkforhealth.co.uk or call 07826 148461.
---
Film about mental health – actors needed
No experience needed!
Lara Manwaring Casting is a casting company for Film & TV. Previous projects worked on include the Channel 4 series 'Top Boy'. They are currently casting for the lead role in a BBC Films feature. (It is a fictional story, not a documentary).
Set in East London, the film is about a man under mental health services and his journey to recovery. The aim is to be authentic and avoid stigma.
They are keen to meet men aged 18 – 35 who have either struggled with sever mental health experiences themselves or have witness a close family member who has. This might include things like hearing voices, unusual beliefs, psychosis, mania or being in hospital.
Please note, they are NOT looking for a professional actor for this role so NO ACTING EXPERIENCE IS NEEDED.
Must be based in London. Working-class background. They welcome applicants of all ethnicities…Black, white, misex-race, Eastern European, Turkish, arab, Asian….from Britain or any other country.
If interested, please email assistant@laramanwaring.com or send a Whatsapp to 0730758739 (messages only) with some information about yourself, including your ag, where you are based and a basic photo. If we feel you could be right for the role, the first stage will just be information chat on camera to get to know you.
This is a great opportunity for someone and it will be WELL PAID.
The successful applicant will be supported throughout the film.
— Unfortunately they can't always respond to unsuccessful applicants —
---
Conference: Austism in the Therapeutic Space (Glasgow)
Date: Thursday 5th December 2019
Time: 09:30 – 14:30
Location: The Blythswood Hotel, 11 Blytheswood Square, Glasgow, Scotland G2 4AD
Presentations include:
Lisa Cromar – 'A person-centred approach to counselling autistic people'
Elaine Nicholson, MBE – 'What works when counselling lives affected by autism/Asperger's?'
Tracy A Clark – 'A parent's journey'
Orly Koppell – 'Pure Counselling: working with clients with autism'
Email joanna.ferraro@actionforaspergers.org for more information or to book a place.
---
Understanding Dissociation & Trauma (York) 
By Julie Anne
Date: Tuesday 03 December 2019
Time: 10:00 – 16:00
Venue: YHA York, Water End, Clifton, York, YO30 6LP
The aim of the day is to help identify some of the typical symptoms and behaviours apparent in trauma survivors, particularly those arising from adverse childhood and early adulthood experiences, and the presentation is imparted from the basis of factual research and lived experiences from a survivor's perspective.
The symptoms and conditions described do, however, also apply to others who have experienced traumatic events that have come about from other circumstances and at any stage of life.
The afternoon workshop covers techniques on handling distressed and potentially dissociative individuals and related matters such as attachment disorders.
The day will be as follows:
"Understanding Dissociation & Trauma", presentation
 Lunch
"Handling Those In Distress" workshop
Attendees will receive:
Certificate of attendance
Materials for use on the day and to take away
Refreshments throughout the day
Buffet lunch 
Cost:
£42 (includes refreshments & materials – no lunch)
OR £52 (includes refreshments, materials and lunch)
You can find out more and book here.
---
Reminder: Help to set the research agenda for occupational therapy
Complete an online survey and tell us what you think should be on the occupational therapy research agenda.
If you have experience of occupational therapy then please share your thoughts with the Royal College of Occupational Therapists. We are working to set the research agenda for the profession by identifying what's important to people who access occupational therapy services, their carers/family and occupational therapists.
They are asking for 5 to 10 minutes of your time to fill in a survey questionnaire.
It is available online here.
Survey closes on 5 November 2019
---
In the news
Disability News Service
The Independent
The Guardian
The Times
BBC
Pulse
Science Daily
Events reminder
Communicating Self-Harm and Suicide in Families
When: Saturday 2 November
Time: 14:30-17:30
Where: Midlands Arts Centre – MAC, Cannon Hill Park, Birmingham, B12 9QH
Please visit the online event page for full details.
Transcranial Magnetic Stimulation for Depression
When: Tuesday 5th November 2019
Time: 13:00 – 14:00 Where: St Francis of Assisi Church Hall, Church Road, WGC, Herts AL8 6QJ
Book online here or call Herts Viewpoint on 01707 386136
Stronger Together for Health and Wellbeing
When: Friday 8 November
Time: 14:00 – 16:30
Where: Voluntary Action Islington, 200a Pentonville Road, N1 9JP 
If you would like to attend please email: Christine@hearequality.org.uk
---
HCUK Conferences
Healthcare (HCUK) Mental Health events
For all the latest upcoming healthcare conferences, please click this link:
For a 20% discount quote ref: HCUK20NSUN when booking.
For news and event updates follow on Twitter:
@HCUK_Clare for healthcare @SCUK_Kerry for social care
---
GOV.UK News
Suicide bereavement support to be made available across England
Personalised bereavement support will be available on the NHS in England to care for people after a relative or friend's suicide. Ten areas are will benefit from the £1,082,000 fund, with support ranging from one-to-one sessions with trained volunteers or counsellors, group support, or signposting to specialist mental health services.  Read more here.
NHS Taskforce To Drive Improvements In Young People's Hospital Mental Health, Learning Disability And Autism Care
On World Mental Health Day, NHS chief Simon Stevens announced that a new taskforce will be set up to improve current specialist children and young people's inpatient mental health, autism and learning disability services in England.
The NHS Long Term Plan sets out an ambitious programme to transform mental health services, autism and learning disability; with a particular focus on boosting community services and reducing the over reliance on inpatient care, with these more intensive services significantly improved and more effectively joined up with schools and councils.
The NHS chief also announced that Anne Longfield OBE, Children's Commissioner for England, will chair an independent oversight board to scrutinise and support the work of the taskforce. The Children's Commissioner and her board will be given wide-ranging scope to track progress and propose rapid improvements in existing services, examine the best approach to complex issues such as inappropriate care, out of area placements, length of stays and oversee the development of genuine alternatives to care, closer to home. Read more here.
Care robots could revolutionise UK care system and provide staff extra support
The UK moves one step closer to developing robots capable of providing support for Britons.
UK today moves a step closer to developing health care robots which could improve the provision of health support and care around the world
Within the next 20 years, autonomous systems like self-driving cars and surgical robots will become a normal part of our lives, transforming the way we live, work and travel
Part of the government's aim to solve the Grand Challenges facing our society, including giving people five years of longer, healthier life
Read more here.
Mental Health Policy Group: Manifesto for the next Prime Minister
The Mental Health Policy Group consists of six national organisations working together to improve mental health: Centre for Mental Health, the Mental Health Foundation, NHS Confederation's Mental Health Network, Mind, Rethink Mental Illness and the Royal College of Psychiatrists.
The Mental Health Policy Group have published their Towards Mental Health Equality – A Manifesto for the Next Prime Minister July 2019
NHS England webinars
Quick Links