National Survivor User Network (NSUN) Bulletin – 29 April 2019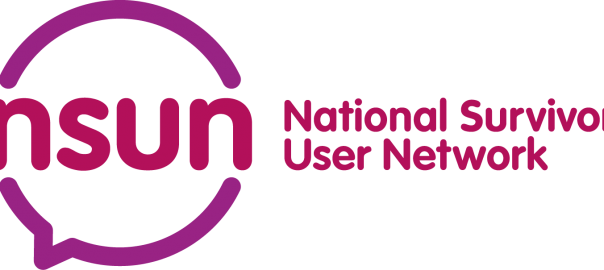 Welcome to the Monday 29 April 2019 edition of our weekly ebulletin.
We are in the process of updating our ebulletin and website so any feedback would be most welcome. We want to make sure that our content is relevant and interesting to our members and both the bulletin and website is accessible.
Please send any comments, thoughts or ideas to info@nsun.org.uk.
---
The Value of User Led Groups
Since launching our campaign on the 'Value of User Led Groups'  we have been continually raising the issues facing user led groups at every opportunity.
The round table event 21 May will give us the opportunity to meet with other groups and funders to look at how we can work together to raise awareness and look for collective solutions to some of the problems we're facing. We will also be publishing the findings from our members' survey in the following weeks.
Inclusion London is also running an event 21 May in the afternoon looking at this. "Making the most of the rising interest in "lived experience". Find out more here.
---
Featured blog
What is Recovery? Who defines it? Why am I unrecovered?
G shares another personal blog on being 'Mad and Unrecovered'.
'One of the reasons that I'm unrecovered is because of the mental health system itself. This hostile environment is not a culture conducive to recovery.'
---
Asylum Magazine Spring 2019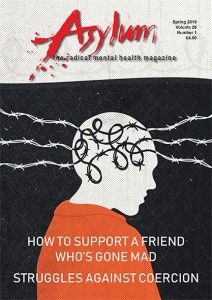 Volume 26
In the spring of 1986 Asylum, costing 50p but "Free to Inmates", was launched. The cover announced the highlights of the first issue as follows:
"Exclusive interview with R. D. Laing:
'Psychiatric Democracy in Italy, The Politics of Mental Health'"
33 years later, Asylum is still going strong and remain independent of financial support from anyone other than subscribers and workers. Subscribe to get print copies and electronic editions.
You can see some of what is in the current issue of Asylum Magazine and read a sample article here.
There is also a back catalogue available. Click here to see recent issues and here to read sample articles.
---
Art Exhibition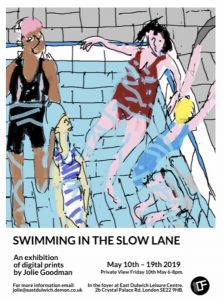 Swimming in the Slow Lane
Coinciding with the Dulwich Festival, Jodie Goodman is exhibiting her work at the East Dulwich Leisure Centre
The exhibition is a collection of digital art work.
Dates: 10 May -19 May
Venue: East Dulwich Leisure Centre, 2b Crystal Palace Road, London, SE22 9HB
Private View Friday 10 May 6pm – 8pm.
---
Viewpoint Herts Event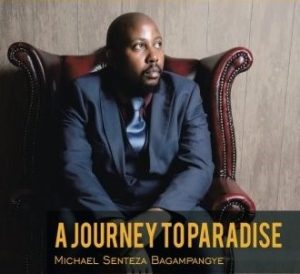 Motivational Speaker plus Open Mic Poetry Session
Lived experience recovery talk by Ugandan born Micheal S. Bagampangye, Viewpoint member who is a writer, blogger and motivational speaker. He is author of the book 'A Journey to Paradise.'
Following this there will be a poetry open mic session for people with a current or past mental health / substance misuse challenge.
Date: 31st May 2019 
Time: 2.30-3pm
Venue: St Michael & All Angels Church Hall, 142 Brook Rd, Borehamwood WD6 5EQ
Refreshments available. Reasonable travel expenses provide for service users.
Please rsvp – Call 01707 386136 Email: info@hertsviewpoint.co.uk
Find out more here.
---
FREE Patient, Carer and Citizen Networking Event – Derbyshire

Do you live in Derby or Derbyshire? Are you a patient, carer or citizen?
This event aims to inform, inspire and activate public involvement in NHS and care services across Derby and Derbyshire.
Date: Wednesday 15 May 2019
Time: 10.00 – 16.00 (registration from 09.15) 
Venue: Derby Conference Centre in Derby
There will be information stalls and delegates can choose 2 from a selection of 6 workshops. Workshop Overviews here.
Reasonable travel expenses reimbursed for patient/carer/citizens.
Find out more and book your place here.
For more information or help with booking contact deborah.wilson@nottingham.ac.uk  Tel: 0115 823 1431
---
Peerfest 2019

Want to shape Peerfest19 in your way, in your community with a total budget of £30K?
Peerfest is now in its seventh year. In 2019, Peerfest will be using a 'pick and mix' approach. This means that more than one peer support group/ organisation can deliver Peerfest19.
There are two events in May to widen the opportunity for smaller peer support groups and organisations to benefit from the £30K budget.
First step: come along to Pre-fest on Thursday 2nd May
Second step: come to Pitch-fest on Wednesday 15th May
---
The Co-production Network for Wales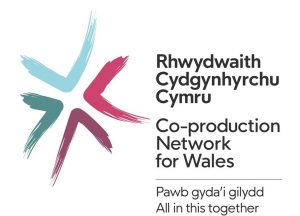 Call for information
The Co-production Network for Wales is an inclusive, member-led network of doers and thinkers who inspire and empower one another. They are producing a 'map' of academics and institutions in the UK who are involved in research in to co-production particularly in relation to public services.
The map will be an open resource intended to encourage people to make connections and utilise research more widely. They'll be sharing it via the Network knowledge base.
If you or anyone else you know can help provide any information on research in to co-production and also research using co-production as a core method then please complete this short form (or forward on to others) and return to Ruth Dineen.
---
Comic Relief news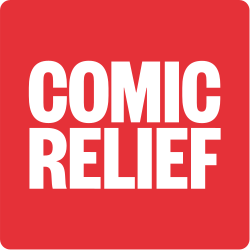 Last week Comic Relief launched its Bridging the Gaps: Strengthening Mental Health Support for Children and Young People fund.
APPLICATIONS OPEN: Wednesday 1st May 2019 
CLOSES: Friday 28th June 2019 – 12pm
FUNDING AVAILABLE
Funding is available for a minimum of 3 to a maximum of 5 years. Investments from £150k up to £700k
Comic Relief's other mental health fund Ahead of the Game: Sport and Mental Health closes for applications 31 May 2019.
---
Patient Experience of Detention
Patients' experiences of assessment and detention under mental health legislation: systematic review and qualitative meta-synthesis
Findings suggest that involuntary in-patient care is often frightening and distressing, but certain factors were identified that can help reduce negative experiences. Coproduction models may be fruitful in developing new ways of working on in-patient wards that provide more voice to patients and staff, and physical and social environments that are more conducive to recovery.
Read the full article here.
---
Healthcare (HCUK) Conferences
Mental Health events
The Mental Health Act Review: Towards A Rights-Based Mental Health Act
Monday 13 May 2019
Sexual Abuse & Mental Health – Reducing the Impact of Abuse on Mental Health
Monday 10 June 2019
Reducing and Improving the Use of Restrictive Interventions & Practice
Friday 14 June 2019
Clinical Audit for Improvement in Mental Health
Friday 14 June 2019
Improving the Physical Health Outcomes of Patients with Serious Mental Illness
Friday 21 June 2019
Find out more mental health conferences here.
For a 20% discount quote ref: HCUK20NSUN when booking.
For news and event updates follow on Twitter:
@HCUK_Clare for healthcare
@SCUK_Kerry for social care
---

GOV.UK News
Thousands more set to get help as NHS rolls out mental health job coaches
NHS England has announced a major expansion of a landmark scheme designed to help tens of thousands of patients with serious mental health problems who want to work, to find employment. The voluntary scheme, known as Individual Placement and Support (IPS), is being rolled out to 28 new local NHS areas, meaning eight out of ten parts of England will have access to the programme. Read more here.
VCSE Health and Wellbeing Alliance
As part of the Health and Wellbeing Alliance Additional Work project 2018-19, Mental Health Consortium partners' Centre for Mental Health and the Mental Health Foundation, in collaboration with ourselves (Association of Mental Health Providers), the National LGB&T Partnership and the Race Equality Foundation have produced a new resource to help public services become trauma-informed to support women's mental health.
Engaging with complexity builds on the 2018 Women's Mental Health Taskforce report, which recommended the wider use of trauma-informed care. The resource is informed by a review of literature and consultations involving women with expertise by experience and professionals with an interest in trauma-informed approaches.
Read the report here and please share on Twitter here.
---