National Survivor User Network (NSUN) Bulletin – 3 June 2019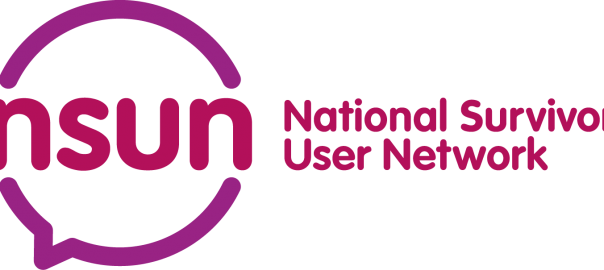 Welcome to the Monday 03 June 2019 edition of our weekly ebulletin. If there's anything you would like to share with the wider network please send to info@nsun.org.uk.
Previous bulletins can be viewed here.
---
Request for feedback on the bulletin
We have been sending the NSUN weekly bulletin to our members since March 2009. Feedback has told us that the bulletin is highly valued with members telling us:
"The NSUN bulletins point to up-to-date projects, work and research happening in the UK – and we, can learn from each other and benefit from learning from each others' experience"
"I feel as if I am not alone! I love the signposting, shared information and the feeling that we are fighting together!"
"Up to date information about MH events etc… most IMPORTANTLY it has a 'user' feel to it. I get so fed up with a lot of the professional 'spin' stuff that goes on. NSUN talks my language!"
Of course it's not all so positive and we've taken valuable criticism and tried to make sure that information shared is current, relevant and accessible.
Feedback: We would really appreciate you telling us what (if any) difference the information we've shared has made to you personally or professionally. Have you got involved in research, workshops or projects? Have you joined a group or applied for funding for your group? Have you got involved in any national initiatives? Have you had good responses to items you've advertised?
We'd love to hear what you've got involved in or done as a result of the information we've shared, so just send us any feedback directly by email.
---
NSUN News
Shocking abuse at Whorlton Hall, County Durham
Undercover filming by a reporter for the BBC Panorama Programme revealed highly offensive attitudes and language about patients amongst Whorlton Hall staff, intimidation and mockery of patients and an unacceptable use of restraint. Read our report and a statement issued by People First Advocacy here.
You can also read CQC's full response here.
Final report from Philip Alston, the UN's Special Rapporteur for Extreme Poverty and Human Rights
Many thanks again to all those of you who contributed to NSUN's submission to the Special Rapporteur. Philip Alston's final report about his 2018 visit to the UK has now been published and can be found here.
Callout to NHS complainants
We have recently been contacted by some NSUN members about their experiences of trying to navigate the NHS complaints system. In their cases, they have spent years trying to access services either for themselves or for someone in the care, only to find themselves ending up being labelled a "troublemaker" or a "vexatious" complainant. They are not able to access advocacy (ineligible/ unavailable) or legal help (no pro-bono help available and otherwise too cost prohibitive) to further their complaints, and so find themselves at a dead end, still without being able to access the services they need.
Have you or someone you know been or are in a similar situation? Have you tried to navigate the NHS complaints system only to receive a unsatisfactory result? Would it be helpful to link in with others who have experienced the same thing? We want to hear from you, please email us at info@nsun.org.uk to tell us about your experience and to let us know if you would like to link up with others.
(Please be aware you can also share your stories on Care Opinion)
The Value of User-led Groups
Read the latest article on our campaign from John Pring on the Disability News Service site here
A briefing paper, produced in partnership with Shaping Our Lives, 'The Future of User Led Organisations' informed the meeting held between user-led groups and funders at the end of May. Those who attended shared their thoughts and experiences on why we're seeing a decline of user-led groups and the social impact. A report will be available soon.
You can read the summary of findings from an initial survey we conducted with members here, and visit our website for further updates on NSUN's campaign.
Upcoming work
Health and Wellbeing Alliance Webinar – Peer Support, User-Led Organisations, and Mental Health and Prevention
Date: Tuesday 18th June 2019
Time: 10.30am – 11.30am
This webinar, with Alison Faulkner and Emma Ormerod from NSUN, will provide a short overview of the role of local user-led organisations and peer support initiatives in the prevention of mental distress and social exclusion.
There is a significant role for prevention amongst people already in touch with mental health services who are at risk of further marginalisation and social exclusion. It is widely recognised that working alongside communities to understand their needs and build on existing strengths, assets and resilience is key. Book your place here.
---
Featured blogs, articles and reports
Borderline Personality Disorder – the diagnosis and me!
NSUN member Simon shares his candid account of his journey from diagnosis to taking control.
'I'm what's known as a high functioning Borderline Personality Disorder (BPD) sufferer. That's what I was told many years ago and I accepted the diagnosis at the time. I now believe I don't have the disorder. Here is my story of why I believe this.'
'If anyone is to be wearing recording equipment on psychiatric wards, it should be the patients'
NSUN trustee Rachel Rowan Olive's writes about the use of body-worn cameras by staff on mental health wards.
'I'm a patient, and it's not acceptable to me. There are many ways this will (re)traumatise people. For example, imagine being a survivor of revenge porn or sexual abuse involving non-consensual filming, then being non-consensually filmed by people saying they are there to help you.'
Featured in Mental Health Today 20 May 2019.
Body image and mental health: leading a life art class
NSUN member Jolie Goodman's blog for Mental Health Awareness week explores body image through a life art class: a space for conversation about the body and later life.
Published by the Mental Health Foundation 26 April 2019.
---
Other Ways of Caring event
Beyond the Neo-liberal Madness II
A one-day gathering of activist and activist organisations, representatives of mental health movements, community organisers, patient organisations, mental health workers and others, to share experiences, tactics, grassroots knowledge and solidarity actions.
Date: Sunday 16 June 2019
Time: 10am – 6pm
Venue: Arts Catalyst – Centre for Art, Science & Technology 74-76 Cromer Street, London – WC1H 8DR
Find out more and register here.
---
Mental Health Charter Alliance
Manchester
The Mental Health Charter Alliance are enabling service users and carers to have their say about Mental Health Services in Manchester and raise their concerns about being let down or stepped down by them.
The Alliance are promoting the value of having a Mental Health Charter in Manchester and how it can benefit everyone who wants to live in a community which is fair and equitable for all.
Date: Wednesday 19 June 2019
Time: 12.45pm – 3.30pm
Venue: Harpurhey Neighbourhood Project, Upper Conran St, off Carisbrook St, Harpurhey, Manchester, M9 5UX
Register vis Eventbrite here.
---
Patients' Point of View workshop
Date: Thursday 20 June
Time: 11am – 3pm
Venue: Leeds Town Hall, The Headrow, Leeds, LS1 3AD
The NMC (Nursing and Midwifery Council) wants to improve fitness to practise by understanding patients' experience and point of view when something bad happens. They want to find out what people from different backgrounds think about their plans to change how they carry out fitness to practice.
They have asked Traverse, a research organisation and CHANGE, to find out what people think by running lots of group discussions.
Email CHANGE to book a place.
---
Breathe Music at Sound Minds
Breathe Music involves a range of timetabled music activities on Wednesday afternoons at Sound Minds.
Activities include: live Music Jam session/band, tuition in music technology/music production, 1:1 instrument tuition, 1:1 creative support
Participants must be: 18-24 years old, not in employment training or education, living in Wandsworth or Merton, disadvantaged through mental ill health.
Access is by referral form only
For more details, timings etc. please call Paul or Searahlaine on 020 7207 7186
Lead facilitators are skilled and qualified musicians and music leaders with mental health experience and training.
Volunteer callout: for people who are confident with their music and interpersonal skills, particularly young people who have themselves experienced mental ill health. Music Production volunteers must have a thorough working knowledge of either Propellerhead's 'Reason' or 'Logic Pro' music software.
Find out more here.
---
Social Prescribing Network News
Social Prescribing Awards 2019 and International conference
The Social Prescribing Awards 2019 are a new initiative from the Social Prescribing Network, the College of Medicine and the University of Westminster and are organised by Chamberlain Dunn. The awards will be held at University of Westminster on 11 and 12 July 2019 at the 2nd International Social Prescribing Conference Tickets are still available to purchase.
There are 5 categories open for entry. All the information for entering the awards can be found here. The submission deadline for entries is tomorrow 4 June.
Regional Learning Coordinator Associate roles
NHS England/NHS Improvement and Clinical Commissioning Group partners are seeking expressions of interest for Regional Learning Coordinator associates in each NHS region (London, South East, South West, North East and Yorkshire, North West, East, and Midlands).
These associate roles will facilitate learning opportunities for social prescribing link workers at both a regional level and Integrated Care System/ Sustainability and Transformation Partnership level.
You can view the request for Expressions of Interest, a summary of the role, and the application form.
Deadline for applications: Monday 10th June;
Interview dates: 17th June-17th July
For further information, to arrange an informal discussion, or to return your application please contact: england.socialprescribing@nhs.net
---
Research in to advice and guidance
The Advice Services Alliance have been commissioned to do research on the state of the social welfare advice sector in London. They have launched a survey in an effort to add to their evidence base for this research.
This research aims to identify how the advice sector is responding to the challenges of high demand, funding cuts and welfare reform and is changing to maximise its reach and impact. It will make recommendations to the GLA and other London bodies and funders about how social welfare advice for Londoners can be strengthened. It's therefore an important opportunity for advice providers (voluntary, private, public, pro bono and academic), networks and other stakeholders such as yourself to influence the future of social welfare advice in the capital.
Take the survey here.
---
Inequalities: call for evidence
Closing 30 June
In 2018, Centre for Mental Health set up a new Commission to investigate inequalities in mental health and produce recommendations to bring about system change for equality.
The Commission for Equality in Mental Health is chaired by Liz Sayce and during 2019 it will be taking evidence about the full range of inequalities in mental health and what can be done at every level to reduce them.
The call for evidence closes 30 June. Please send evidence to emma.bailey@centreformentalhealth.org.uk
---
Hardly Hard to Reach event
Hardly Hard to Reach: Towards Refugee-Led Mental Health
Race on the Agenda (ROTA) and partners on the Active Lives, Healthy Minds project: the Account Trust (Nepali), Qoys Daryeel (Family Care, Somali), Network of Eritrean Women-UK and the Tamil Community Centre would like to invite you for our end of project conference.
Date: 27 June 2019
Time: 09:45 – 17:00
Venue: Resource for London, 356 Holloway Road, London N7 6PA
The event will bring together, refugee and migrant-led community organisations, community members, the voluntary sector and statutory bodies to share learning from six years of supporting mental health and wellbeing projects with refugee and migrant communities and racialised groups in London.
It includes the launch of the policy report on experiences of and responses to mental health inequalities of refugee communities and will also be an opportunity to learn more about and get involved with our Mental Health Equality Campaign.
To register your free place now or for more information email Laurie Lijnders, project manager, Active Lives, Healthy Minds at laurie@rota.org.uk. Alternatively, you can register via Eventbrite
---
HCUK Conferences
Healthcare (HCUK) Mental Health events
For all the latest upcoming healthcare conferences, please click this link:
For a 20% discount quote ref: HCUK20NSUN when booking.
For news and event updates follow on Twitter:
@HCUK_Clare for healthcare @SCUK_Kerry for social care
---
GOV.UK News
Mental Health – News from Parliament
Transforming Healthcare Together
Support for health, care and VCSE leaders to build relationships that transform our healthcare system (From the VCSE Health and Wellbeing Alliance)
A menu of support has been developed to inspire and equip health, care and voluntary sector leaders to work in partnership at ICS/STP level to support joint action that improves local health and care priorities, including various fee workshops and webinars including these ones in June:
Workshop: Support patients with complex needs through the voluntary, community and social enterprise sector, 13 June, London
Workshop: How can voluntary organisations engage strategically in health and social care reform?, 19 June, Manchester
Webinar: Leading local healthcare systems through change (Practice Development Network), 25 June, Online
Further details are available here.