National Survivor User Network (NSUN) Bulletin – 4 November 2019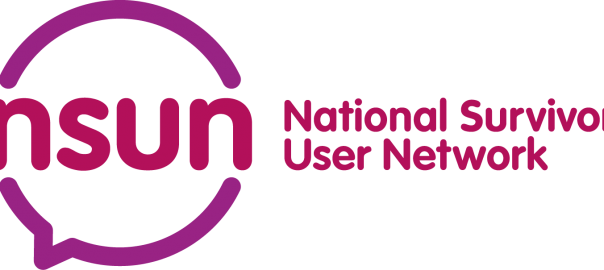 Welcome to the Monday 4th November 2019 edition of our weekly ebulletin – full of news, views, events, jobs and involvement opportunities.
This week's edition includes a short report of our 2019 AGM and Members' event held in York.
---
Bulletin items
If you would like to send us an event, involvement opportunity, blog article or anything else to share with the wider network in the bulletin, please email us at info@nsun.org.uk.
You should write out a short ad (see examples below) with all the info needed, contact details, deadlines, and relevant web links etc. and attach an image we can use (e.g. your logo or other relevant image). Please submit ready in this way.
Please note we cannot attach flyers, job descriptions or any other item to the bulletin.
You can view our previous NSUN weekly bulletins and subscribe to get them sent directly to your mailbox here.
This bulletin is FREE. If you would like to make a donation to help support the continuation of this work you can do so here.
---
Our work
As well as browsing the news from the wider membership you can also find out more about some of our work:
NSUN News
NSUN AGM and Members' Event 2019 – York
Read our short summary of the NSUN AGM and Members' event in York on 24th October here.
You can read the twitter feed on #nsunagm19 and here.
The theme this year was the 'value of user-led groups'. This has been our main campaign for 2019. On the day we heard some impassioned speeches from our keynote speakers and then from our members' during the Soap Box session. These will be available on our YouTube channel soon.
NSUN Members' Manifesto 2019
Our Members' Manifesto 2019 was launched at the NSUN AGM & Members' event 24 October 2019.
It draws on feedback from our AGM & Members' event 2018, the 2018 survey about the manifesto and a wide range of project and influencing work.
The 2019 Manifesto is an updated version of the Members' Manifesto 2017 'Our voice, our vision, our values'.
This is our third version since 2015. We aim to review the Manifesto every two years.
SRN is on Twitter!
Mental health knowledge built by service users and survivors. The Survivor Researcher Network (SRN) has a new Twitter account. You can find us at @SurvivorResNet. Find out more about SRN and how to join here
---
Featured blogs and articles
Increasing hierarchical power structures within peer support?
NSUN member Sandy Lancaster shares her concerns about the attrition of true peer support.
'I have been having some thoughts about what constitutes "peer support" and I have to say I am feeling quite unsettled by what I am reading lately. I am seeing a lot of terms bandied about on social media ie "patient leaders" "leader leaders" "super allies", "Lived Experience Professionals " (LXP) to name a few.'
Product Placement: Out of Sight and Out of Mind
This is jointly written by Keir Harding @keirwales and Hollie @Hoppypelican.  Please stay safe reading this.  It contains descriptions of self harm and restraint and allusions to abuse.
---
Appeal to save Self Injury Support
Can you help?
Self injury Support, formerly Bristol Crisis Service for Women, has been offering direct peer-led support to women who self-harm for over 30 years.
Now we need your help to save our services and carry on giving lifesaving help to women and girls who use self-harm, because without your support the only free, UK-wide self harm support service will close in early 2020.
Despite our best efforts, we are struggling to secure funding to carry on running our services after the end of January 2020.
In the current climate, there is less and less funding available for small organisations like ours which do unique and vital work, but don't have the capacity to fundraise full-time.
Please click here to view the appeal on the SISH website here.
If you feel able to offer your support and/or to circulate this appeal it would be hugely appreciated. If everyone connected with the organisation was able to give us £5 a month then we would never need to apply for funding again.
---
Peerfest 19 – Register now!
National celebration of peer support
Come and experience a showcase of diverse groups from around England and Wales that all champion mental health peer support in their own unique ways. If making peer support special to your own community, culture, faith, customs and beliefs is something you're passionate about – join Peerfest19  in the Midlands this year.
Sign up here to book your place
Registration on the day starts at 11am, with peer-led activities throughout the afternoon, and find out who the Mental Health Peer Support Marsh Award Winners are! Peerfest19 will finish at 7pm.
When: Tuesday 3 December 2019
Where: West Bromwich Albion Football Club, 9 Birmingham Road, West Bromwich
B71 4LF
A limited number of bursaries are available to help with travel and expenses. For more information, call 07500 778321 or email peerfest@mind.org.uk
---
Sleep Well Study
for young people at high-risk of psychosis
McPin are looking for five people aged 14-25 with unusual experiences (e.g. hearing voices, feeling extremely paranoid) and sleep problems to join their Sleep Well Lived Experience Advisory Panel (LEAP).
'Unusual experiences are often referred to as psychosis.  We are especially interested in people who also have had problems sleeping.'
For more information about this project, please click here, or contact Rachel Temple by email (racheltemple@mcpin.org) or phone (0207 922 7871).
Closing date for this opportunity is 5pm on Monday 14 November 2019.
---
Two peer support worker opportunities
Mental health org for the Jewish community
1) Peer Support Worker, NW London Community Team
'Work as part of our newly formed multi-skilled community team to deliver a recovery focused mental health service. We are looking for an experienced peer support worker to join our forward-thinking, inspirational mental health charity.'
For more information please contact Raisel Byrne on 0208 4582223 or email raisel.byrne@jamiuk.org
Closing date for applications Sunday 10th November.
Interviews will take place week commencing 25th November
2) Peer Support Worker – Head Room Cafe
'We are looking for an experienced Peer Support Worker to help develop and deliver our Wellbeing Programme at Jami's community cafe in Golders Green.  Head Room Cafe provides informal mental health support to the community whilst raising awareness and understanding of mental health.'
For more information please email Daniel Neis – daniel.neis@jamiuk.org
Closing date for applications Wednesday 13th November.
Interviews will take place week commencing 25th November.
For more information about both of these roles please visit the Jami UK website here.
---
Freelance Peer Trainer job opportunity
Inclusion Barnet
Inclusion Barnet have a current job role out for a Freelance Peer Trainer.
For more information, please click the link to the job advert here
---
Research involvement opportunities x 2
Action on Postpartum Psychosis
APP are supporting with recruitment for two pieces of research.
1) Calling women from Black Asian and Minority Ethnic backgrounds who have had PP:
Please click here for information on this research involvement opportunity
2) Research study exploring how PP affects partners' relationships
Please click here to find out more info about this research study
---
Ensuring service users/ survivors can vote
Your rights, registration, support
A group of London-based activists are trying to ensure all survivors/service users are able to vote.
They want to make sure that everybody knows their rights, is registered to vote, knows exactly how they can vote, are given adequate support at polling stations and are able to get to the polling station on election day. They are particularly interested in helping those who are entitled to vote but in hospital and unsure how they can cast their vote.
They are looking for support and are contacting local user-led organisations to ensure everybody has the information they need, and to organise drop-in sessions to help people register to vote. They will also be crowdfunding for transportation and offering escorts to help people get to the polling station.
If you or your organisation fits the bill and wants to help, please contact Emily Reynolds on emilyoliviareynolds@gmail.com
---
Suicide Prevention event
Interfaith Wolverhampton
In collaboration with the University of Wolverhampton, Black Country Partnership NHS Trust and Wolverhampton City Council, Interfaith Wolverhampton Cllr Jas Dehar has organised an event to bring together key note speakers and local stakeholders to discuss suicide prevention.
Date: Saturday 16 November 2019
Time: 09:30 – 15:00 GMT
Location: The Chancellors Hall, University of Wolverhampton , Wulfruna Street , Wolverhampton WV1 1LY
Click here to register for this free event
---
Conference – Social Power and Mental Health: 
Evolving research through lived experience
Call for papers
CRASSH, University of Cambridge
Conference dates: Wednesday 25 & Thursday 26 March 2020
Keynote speakers: Rachel Waddingham and Prof Imogen Tyler
Do you have experience of mental health issues and/or psychiatric service use?
Are you conducting research into mental health?
If you answered yes to one (or both) of these questions, then the organisers would like you to apply to speak at Social Power and Mental Health.
Social Power and Mental Health is a conference in Cambridge. It will bring together people with lived experience of mental health challenges, and researchers. The aim is to start conversations between these two groups of experts. It is  recognised that many people belong in both groups.
'Disempowered social groups face an increased risk of mental health issues. They are more likely to experience difficult economic, social and environmental conditions. Race, gender, sexuality, disabilities and social class intersect with these. At the same time, mental health issues are widely stigmatised. And people from disempowered social groups are much more likely to be labelled 'mentally ill'. How do these inequalities appear, and why? And what steps could be taken to challenge them?
If you would like to give a presentation of up to 15 minutes at the conference, please write a 250-word abstract (title and description of your presentation), and send it to emk31@cam.ac.uk.
]There is no requirement to disclose your personal experiences, although you're very welcome to discuss them if you wish.
If you would prefer not to speak in front of an audience you can submit a poster, or suggest another type of presentation e.g. a film, an audio recording etc.
Closing date for submissions: Tuesday 10 December 2019
You will be informed if your application has been successful in early January 2020.
If you have any questions, please email Ed Kiely, emk31@cam.ac.uk
Financial support is available for people who are unwaged or on low incomes.
Further information:
A detailed summary of the conference is available on the CRASSH website.
Abstracts are welcome from people who are members of groups underrepresented in academia, including people of colour, LGBTQ+ people, and disabled people. We also encourage applications from early career researchers.
This interdisciplinary conference has been designed in collaboration with a steering group of local people with lived experience of mental health challenges and/or psychiatric service use. All submissions will be reviewed and decisions made by this steering group.
Conference themes:
1.    Stigma and labelling
2.    Participation and community
3.    Intersecting inequalities
---
Self Injury Support volunteer facilitators wanted
SISH community self harm support group is recruiting volunteer facilitators – they are recruiting for 4-6 Volunteer Facilitators to co-facilitate the weekly self-help support group for women and men who self-harm.
The Support Group meets Tuesdays 6.30 to 8pm at Bristol Mind 35 Old Market Street BS2 0EZ.
Volunteers co-facilitate every 4-6 weeks and attend facilitated group supervision every 6 weeks. New volunteers will join a small team of experienced volunteers and will have training before they start on the rota.
To find out more either come along to our information evening:
When: Wednesday 6th November, 6 – 7 pm
At: Bristol Mind, 35 Old Market St, Bristol BS2 0EZ
Email: sishbristol@gmail.com to request or submit an application form or text Suzanne on 0777 962 2076.
The closing date for expressions of interest is Friday 8th November. Interviews are on 12th and 13th November evening. Induction workshops begin on Wednesday evenings from  20th November finishing on 11th December.
Please note as they are a very small self help group with limited volunteer resources, responding to emails can be slow.
Applications are encouraged from people with personal experience of self-harm.
---
Happy Heads Winter Warmer – Mental Health Event
The next fourth annual flagship 'Happy Heads' mental health event based around the 'Balance Ball' recovery tool will take place next year on Saturday 18 January.
It will be a fantastic day filled with recovery stories, music, dancing, exercise classes, art exhibition, keynote mental health activists speaking on the day itself, Q & A session, as well as a variety of mental health organisations exhibiting on the day for you to network with.
When: Saturday, 18 January 2020
Time: 13:00 – 17:00
Where: New Life Croydon, 5 Cairo New Road, Croydon, CR0 1XP
Find out more about the event here
---
Unmasked Community Support Hubs (West Yorkshire)
Unmasked Mental Health was created with a desire to help others, who may be experiencing mental health issues, and coping with this alone.
'Our goal is simple, to provide a safe stable regulated platform, for users to communicate with each other, create bonds and friendships, that they may otherwise Miss out on.'
Unmasked community hubs are a support group for men and women going through a difficult time or would like to support other like-minded people. 
These hubs will run every Thursday evening from 7 PM.
Please see the list of hubs here
---
Book: The Patient Revolution: How We Can Heal the Healthcare System
By Dave Gilbert
'The NHS is in crisis – it's in record demand, and care services are at breaking point – but what if the solution to rescuing the NHS is in the hands of the patients themselves? In this refreshingly positive and remarkable book, David Gilbert shares the powerful real-life stories of 'patient leaders' – ordinary people affected by life-changing illnesses, disabilities, or conditions, who have all gone back into the fray to help change the healthcare system in necessary and inspiring ways.'
The book can be purchased on Amazon here
---
LGBT Patients' Experiences of Primary Care Annual Survey 2019
This survey asks about LGBT people's experiences of accessing healthcare services from their GP, dentist, pharmacist and optometrist. It aims to build a picture of current healthcare provision by primary care services for lesbian, gay, bisexual and trans (LGBT) people.
The findings of this research will be turned into a report which will be used to make sure that primary care services are better able to recognise and meet the needs of their LGBT patients.
This research is part of Pride in Practice, a quality assurance and social prescribing programme for primary care services and LGBT communities. Pride in Practice provides training, assessment, accreditation and ongoing support for healthcare services to help them be inclusive of LGBT patients. Pride in Practice is funded by the Government Equalities Office and Greater Manchester Health and Social Care Partnership.
Access the survey here
---
Citizen Advice: help to pay energy bills
If you're struggling to afford your energy bills, you might be able to take advantage of certain benefits, grants and help offered by the government and energy suppliers.
Grants and benefits to help you pay your energy bills
---
UK Disability History Month
UKDHM 22.11.19 – 22.12.19
UKDHM in 2019 will focus on disabled leaders throughout history and their struggle for acceptance.
]UKDHM will examine how the leaders of the disabled peoples movement managed to change the way disability was seen as a personal burden to a human rights issue through using the social model of disability from 1970 to the present and the lessons we learn from this.
Find out more here
---
Events reminder
Transcranial Magnetic Stimulation for Depression
When: Tuesday 5th November 2019
Time: 13:00 – 14:00
Where: St Francis of Assisi Church Hall, Church Road, WGC, Herts AL8 6QJ
Book online here or call Herts Viewpoint on 01707 386136
Mad Studies Group Birmingham November Meeting
When: Thursday 7 November 2019
Time: 17:00
Where: Room 412, 4th Floor, 52 Pritchatts Road, University of Birmingham, B15 2SA
Guest author: David Gilbert, Patient Director Sussex Musculoskeletal (MSK) Partnership (Central)
Find our more and book here.
Stronger Together for Health and Wellbeing
When: Friday 8 November 2019
Time: 14:00 – 16:30
Where: Voluntary Action Islington, 200a Pentonville Road, N1 9JP
If you would like to attend please email: Christine@hearequality.org.uk
Bipolar UK Annual Conference 2019
In partnership with King's College London
When: Sunday 17 November 2019
Time: 09:45 – 16:30
Where: Bush House, 30 Aldwych , London WC2B 4BG
Book your place here.
Understanding Dissociation & Trauma (York)
When: Tuesday 03 December 2019
Time: 10:00 – 16:00
Where: YHA York, Water End, Clifton, York, YO30 6LP
Cost: £42 (includes refreshments & materials – no lunch)
OR £52 (includes refreshments, materials and lunch)
You can find out more and book here.
Conference: Autism in the Therapeutic Space (Glasgow)
When: Thursday 5th December 2019
Time: 09:30 – 14:30
Where: The Blythswood Hotel, 11 Blytheswood Square, Glasgow, Scotland G2 4AD
Email joanna.ferraro@actionforaspergers.org to book a place.
---
HCUK Conferences
Healthcare (HCUK) Mental Health events
For all the latest upcoming healthcare conferences, please click this link:
For a 20% discount quote ref: HCUK20NSUN when booking.
For news and event updates follow on Twitter:
@HCUK_Clare for healthcare @SCUK_Kerry for social care
---
GOV.UK News
State of Care Report
The State of Care report looks at the trends, highlights examples of good and outstanding care, and identifies factors that maintain high-quality care.
This year's report shows that that there is regional variation in access to, and the quality of care. Findings raise concerns about how people detained in mental health services being helped sooner, people with a learning disability or autism being in hospital because of a lack of suitable, local community services and people with severe and complex needsbeing kept in segregation for too long and not receiving the specialist care required to meet their needs.
Read the full report here.
NHS Access Standards review
A progress report to update on the Clinically led-review of NHS Access Standards, was published six months on from the proposals being published in an interim report.  The progress report can be found here.
The progress report seeks to do three things.  Firstly, to recap on the proposed new standards in each of the four areas, the rationale for those proposals, and to update on what we are finding through testing. Secondly, to set out the planned next steps in terms of continuing with testing.  And thirdly, to outline our timetable for making final recommendations and implementing any agreed new standards that we have shared with you in our meetings.
The progress report is published alongside polling data that Healthwatch England have conducted in respect of public understanding and priorities in elective and urgent and emergency care, details of which can be found here.
VCSE Health and Wellbeing Alliance webinar: NHS Friends and Family Test 
The webinar will be an opportunity to find out more about the changes to the Friends and Family Test and the additional flexibilities for providers. Details on how to join the webinar here.
Date: 18 November
Time: 2pm 
The Disability Unit (Equalities Hub)
The Prime Minister launched the Government's new cross-government approach on disability on Tuesday 25 June. As part of this announcement the Office for Disability Issues (ODI) moved from the Department for Work and Pensions (DWP) on 1 November 2019. ODI joined the Race Disparities Unit in a new Disability Unit which will sit alongside the Government Equalities Office in a new Equalities Hub based in the Cabinet Office. This forms a new cross-departmental disability team aiming 'to bring the voices of disabled people into the heart of Government, by working closely with disabled people, disabled people's organisations and charities, to develop a new approach to disability, with their views and experiences at the forefront of any new policy.'
ODI will continue to support the Minister for Disabled People, Work and Health, Justin Tomlinson MP, which who remains within DWP. Read more here.
New NHS Taskforce To Drive Improvements In Young People's Hospital Mental Health, Learning Disability And Autism Care
On World Mental Health Day, NHS chief Simon Stevens announced that a new taskforce will be set up to improve current specialist children and young people's inpatient mental health, autism and learning disability services in England.
The NHS Long Term Plan sets out an ambitious programme to transform mental health services, autism and learning disability; with a particular focus on boosting community services and reducing the over reliance on inpatient care, with these more intensive services significantly improved and more effectively joined up with schools and councils.
The NHS chief also announced that Anne Longfield OBE, Children's Commissioner for England, will chair an independent oversight board to scrutinise and support the work of the taskforce. The Children's Commissioner and her board will be given wide-ranging scope to track progress and propose rapid improvements in existing services, examine the best approach to complex issues such as inappropriate care, out of area placements, length of stays and oversee the development of genuine alternatives to care, closer to home. Read more here.
NHS England webinars
Quick Links