North Tyneside Art Studio (NTAS) What's On leaflet for February 2018

As ever, we have lots of fantastic workshop sessions on each afternoon, including watercolour painting on Mondays, wood carving on Tuesdays, creative writing on Wednesdays, ceramics on Thursdays and printmaking on Fridays. Our late Wednesday and Saturday mornings are both back up and running too.
Also, we have computer support with Yvonne on Tuesdays, which is great for anyone who wants to learn more about setting up websites, downloading images or doing some basic digital manipulation work using Adobe Photoshop. And if anyone's feeling musical, Susan and Rachel are leading some recorder sessions on Wednesday evenings and Saturday mornings.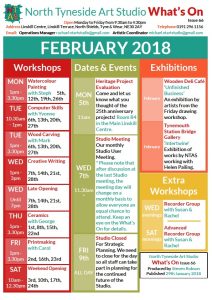 As ever, please just get in touch if you'd like to know more.
Download What's On leaflet 66 here.
Best wishes,
Rachael
Rachael Jones
Operations Manager
North Tyneside Art Studio
Linskill Centre
Linskill Terrace
North Shields
NE30 2AY
T. 0191 2961156
Charity No. 1059103
Company No. 3266699