North Tyneside Art Studio (NTAS) What's On in August

Hi,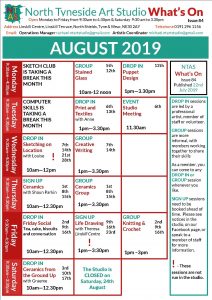 Please note that there'll be a lot of disruption to normal studio life during August as the studio is cleared and re-organised. Main info that you'll need to know:
– for the first 2 weeks (1st-16th Aug) STUDIO 1 ('quiet' side) WILL NOT BE AVAILABLE to use
– for the last 2 weeks (19th-31st Aug) both STUDIO 2 ('social side') AND STUDIO 3 (workshop/clay room) WILL NOT BE AVAILABLE to use
– during the last 2 weeks (19th-31st Aug) there will be no access to pottery facilities, no kiln firing etc. Only studio 1 (quiet side) will be available to work in. There will be limited space, limited materials and limited staff support available
– the STUDIO COMPUTERS & PRINTER WILL NOT BE AVAILABLE for the WHOLE of August
– there will be NO WORKSHOPS IN THE STUDIO during the last 2 weeks of the month (though there will be some external sessions – look for the red "!" on the What's On)
If you have any queries please feel free to ask. And if you're able to lend a hand with the re-organisation (eg cleaning, clearing, painting) please do come in.
Download What's On leaflet 84 here.
Rachael Jones
Operations Manager
North Tyneside Art Studio, Linskill Centre, Linskill Terrace, North Shields, NE30 2AY
T. 0191 2961156
Charity No. 1059103
Company No. 3266699
www.northtynesideartstudio.org.uk