North Tyneside Art Studio (NTAS) What's On in November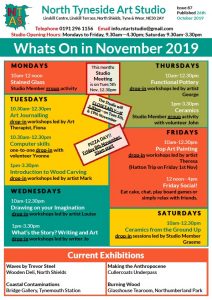 Hi,
Please find our What's On for November!
(Please note that this is a draft – I'm on leave next week, but will send an update the week after if there's any changes.)
Note: the Art Journalling session on a Tuesday, whilst officially a 'drop in' session, has been so popular that we're not able to take any more new people on it. It will return in the new year though, so others will have a chance to join in.
Download What's On leaflet 87 here.
All the best,
Rachael
Rachael Jones
Operations Manager
My working days are Tuesday to Saturday
North Tyneside Art Studio, Linskill Centre, Linskill Terrace, North Shields,
NE30 2AY
E. rachael.ntartstudio@gmail.com
T. 0191 2961156
Charity No. 1059103
Company No. 3266699
www.northtynesideartstudio.org.uk