North Tyneside Art Studio (NTAS) What's On in October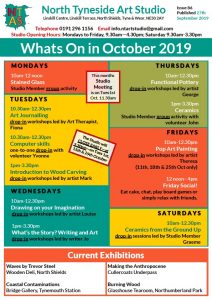 Download the latest What's On for October here. Our workshop programme is back in full-swing following the summers space changes!
Our member-led Stained Glass group continues on Monday morning, making full use of our expanded workspace in the 3D studio.
On Tuesdays mornings, our popular Art Journalling workshops continue with Art Therapist Fiona Fitzpatrick.  Tuesday afternoons see the return of the fantastic Mark with a Drop-in introduction to working with wood.
Wednesdays see a great combination of Drawing on your Imagination in the morning with Louise, while the afternoons continue our new approach to Creative Writing with Jo.
Thursdays will see the return of George Omerod for his final run of workshops with us, before he retires in December, with drop in workshops about functional pottery.
On Friday mornings, Theresa brings us another fascinating topic to explore in paint and collage, leaving our Friday afternoons free for our weekly social.
Saturdays continue our extended opening, with Graeme on hand to support people looking to explore Ceramics From the Ground Up.
Note: New Starter Sessions and PPD activity aren't included in this leaflet. If you're interested in Studio Inductions or New Starter Sessions, they are held on Wednesday mornings throughout October. Contact the studio for more information.
As you'll see, we've updated the look of our What's On leaflet. It's a bit more bright and colourful, and we hope it'll be easier to see what's on on which days. If sessions don't have dates next to them, presume they are on for each of those days in the month. If anyone has any problems with the new look, for example is the contrast between text and background strong enough, please let us know.
Note: new starter sessions and PPD activity aren't included on this leaflet. If you're interested in studio inductions or new starter sessions, they will be held on every Wednesday morning in October.
All the best,
Rachael
Rachael Jones 
Operations Manager
My working days are Tuesday to Saturday
North Tyneside Art Studio, Linskill Centre, Linskill Terrace, North Shields, NE30 2AY
0191 2961156
Charity No. 1059103
Company No. 3266699
www.northtynesideartstudio.org.uk
www.facebook.com/NorthTynesideArtStudio