November engAGE Hobby Club – Gift Wrapping!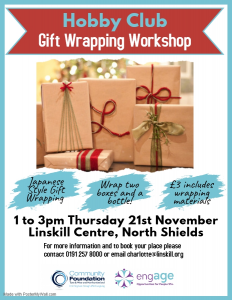 Good afternoon,
Have you ever wanted to wrap like a professional? (not music haha)
engAGE Hobby Club is holding a Gift Wrapping Workshop in time for your Christmas gifts.  Using brown paper which is fully recyclable our tutor will take you through wrapping three gifts – two boxes and a bottle!  We will also show you Japanese wrapping techniques using a scarf plus how to make a gift bag.
Places are £3 and limited to 10 – please get in touch for more information and to book your place.
Download poster here.
Looking forward to hearing from you,
Charly Mulvaney
https://www.facebook.com/LinskillEngage/
Older engagement worker
Linskill and North Tyneside Community Development Trust, Linskill Centre, Linskill Terrace, North Shields, Tyne and Wear, NE30 2AY
Monday to Thursday 9-3pm and Friday 9-12 noon
Charity No: 1119143
Company No: 04827255