November Free workshops & events with Heads & Tales project

Creative Archive workshops with Artist in residency Lalya Gaye
Mondays October 1st – 17th December 11am-3pm (Drop in or come every week!)
Next session Monday 5th Nov Creative session @ Chilli Studios
Join Artist in residency Lalya Gaye to sift through and research the archives at Discovery Museum to look at mental health and its wider context through the ages. Help rebalance history of Mental Health by exploring archives & creatively responding in your own way by art, poetry, music or more. Archives viewed will include some material from Mental Health Hospitals as well as other archives of the North East.
Looking at themes including "Mapping & Location" and the  "Political and Social" context.
Workshops take place both at Discovery Museum and Chilli Studios on alternative Mondays.
BOOK your FREE TICKETS here: https://www.eventbrite.co.uk/e/creative-archive-workshops-with-lalya-gaye-museums-and-mental-health-heritage-tickets-44334231881

Contact for details 0191 209 4058  jo@chillistudios.co.uk
---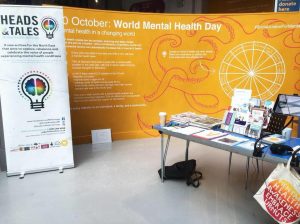 MUSEUM FEATURE:
Mental Health Intervention Wall, Discovery Museum
October 10th – Dec 2018 @ Discovery Museum NE1 4JA
We have had the delight in creating an intervention wall for the Museum Foyer. Find us near the lift on the lower and ground floor. Our wall gives a snap shot of the current climate around mental health and asks the public to think wider about the complexity of causes. There is also another wall that you can add your own story to and give a voice of hope, raising awareness & sharing mental health experiences.
---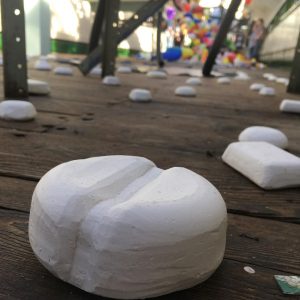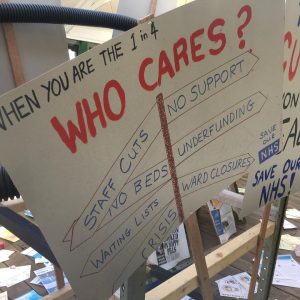 EXHIBITION:
"Derailed; the ups and downs of mental health"
Oct – end Nov @Tynemouth Metro station, Tynemouth, Tyne and Wear
This is an extraordinary show is created by members of North Tyneside Art Studio. Proud to be apart of the Heads and Tales project and readdressing the history of mental health.
Powerful stuff! We urge you to go and see this soon!
---


Heads & Tales is a two-year project led and shaped by participants to explore, rebalance, and celebrate the voice of people experiencing mental health conditions. We're aiming to develop a new archive with diverse perspectives of mental health featuring creative and new material, narratives and stories alongside reflections of contemporary and historic items from local museums and archives.
We have designed a programme that is based on equality, support and cohesion. Please see our full list of events and activity http://www.headntales.uk/programme
New extended Programme to be released end October.
We would like to thank the broad participation and collaboration of our partners and we are grateful for the constant support received by our volunteers.
To support our project, you can visit our website at http://www.headntales.uk
Press here to download the FULL PROGRAMME!
Click below image or ask for a paper copy at Chilli Studios jo@chillistudios.co.uk 0191 209 4058