Scribbler's Book Launch – 1 July 2019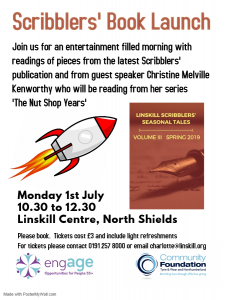 engAGE is very proud to announce that the Scribbler's Creative Writing Group have recently published their 3rd publication…
Scribbler's Seasonal Tales Volume III Spring 2019
If you would like to help us celebrate please come along to our 'Book Launch Morning' and enjoy listening to selected readings from this latest publication.
We are also very lucky to have a guest speaker at the event…
Christine Melville Kenworthy will be reading from her series
'The Nut Shop Years'.
Sales of Scribblers' books @ £3 each are available to buy at the book launch event or please contact 0191 257 8000 or email charlotte@linskill.org.
Download poster here.
---