'Staying Afloat Together' free course for women affected by domestic abuse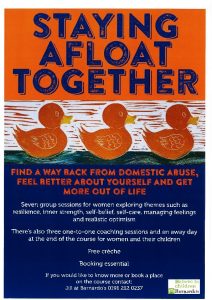 Staying Afloat Together is a programme delivered by Barnardo's which aims to help women find a way back from domestic abuse, feel better about themselves and get more out of life.
Taking place at the Linskill Centre, the programme consists of seven group sessions for women exploring themes such as resilience, inner strength, self-belief, self-care and managing feelings. There are also three one-to-one coaching sessions and an away day at the end of the course for women and their children. The sessions run on consecutive Friday mornings from 21 September.
Download the poster here.
Booking is essential and a free creche is available.
For more information or to book your place contact Jill Marriott at Barnardo's on 0191 212 0237.