What's On at North Tyneside Art Studio (NTAS) in November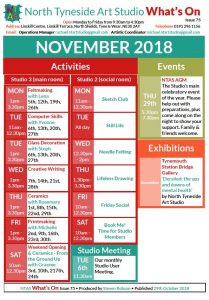 Hi,
In November, we see the launch of our new social working space in studio 2!
In addition to our usual programme of artist workshops in studio 3, there will be sketching, still life painting, and the start of the Friday social – bring cakes, board games and unwind after a long week.
Download What's On leaflet 75 here.
Many thanks
Rachael Jones
Operations Manager
North Tyneside Art Studio
Linskill Centre
Linskill Terrace
North Shields
NE30 2AY
T. 0191 2961156
Charity No. 1059103
Company No. 3266699
www.northtynesideartstudio.org.uk