Download the Time to Talk Day Workplace Activity Pack

Time to Talk Day 2020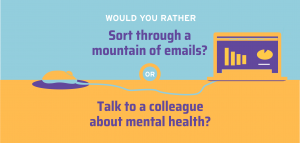 Download our New Time to Talk Day Activity Pack
Time to Talk Day is just a month away! 
This year we invite you to consider how you can create awareness raising opportunities for your staff, raising their understanding of mental health and specifically mental health stigma.
Our new Workplace Pack is full of activities that you can look to deliver, alongside resources to support the promotion of your commitment to addressing mental health stigma and the events your employees can get involved in.
The Pack includes a range of fun activities and games including a mental health snakes and ladders, wordsearches and quizzes that can help to start the conversation in a way that doesn't appear intimidating or awkward.