Helix Arts Town Common in the Beacon Shopping Centre, North Shields – 17 – 22 February 2020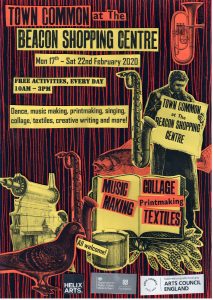 During February half term (17th – 22nd), and between 10.00 am and 3.00 pm, a series of workshops with artists, performers and community groups will be available for people to drop in from the local community.
Over the week, an ambitious programme of arts, cultural and community activities takes place. Dance, music making, printmaking, singing, collage, textiles, creative writing and more! Download the programme here.
Residents will collectively reimagine the role and function of public space in the town centre.
All workshops will be FREE and accessible for a range of different age groups and abilities.