Last of the 2019 engAGE events

Ho Ho Ho….too soon??
The festive season is fast approaching and there's plenty coming up with engAGE to see us through until the New Year…including a second chance to buy some fabulous festive woolly creations – The Woollies have been busy creating more stock and will be holding their sale in Linskill Reception on Monday 9th December from 10am.
As always thanks for having a read through and please get in touch if you would like more information on anything or let me know that you're coming along to an event.
Catch you very soon!  Charly
---
engAGE is helping local care providers 'Bluebird Care' get a coffee morning off the ground!
The event is aimed at offering a regular date for a cuppa and some company…. to try and help people who are isiolated and spend their time alone.
All ages welcome not just us engAGE 55+ group.
If you would like to help me help them….please come along!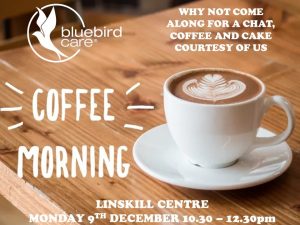 ---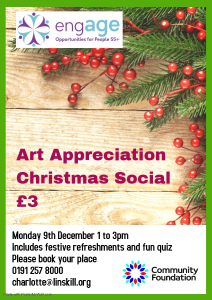 ---
Beamish Museum have been in touch to share the news that their 1950s Hall is holding a Christmas Sequence Dance – how fabulous!
Anyone who would like to go along can gain entry to the museum for a reduced rate of £6.50 for the day or 25% off the annual pass rate if you contact Natasha on 0191 3704031 and say you are with engAGE.
Dancers would be welcome at the museum any time to look around in the morning, before attending the dance in the afternoon.  The dance itself is covered under admission to the museum, and we will be selling tea, coffee and biscuits halfway through.
If enough people are interested in going along engAGE could organise taxis from Linskill Centre  which would help individuals spread the cost?  Just a thought…please get in touch ASAP on 0191 257 8000 for any more information.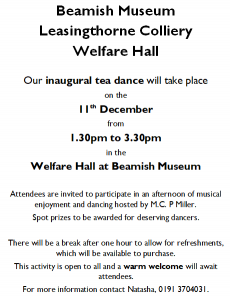 ---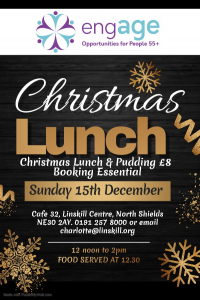 ---
Things to look out for in January 2020!
…The Film Club is back on January 8th with the new Rock 'n' Roll comedy called YESTERDAY
https://en.wikipedia.org/wiki/Yesterday_(2019_film)

…January Hobby Club on the 16th at 1pm – Paper Weaving

…Scribblers are hosting a creative writing workshop led by local author Margi McAllister on Monday 25th January – booking essential
http://www.margaretmcallister.co.uk/

…Local artist Emily Ward is visiting the Art Appreciation group to talk about her work on Monday 27th at 1pm
https://www.emilywardart.com/

…In case Santa is bringing you new technology for Christmas the Digital Champions will be back to help from Thursday 9th January – drop in between 10am and 12 noon.

…There are a couple of places available for the new MONDAY Tai Chi class which starts back on the 14th January at 3.30pm – please book your place.