Let's come together for #HelloYellow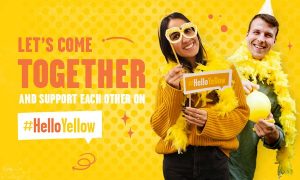 ---
Let's come together for #HelloYellow
At a time when it's needed most, let's come together for #HelloYellow on Friday 9 October 2020 and join thousands of others in wearing yellow for World Mental Health Day and raising vital funds for YoungMinds.

We know you and the young people in your lives have been going through a difficult time, and it can be hard to feel positive. But you're not alone. Together we can look out for each other and feel hopeful about the future.
Start early and sign up for #HelloYellow 2020 now! You will receive a free fundraising kit full of ideas, wellbeing tips and resources to inspire you to make it fun and impactful for everyone involved.

We want everyone to wear something yellow on 9 October and join the celebration of hope and togetherness on the #HelloYellow hashtag! Whether you choose a subtle splash of colour or dress like sunshine from head-to-toe, dig out your brightest yellow clothes and wear mark World Mental Health Day in style. You could even dress up in yellow fancy dress – the Simpsons, minions, emoji's, a banana costume – these are just a few ideas!
By getting involved in #HelloYellow, you will help raise vital funds for YoungMinds, so we can help even more young people and their families at a time when it's needed most, and show them they're not alone with their mental health. Looking after our wellbeing has never been more important. 

We're happy to support you in any way possible so just email us at helloyellow@youngminds.org.uk or give us a call on 020 7089 5050 if you have any questions.

Let's make this the biggest, most memorable #HelloYellow yet!

Team #HelloYellow