Linskill Community Development Team Community Grapevine Newsletter – 12 July 2020


We have loads for you to get involved with in this edition of Grapevine. Reminisce about holiday's past, learn the Cha Cha Cha and challenge yourself to an active summer!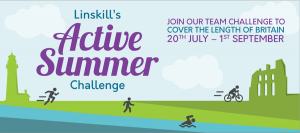 STAY CONNECTED
Do you fancy a challenge? Like walking, cycling, swimming or scooting perhaps? If the answer is YES then we have just the thing! 
As we slowly start to come back into the centres and groups resume we really wanted to offer something which will help us to connect in a way that enables you to feel comfortable, be challenged, get more active and hopefully have some fun! 
Introducing Linskill's Active Summer Challenge!
Join our team and collectively lets cover 'Lejog' – which is shorthand for Lands End to John O'Groats. It's only 1198 miles if you follow the National Cycle Network! Pretty much everything counts including swimming, walking, running, cycling, scooting, skating etc….
Don't worry this is a TEAM effort and every mile counts – whether you only log one or 100 it all adds up. Plus we have the whole summer to do it from 20th July to 1st September. 
It's free to take part and we have got loads of fun challenges along the way and some nifty prizes to give away too.
All you need to do is follow the button to our registration page below. You will then be sent an email with all the details. You don't need any fancy kit to record your miles just your computer/phone/tablet to log your miles on our google form – easy! 
We are super excited about this new challenge, so much so that all of the Community Development Team are taking part! Plus your friends and family can join in two. Just make sure everyone who does the activity logs their miles separately. 
Any questions email lucy@linskill.org
Register for Linskill's Active Summer Challenge
---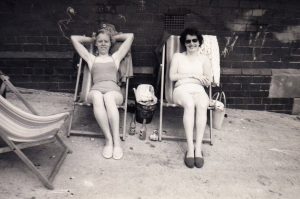 KEEP LEARNING
Join us on Thursday 23 July at 3pm for a trip down memory lane as we remember the summer holidays of the past and explore how holidays have changed over the decades.
Did you go to Butlins or Pontins? Did you have fun on the beach at Scarborough or Whitby? Did you go camping in the Lake District or did you prefer to stay local and take a trip to Spanish City or South Shields?
Alan, volunteer with Remembering the Past, will share some photos, memories and a brief history of summer holidays through the decades including the different holidays at home that were popular through to the package holidays abroad
 
This talk will be hosted via Zoom and you can get your meeting link via Eventbrite here
---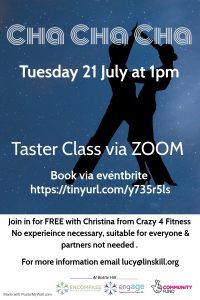 BE ACTIVE 
Learn a new skill, get moving and have fun with this one off Cha Cha Cha taster class hosted by Christina from Crazy 4 Fitness via Zoom. 
Clear a bit of space in your living room, but on your dancing shoes and imagine you are on Strictly Come Dancing at 1pm on Tuesday 21st July. 
Suitable for all fitness levels, no experience or partner needed. 
Book your free place via Eventbrite here. You will automatically be emailed with the Zoom meeting ID. Any questions email lucy@linskill.org
---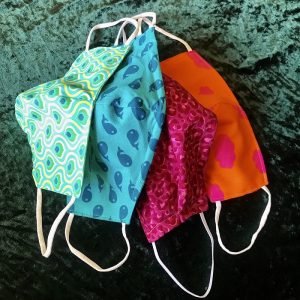 GIVE
Can you help VODA make Face Coverings for vulnerable people attending their GP appointments?
 
VODA's SAINT project are looking for volunteers who can help make face coverings for vulnerable people living in North Tyneside who aren't in a position to go and buy one. 
 
These coverings will be donated to local GP surgeries and will be given to patients in advance of their appointment or prior to entering the building.
 
By making face coverings for the community, we can help reduce anxieties and worries about attending GP appointments and help people return to a 'new normal'. 
 
VODA would like help with…
 
Cutting out the pattern pieces
If you live in North Tyneside the fabric and pattern will be dropped off at your house and picked up when you have finished the cutting. All you need is a pair of scissors!  The cut-out pattern pieces will then be sent to those who are offering their support by sewing up the face coverings.
Sewing the pattern pieces together
If you live in North Tyneside the pattern pieces will be delivered to your door all cut out and ready to sew. You will be supplied with a pattern and elastic.
 
If you fancy cutting out and sewing up then that would be great also!  If you are an accomplished sewer and prefer to use your own pattern that's great too as there are a number of free patterns obtainable on the internet.
 
To get involved please email jo.woolley@voda.org.uk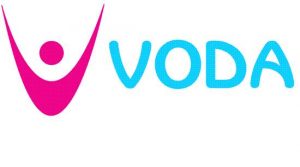 ---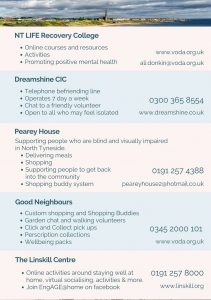 TAKE NOTICE 
To help support residents as we start coming out of lockdown, North Tyneside VODA have put together a leaflet of useful services available in North Tyneside.The leaflet, in partnership with the Ending Loneliness in North Tyneside campaign,SIGN North Tyneside and North Tyneside Council signposts the support currently available with a range of local organisations and includes mental health, families, disabilities, physical health, carers support and telephone befriending.
You can download the leaflet here 
---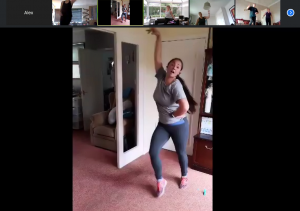 Last chance
To 'Get down in lock-down' with Christina from Crazy4Fitness is on Tuesday 14th July at 1pm. The music is upbeat! Think samba and swing with a bit of uptown funk thrown in! 
If you would like to join us please visit Eventbrite to register for your FREE ticket. You will be sent the Zoom meeting link automatically via email. Any questions please email lucy@linskill.org 
And don't forget…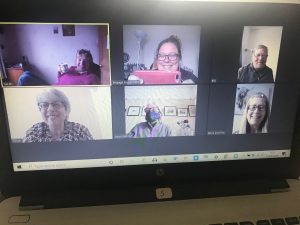 engAGE coffee morning and quiz happens every Friday at 11am. Just follow this  Zoom meeting link to join and don't forget your cuppa! 
Stay safe & best wishes
Janice, Charly, Helen, Alex & Lucy 
Linskill Community Development Team
---
Dates for your diary…
Christina will be teaching us some Hip Hop moves virtually on Tuesday 28th July at 1pm.