Linskill Community Development Team Community Grapevine Newsletter – 13 June 2021

We have so much going on you will need the long summer days to fit it all in! Lots of active things to keep you busy this week including a bike ride, pilates and dance fitness. Plus armchair gardening has been extended (yippee) and our next film club showing has been announced. Enjoy!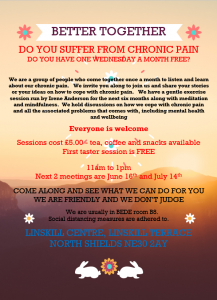 CONNECT
May we introduce you to a truly smashing friendly support group at Linskill Centre for adults living with chronic pain.  If you'd like to find out more and come along to the next meeting on June 16th at 11am please fill out your details here and we'll be in touch.
---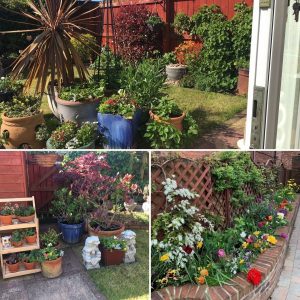 KEEP LEARNING 
Great news! We have more funding to carry on the armchair gardening sessions.  This is a super friendly forum and the perfect place for green fingered chat.  Each month Howard sends across a 'jobs list' which will be emailed to you prior to the session.  The next session is on Tuesday 7th July at 12.30pm.
Book your free place below.
Armchair Gardening Booking Link
---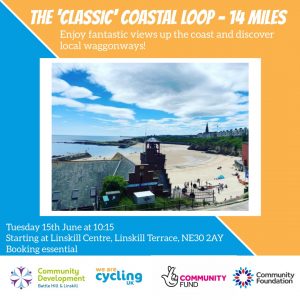 TAKE NOTICE 
It's a classic for a reason! Join us for the picturesque ride up the coast to Seaton Sluice before coming back down the Waggonway.
The ride is 14 miles and will use traffic free paths and quiet roads. It is the perfect ride for a beginner who wants a bit more of a challenge.
There won't be a comfort break whilst we are out but we will stop for snacks and photos half way round and there is the option of coffee at Cafe 32 when we get back to Linskill.
As always this is a 'no-drop' ride, we will make sure no one is left behind and the pace will be set to ensure that everyone can enjoy the ride and take in the beautiful sights and scenery.
Booking is essential via Eventbrite and you need to provide your own roadworthy bike which is suitable for uneven tracks – such as a mountain or hybrid bike. It is not suitable for road bikes. Electric bikes are welcome.
If you have any questions please email community.development@linskill.org
---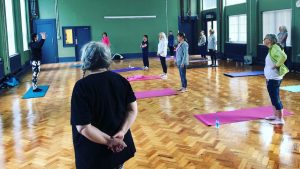 KEEP ACTIVE – Pilates 
**Limited Availability**
Join Fritha for another 5 week Pilates course from Tuesday 22nd June to 20th July at the new time of 2.30 – 3.30pm. Great for beginners or intermediate levels.  These sessions started online during lockdown, and it's great now to have her delivering them at Linskill.
Pilates builds strength and resilience in the entire body. Improve your flexibility, coordination and balance.
The 5 week block costs £15. Payment is via Linskill reception over the phone or in person, as booking through Eventbrite only holds your place until you have paid.
Comfortable clothing should be worn for the sessions, which will allow you to move freely and which you can bend easily in. You will also need your own Pilates mat for the mat based section.
---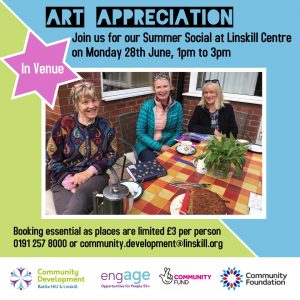 GIVE
There is still space to come and meet the volunteers behind the group – hear what plans they have and tell us what you'd like to see and hear about in future meetings.
---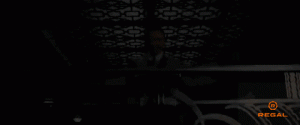 KEEP WATCHING 
In keeping with the Summer Challenge's 'train' theme our July film club will be showing Murder on the Orient Express. Kenneth Branagh directs and leads an all-star cast including Johnny Depp, Michelle Pfeiffer and Judi Dench in this stylish, suspenseful and thrilling mystery based on the best-selling novel by Agatha Christie.
Join us on Wednesday 7th July at 1pm for this  "Gorgeous and entertaining period delight"
 
Future Films will be shown on the 1st Wednesday of the month – save the date for the August showing of 'Windermere Children'.
Booking essential please as spaces are limited.
July Film Club – Murder on the Orient Express
---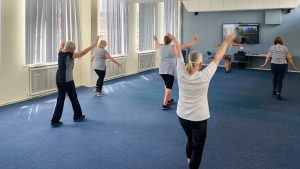 KEEP ACTIVE – Dance Fitness 
Our first 'blended' dance fitness class was brilliant – the technology worked (phew!) and everyone worked up quite a sweat (double phew!) 
You can still join us online and we have very limited spaces available in the centre – if you want to join us in person. 
The class happens every Wednesday 2-3pm at the Linskill Centre and is FREE! 
 
Your two options are:
 
Option 1 – in venue
Join us in person at the Linskill Centre. Class numbers will be limited and Covid restrictions adhered to, including social distancing. You can book for the whole block below. Eventbrite will say it is for a one-off event but you are booking for the whole block.
 
Option 2 – online
Keep joining us online, use this link to book onto the online option.
---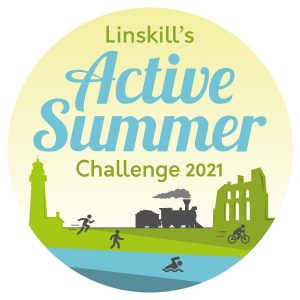 ACTIVE SUMMER CHALLENGE 2021 
What do you think to this year's logo?
This year the challenge will take place over three weeks from 1st – 22nd July and we will be offering a range of activities linked to this year's theme of our fantastic local waggonway network. Activities include:
Waggonway nature walk 
Exploring the cycling routes to the Quayside and beyond 
Nordic Walking Taster
Archive Heritage Film Presentation 
A special Film Club showing of 'Murder on the Orient Express'
Last year's team mileage challenge was a huge success covering over 4,000 miles – so we have decided to do it again! 
We will collectively work towards a miles-based challenge too and you will have plenty of opportunities to participate in mini challenges along the way, and a few prizes will be up for grabs! 
Keep an eye on your inbox next week for further information.
---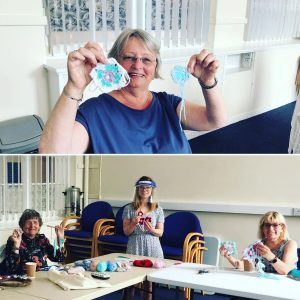 This week saw the finish of the beginners crochet workshop and it's fair to say this group are hooked!  If you'd like to hear about the next set of dates please get in touch via the following link.
https://forms.gle/wcgVcfq3qhihc26F7
Best wishes & stay safe 
Janice, Charly, Alex and Lucy 
Your Community Development Team
---
Opportunities from our friends…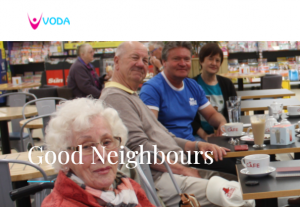 Could you be a DIY volunteer or know someone perfect for the role?
The Good Neighbours project with VODA recruits, trains and supports volunteers to carry out a variety of practical tasks commonly associated with those carried out by a 'good neighbour'.
Now restrictions are lifting they are keen to start up the DIY side of the project again.   Tasks range from changing a light bulb to putting up a bird box etc.  Volunteers provide practical help around the house and a friendly chat.
Please follow the link below for more information.
---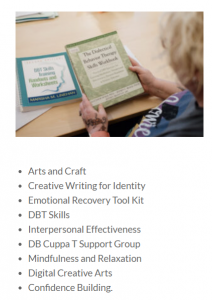 NT LIFE is the Recovery College for the borough of North Tyneside…
Recovery Colleges offers educational courses about mental health and recovery, which are designed to increase students' knowledge and skills and to help them feel more confident in the self-management of their own health and wellbeing.
Delivered in a safe and friendly community setting, courses and workshops are co-produced and designed by individuals who have lived experience of challenges with their own mental health, and who want to pass on their LIFE learning, skills and knowledge to help others. 
Please follow the link below to have a look at their summer programme – available to everyone 18+