Linskill Community Development Team Community Grapevine Newsletter – 13 September 2020


It's another busy week with lots to get involved with both outdoors with the brand new gardening group at Battle Hill to an afternoon art talk in Linskill with paintings from Tynemouth Fine Art.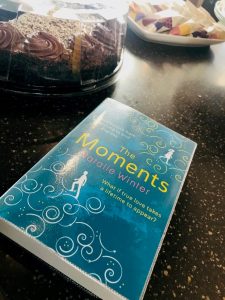 TAKE NOTICE
We're welcoming the return of Page Turners Book Club back to the Linskill Centre this month. The group will be reading The Moments by Natalie Winter.
"Life is made up of countless moments. Moments that make us who we are. But what if they don't unfold the way they're supposed to…?
What if you get on the wrong bus, or don't speak to the right person at a party, or stay in a job that isn't for you? Will you miss your one chance at happiness? Or will happiness find you eventually, when the moment is right?
Meet Matthew and Myrtle. They have never really felt like they fitted – in life or with anyone else. But they are meant to be together – if only they can find each other.
A powerful and emotional story about missed chances, interwoven lives and the moments that define us."
The group at Linskill is getting pretty full but if you are interested in starting a book club at Battle Hill Multi-Use Centre we would love to hear from you. You can email Alex or Lucy on alex@linskill.org or lucy@linskill.org to express an interest.
---
1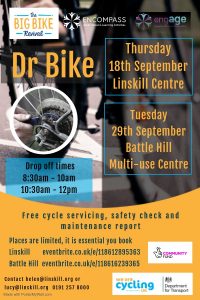 BE ACTIVE
Our wonderful Velotech qualified Dr Bike volunteers are back! After the huge success of our first Cycling UK Pop-Up Dr Bike sessions we are delighted to offer another two.
After a comprehensive 'M-Check' has been completed, minor repairs to ensure a cycle is safe and roadworthy will be carried out.
Due to government guidance and to ensure we can see all bikes, booking is essential for both of these sessions. On Thursday 18th September Dr Bike will be at the Linskill Centre and on Tuesday 29th September they will be at Battle Hill Multi-Use Centre.
To book follow the link below for your preferred venue, click on the bike drop off time you require, bring it along on the day, leave it with us and we will get in touch a few hours later when it is ready to collect.
Dr Bike – Linskill Centre 18th September
Dr Bike – Battle Hill 29th September
---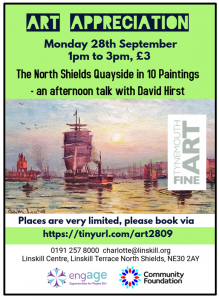 KEEP LEARNING
Art Appreciation is back…but as you'll appreciate with limited places. The next meeting is on Monday 28th September starting at 1pm with art expert David Hirst from Tynemouth Fine Art. David will be bringing a collection of North Shields Quayside paintings for discussion.
Book your place online by clicking on the link below or email charlotte@linskill.org. If you find all the places booked please get in touch to be added to the waiting list because we can run a second session.
---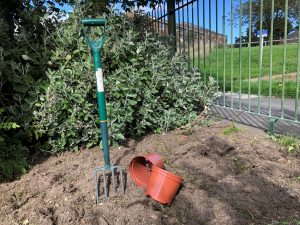 GIVE
It was wonderful to see some of our Battle Hill gardeners back on site this week at Battle Hill Multi-Use Centre. We have an amazing outdoor space at the venue which has so much potential for growing all sorts of things. It would be great if we could turn some of the outdoor space into a community garden so we would love to hear from others interested in getting involved.
We have started a small gardening project at the front of the building so if you are interested in joining us please email alex@linskill.org for more information.
---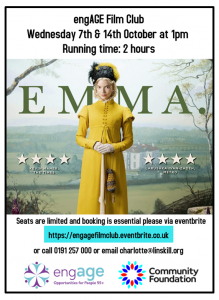 CONNECT
September was Judy and October is Emma!
"Jane Austen's beloved comedy about finding your equal and earning your happy ending is reimagined in this delicious new film adaptation of EMMA. Handsome, clever and rich, Emma Woodhouse is a restless queen bee without rivals in her sleepy little town. In this glittering satire of social class and the pain of growing up, Emma must adventure through misguided matches and romantic missteps to find the love that has been there all along."
To much sure no one misses out, we are putting on two showings of Emma: on Wednesday 7th and Wednesday 14th October starting at 1pm – please book your seats ASAP!
`Book engAGE Film Club tickets
---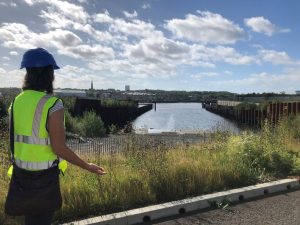 Watch this space – Alex and Lucy recently visited the former Swan Hunter site in Wallsend. It was great to get so close to the river and see it from a new angle. Our online heritage talks have been very popular so we are planning a guided heritage walk of the site later this month, so keep an eye out for more details.
Thanks as always for your support… Just to say that as an organisation we are exempt from the new government guidance that came out last week as we have social distancing measures in place. All our activities are going ahead as planned.
Take care and best wishes
Janice, Charly. Helen, Alex and Lucy
Your Community Development Team
---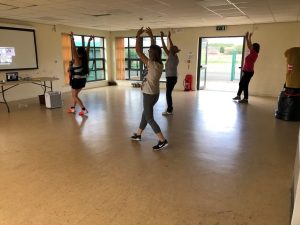 And finally…. After the success of our 'Get down in lockdown' dance fitness series we ran our first combined Zoom and onsite session last week with Christina from Crazy 4 Fitness. Participants were able to join her virtually from their own home AND at Battle Hill Multi-Use Centre in person. 

We are following current government guidance and in person participant numbers are limited. You have to book each week individually if you want to join us in person. 

Our next in person session on the 16th is fully booked but you can still join in online by clicking on the button below.
Book Dance Fitness Tickets – ONLINE
---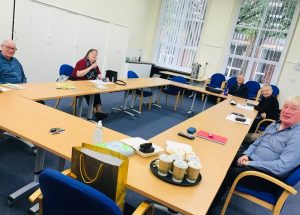 This is definitely the last "And finally"… It was wonderful to see the Scribbler's back in Linskill on Monday – perfect timing for the opening of Café 32!