Linskill Community Development Team Community Grapevine Newsletter – 14 April 2022

Welcome to your Easter edition of Grapevine. This one is out a little earlier than usual as it's Good Friday tomorrow.
We've got lots in the programme from Belly Dancing to Bike Fit. Or if you're interested in researching your family history why not sign up for our 6 session course with genealogist Johanna Smith. We've also got a musical for this month's Film Club and a trip to Segedunum to find out how the Roman's built Hadrian's Wall.
---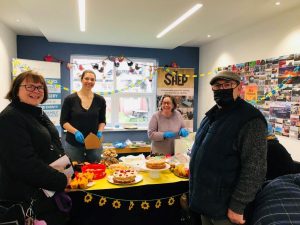 Thank you!
A huge thank you to everyone who baked, sold and bought cakes at our cake sale last week in aid of Ukraine.
We raised an incredible £417.74!  All proceeds will go to the Disasters Emergency Committee Ukraine Humanitarian Appeal.
---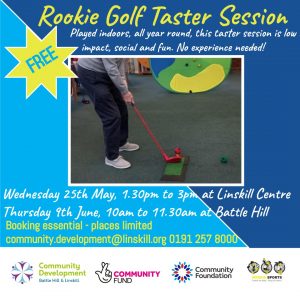 CONNECT
The Rookie Golf games are coming to Linskill and Battle Hill. Come along to one of our taster sessions and find out why people love playing.
Rookie Golf uses pop up targets and velcro balls and there are a variety of fun games for you to enjoy. It's a brilliant way of having fun and getting some gentle exercise at the same time. No experience or sporting skills needed. No special clothing needed either, just wear trainers or flat shoes. All equipment and tuition is provided. Come on your own, or bring your friends – we guarantee you'll have a great time!
To find out more about Rookie Golf you can visit their Facebook page where you can find some videos which show you what's involved!
---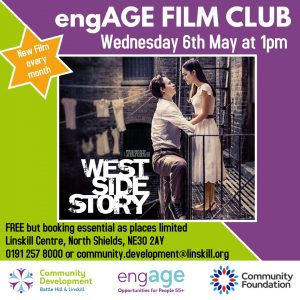 CONNECT
Join us for a musical in May! 
An adaptation of the 1957 musical, West Side Story explores forbidden love and the rivalry between the Jets and the Sharks, two teenage street gangs of different ethnic backgrounds.
---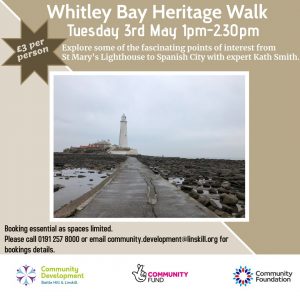 CONNECT
Our heritage talk last month was rained off so we have a new date to join Kath Smith from Remembering the Past on a walk along the Whitley Bay coast.
Explore some of the fascinating heritage points of interest from St Mary's Lighthouse to Spanish City. Find out more about how this beautiful stretch of our coastline has changed over the years as we walk from St Mary's Lighthouse and try and spot some seals, to Spanish City to find out about it's recent restoration.
Come and find out about the heritage points of interest along this route and share your memories of them as well if you have any.
We have a few spaces left so if you would like to join us, you can book on the link below. There is a £3 charge to attend.
---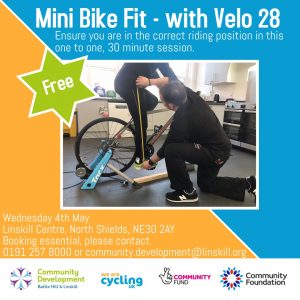 BE ACTIVE 
Suffer from sore wrists, back or knees when riding for a long time? Want to be in the most efficient riding position? Then this session is for you!
Join Mark from Velo28 who will guide you through a mini bike fit. Small adjustments like raising your saddle height can make a real difference to your comfort on the bike.
This is a free, 30 minute session made possible through funding from Cycling UK.
On the day you will need to bring your bike with you. The session will take place indoors.
---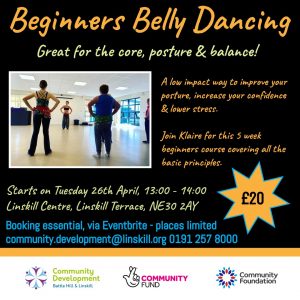 BE ACTIVE 
Belly Dancing is a low impact way to improve your posture, increase your confidence and lower stress.
After the success of our taster sessions we are running a 5 week beginners belly dancing course at the Linskill Centre with Klaire.
The sessions will be taking place as follows:
26th April 1-2pm
3rd May 1-2pm
10th May 1-2pm
17th May 1-2pm
24th May 1-2pm
This course will be running as in-venue only, however Klaire does have other Zoom options available.
This course is subsidised and will cost £20 for the full 5 week course. Payment can be paid via Linskill's Reception either in person or over the phone.
---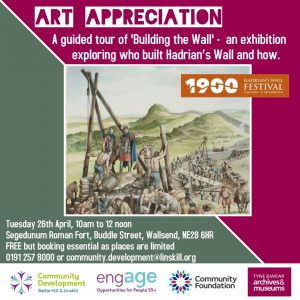 TAKE NOTICE 
This month the Art Appreciation group are off to Segedunum Roman Fort for a guided tour of their new exhibition 'Building the Wall.  Joanne Charlton will be leading the session which explores who built Hadrian's Wall and how and consider the substantial practical and logistical challenges involved. It will also focus on the revealing evidence from the impressive 80 metre stretch of Wall remains at Segedunum.
Places are limited to please book a place through the link below:
---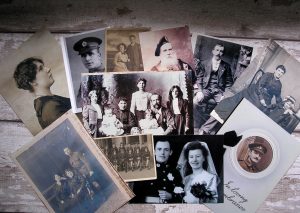 KEEP LEARNING
Have you wondered who your ancestors are and what they did? Have you watched Who Do You Think You Are and thought about your own family background?
Join genealogist Johanna Smith for this 6 session programme which will help you find out more about your ancestors and build your family tree.
Sessions will cover topics such as;
How to use different sources – civil, religious, census records
Using genealogy software as well as alternative searching methods
How to use specialist records to find people and enrich your family history including Military records, Emigration, Newspapers, Scottish, Irish and Overseas records and more!
Overcoming obstacles
Using photographs, stories or interviews to bring your tree to life
3 sessions will be delivered online and 3 in person so check the schedule on the Eventbrite booking below for more details.
With this course you have the option of signing up to sessions on a one-off basis depending on your interest at a cost of £4 per session or block booking all 6 sessions for £20.
Next Steps in Building Your Family History
---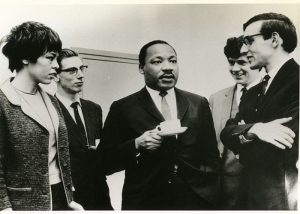 KEEP LEARNING
Join Brian Ward from Northumbria University for a talk exploring over 2 centuries of African American connections to the North East region on Tuesday 3rd May, 18:30 – 19:30. 

In November 1967, Martin Luther King, Jr, famously visited Newcastle upon Tyne. It was the only time on his visits to the UK that the eminent civil rights leader ever ventured beyond London. Just a few months earlier the iconic rock guitarist Jimi Hendrix was also in town. And a decade later the legendary boxer Muhammad Ali spent a week on Tyneside. In this talk, Brian Ward unpicks the stories behind those three visits to put them in the context of more than two centuries of African American connections to the region, reminding us of an often hidden history of racial diversity in the North East.

There is a small fee of £3 for this event which is payable on the day.

Image thanks to Paul Barry and Newcastle University Special Collections
---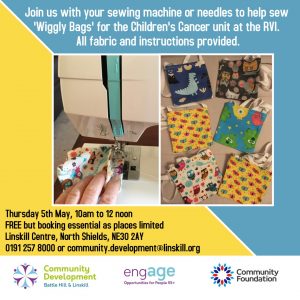 GIVE
We still have a couple of spaces left for those who fancy helping us make Wiggly Bags! 

Did you know that we have a sewing group where volunteers regularly get involved in community projects? Their latest project is to make 'Wiggly Bags' to donate to the Children's Cancer Unit at the RVI in Newcastle and they would love to invite you to join in!
 
All fabric and instructions are provided for FREE. You can join us in the session or collect a pack and make them at home.
 
Please book using the link below.
---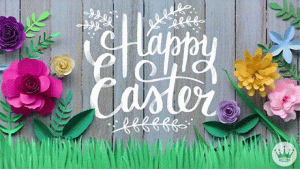 We hope you have a great Easter!

Lucy, Alex, David, Charly and Janice
Your Community Development Team
---
From our friends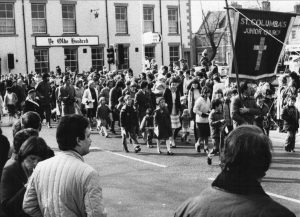 Do you have memories of the Good Friday Marches? Our friends at Remembering the Past are interested in finding out more about the tradition of Good Friday Marching, which was a huge event in North Shields for many years and focused around Northumberland Square as either a start or finish point.  The Remembering the Past team are very excited to be working on this project and hope that you will be too. 

In the 1960s, around 2,000 children would take part in the march before returning to their own churches to receive an orange as a gift.  However, Remembering the Past don't have enough stories in their collection to reflect the massive impact this event had in North Shields and they need your help to fill in the gaps in their knowledge.       

If you have a memory or information you would like to share you can get in touch with the Remembering the Past team on; manager@rememberingthepast.co.uk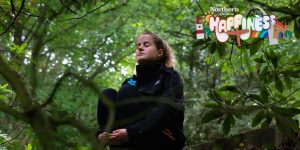 Calm your mind with a relaxing forest bathing session at Gibside

Inspired by the Japanese ancient art of Shinrin-yoku, come and take a slow, guided sensory walk in the beautiful surroundings of Gibside Pleasure Gardens on Friday 29th April 10.30am to 12.30pm. 

Tickets cost £5 per person which includes admission to Gibside.

For full details and to book your ticket please use the link below:
---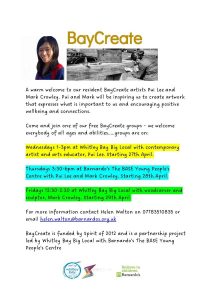 ---