Linskill Community Development Team Community Grapevine Newsletter – 16 August 2020


This week book the best seat in the house with our showing of Oscar winner Judy, help in the garden and check out the answers to our local knowledge quiz.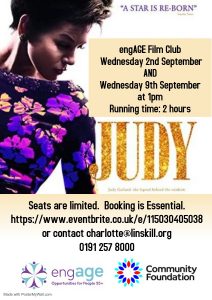 TAKE NOTICE 
This film is pure entertainment! Bring your flasks and snacks and enjoy an afternoon in front of the big screen watching JUDY (2019).
"Thirty years after starring in "the wizard of oz," beloved actress and singer Judy Garland arrives in London to perform sold-out shows at the talk of the town nightclub. While there, she reminisces with friends and fans and begins a whirlwind romance with musician Mickey Deans, her soon-to-be fifth husband"
Seats are limited to 12 but we are showing the film on two separate dates – when you register please choose either the 2nd or 9th of September.
---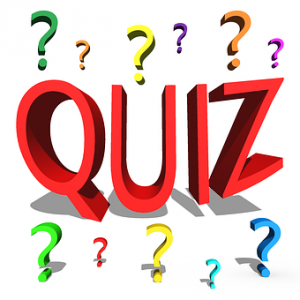 KEEP LEARNING
How many did you get correct?
Find out as we give you the answers to last weeks local knowledge quiz. 
Please note you should be able to view the quiz in Google Documents.
---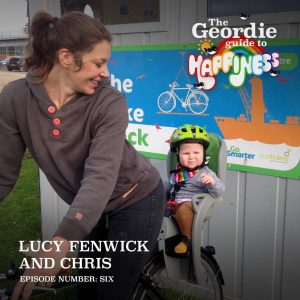 KEEP ACTIVE .
We have featured The Geordie guide to Happiness before and this week they talked with our very own Lucy. An adopted Geordie, who told them what happiness means to her and how Sunday bike rides have been one of her highlights during lockdown. An interesting listen for anyone who loves cycling or who wants to do more of it. Given our current Active Summer Challenge it felt appropriate to share (plus it means maximum embarrassment for her!)
---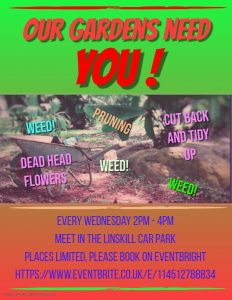 GIVE 
During lockdown our grounds and gardens at the Linskill Centre have obviously only had the minimum amount of care and attention. We are offering an opportunity each week for 6 gardeners to come for 2 hours and help us really improve the look and feel of the open spaces around the Linskill Centre.
You will be working weekly with Helen from Encompass, a keen hobby gardener for 20 years and monthly with Howard Leslie who will be continuing his taught sessions for everyone with a small or confined garden space.
Book your places early via Eventbrite, and you'll get a confirmation email with all the details you need to join in and stay safe.
If this is popular we may be able to expand it to Thursday and Battle Hill grounds as well…so don't forget to put yourself on the waiting list so we know what the demand is.
---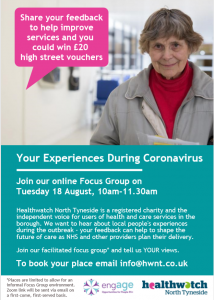 CONNECT 
Sign up for an informal online chat to share your views and experience of using health services during the coronavirus.  To say thank you for your time you will be entered into a prize draw to win £20!
---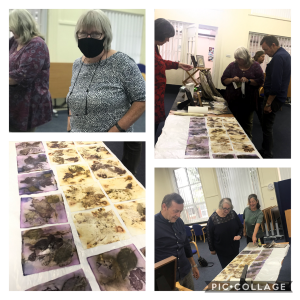 Huge thanks to Maggie Baird from 'Something from the Craft Room' for sharing her Eco Printing secrets! Watch out for a workshop to learn how to make your own art work as soon as we can.
---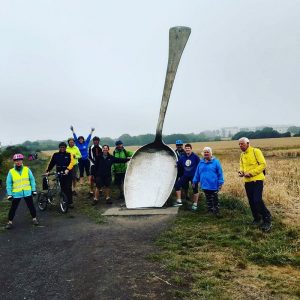 Our Linskill Riders went out for the first time since before lockdown. Things are a bit different in terms of limiting numbers and booking but it didn't stop the fun (or the drizzle).
---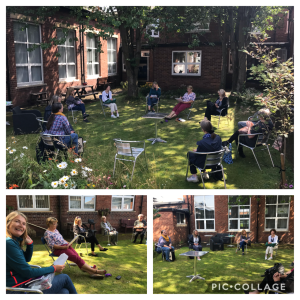 Thankfully the weather was kind for Art Appreciation's summer social. They have exciting things planned over the next few months.
---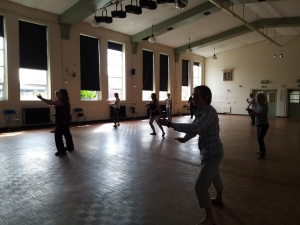 Plus Tai Chi have loved coming together again at the Linskill Centtre, even if they are a little more spaced out than usual. 
And don't forget….
Charly's engAGE coffee morning and quiz, with special guest host Helen on 21st August for one week only (she will be doing a quiz which you can't google the answers too). It happens every Friday at 11am. All welcome, just follow this  Zoom meeting link to join and don't forget your cuppa! 
Dates for your diary:
Our 'Back to School' heritage talk is taking place on 10th September at 3pm. 
Christina is running another series of zumba inspired fitness classes from 9th September.
Plus Art Appreciation is back.
Page Turners Book Group is back on Tuesday 29th September at 1pm
Stay safe & best wishes
Janice, Charly, Helen, Alex & Lucy 
Linskill Community Development Team
---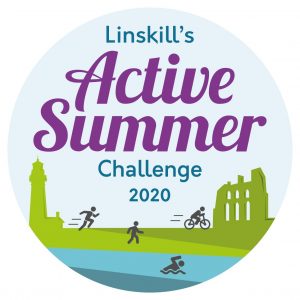 And finally,  
This week's mini challenge of 'best nature' photo whilst doing your activity has really got everyone's creative juices flowing – we have had some cracking entries. We could actually make a calendar out of them! 
The challenge runs until 1st September – how far can we get?
Register for Linskill's Active Summer Challenge
---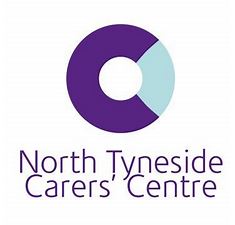 Just one more thing…  
Our friends at North Tyneside Carers' Centre are running their 3rd Mindfulness sessions for Carers but this time on an evening.The sessions start on Wednesday 19th August from 6.30pm -7.30pm and will run for 6 weeks. For more information visit here