Linskill Community Development Team Community Grapevine Newsletter – 17 May 2020


Welcome to our second Grapevine newsletter. This weekly email will tell you about all the online activities and opportunities you can still get involved with even though the Linskill Centre and the Battle Hill Multi-use Centre are currently closed.
---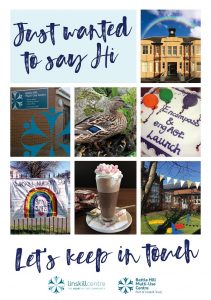 STAY CONNECTED 
We are aware that not everyone is online and can receive this email or access Facebook. So with a little help from the junior members of the community team (who happily take payment in chocolate) you should have received this lovely little postcard through your letterbox. Like it says we just wanted to say hi and remind you we are here if you need help with anything. Over 600 have been sent out across the borough. 
Click here to view the full postcard and see our contact details 
And don't forget if you are missing seeing us you can join Charly for a virtual Coffee and Chat every Friday from 11am to 12 noon. This will be hosted via ZOOM, please email charlotte@linskill.org for the link.
---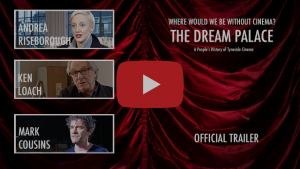 The Dream Palace Trailer
TAKE NOTICE
Andrea Riseborough, Ken Loach, Mark Cousins and Sir Ridley Scott discuss the unique history of one of the UK's best loved independent cinemas, The Tyneside, and look wider to celebrate what going to the pictures means to people around the world.
The full length film will be streaming for free from 7pm UK Time on Sunday 17 May and will be available until midnight on Sunday 24 May. The running time is 75 minutes. It is subtitled.
The premiere will be followed by a live Q&A with contributors Andrea Riseborough (Death of Stalin) and Briony Hanson, former head of Tyneside Cinema and now Director of Film at The British Council.
---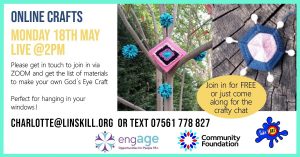 KEEP LEARNING
Join in some crafty fun via ZOOM. You can follow along with the tutorial from Jennifer at Take part or just sit with your cuppa and enjoy the conversations. Please email charlotte@linskill.org for your ZOOM link 
To find out what you need for the session please click here
---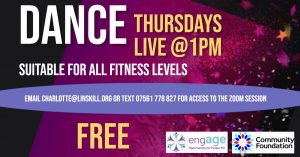 BE ACTIVE 
Mental Health Awareness Week will take place between 18th – 22nd May.   
The theme is 'kindness'.  One of the activities suggested by the Mental Health Foundation is called 'Be Kind to Yourself' – it's about doing 30 minutes of a physical activity, from gardening to jogging, to dancing to whatever. How about joining in with this week's Dance session – as your act of kindness to yourself?
Join in at home with friends from engAGE for a fun workout using dance moves – suitable for all fitness levels. This is a 45 minute session and then stay online for a cuppa and a chat afterwards if you fancy. Email charlotte@linskill.org for the ZOOM link to access the LIVE online session.
This fun session is being delivered by Forever Moving
---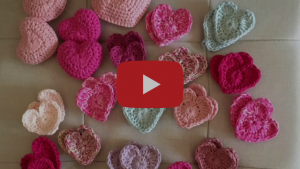 Linskill Centre Digital Story Part 2
GIVE
What a creative bunch you all are! Thank you for continuing to send in your wonderful images of what you have been up to.  You can watch our latest video by clicking the YouTube video above. 
If you would like to contribute an image please either send them via the engAGE@home Facebook group or via email to alex@linskill.org 
Stay safe & best wishes
Janice, Charly, Helen, Alex & Lucy 
Linskill Community Development Team