Linskill Community Development Team Community Grapevine Newsletter – 18 February 2022

Grab your cuppa, settle down, escape the wind and enjoy this bumper edition of Grapevine!
Is your sewing machine gathering dust in the corner? Then we have just the session for you! Plus we have our usual cycling activities and two terrific local history talks.
---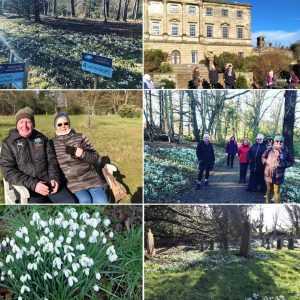 "Fresh air, amazing gardens, good company what could be better"
We had our 1st trip out for ages! Great day out at Howick Hall Gardens – where shall we go next?
---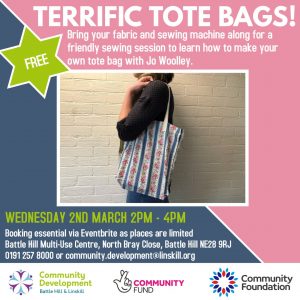 KEEP LEARNING
Join us for another beginner friendly sewing workshop with Jo Wolley – this time we are making Tote Bags. Perfect for your shopping or even a gift.
A limited amount of material will be available on the day, but if you have your own please bring it along (half metre should be more than enough).
Please note you will need to bring your own sewing machine to this session.
---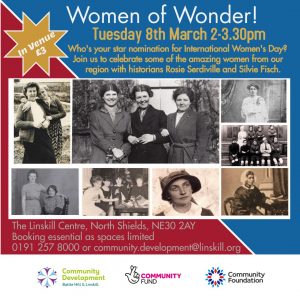 CONNECT
Who's your star nomination for International Women's Day? Hear Rosie Serdiville and Silvie Fisch talk about some of the amazing women from our region that they really admire.
We'd love to hear who you would choose for the 'Wonder List'. Your mother or grandmother? That woman who always said hello during lockdown? Sometimes funny, sometimes inspiring; often both, this is a chance to meet them all.
If you would like to share your own stories of inspirational women and if you have a photo, please send them to community.development@linskill.org or bring them along on the day.
There is a small fee of £3 for this event which is payable on the day.
Photo credits; thanks to Rosie Serdiville, Silvie Fisch, Gateshead Evangelical Church, Gateshead Libraries, Elaine Slater and the Ruth Dodds collection.
---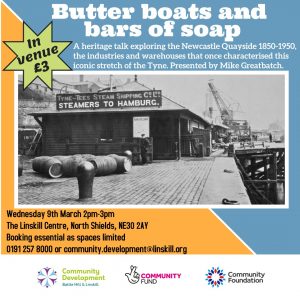 TAKE NOTICE
Join Mike Greatbatch for this talk exploring the Newcastle Quayside between 1850 to 1950, on Wednesday 9th March at the Linskill Centre.
Mike's talk will illustrate why Newcastle Quayside was extended eastwards in the 1860s and the industries and warehouses that once characterised this iconic stretch of the North Tyne shore.
There is a small fee of £3 for this event which is payable on the day.
Photo credits; thanks to Newcastle City Library Local Studies.
---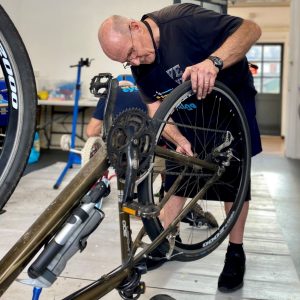 CYCLING UK ACTIVITIES
We have two Cycling UK activities taking place over the next couple of weeks.
Dr Bike will be at Linskill on Wednesday 9th March and he will be hosting a puncture repair masterclass on Tuesday 1st March at Battle Hill Multi-Use Centre. You can book for both using the links below.
If you would like to keep up to date with all of our cycling activities – including rides, maintenance sessions etc, then send us a quick email to community.development@linskill.org and we'll add you to the newsletter.
Puncture Repair – 1st March – Battle Hill
Dr Bike – Linskill – 9th March
---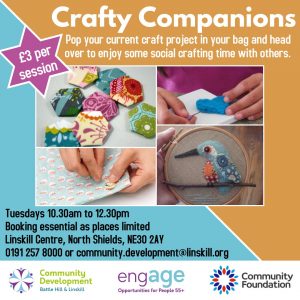 CONNECT
Would you like to work on your craft projects with others instead of at home? Join a fab group who pack their project into their bags and meet weekly on a Tuesday monring at 10.30am. Places cost £3 and space is limited.
Please book using the link below.
The engAGE programme is funded for people aged 55+
---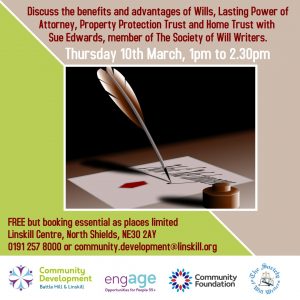 KEEP LEARNING
As a follow on to the Death Cafe with MacMillan Services last month we have arranged for FREE advice on Wills, Lasting Power of Attorney, Home/Home Protection Trust with Sue Edwards from The Society of Will Writers.
This is the perfect afternoon to join us for a cuppa and to find out more about your options.
Tickets are FREE but booking is essential using the link below.
The engAGE programme is funded for people aged 55+
---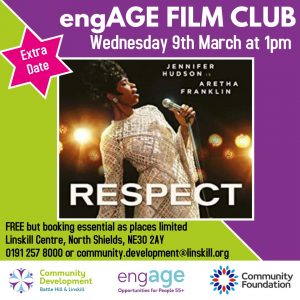 TAKE NOTICE
**SECOND SHOWING DUE TO DEMAND**
Join us on Wednesday 9th March at 1pm to watch 'Respect', a 2021 American biographical musical drama film based on the life of American singer Aretha Franklin. The film stars Jennifer Hudson, as Franklin, and follows the first two decades of Franklin's life.
The engAGE programme is funded for people aged 55+
---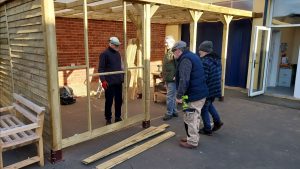 Look at our new canopy!
Thanks to National Lottery Funding and the hard work of our Shedders we now have an up and running custom built canopy and 2nd storage container. This has enabled us to house our many tools and power equipment. It has also dramatically increased The Shed's footprint by providing comfortable outdoor working in most weathers.
There are still places available on our next induction which starts 17th March 2022.
For all enquiries, then please contact David Pearce: david@linskill.org or on 0191 2578000 (Mon and Thurs)
---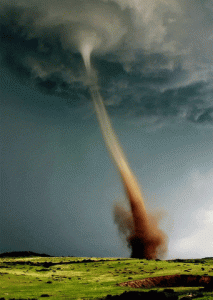 Don't get blown away in this wind and we look forward to seeing you all soon!
Lucy, Alex, David, Charly and Janice
Your Community Development Team
---
From our friends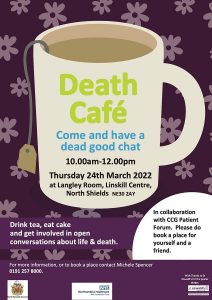 If you missed out on our Death Café in January then the Community Health Care Forum are hosting another one at Linskill Centre.
To book your place call 0191 257 8000 or email Michelle at michele@chcfnorthtyneside.org.uk
---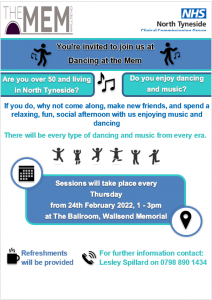 ---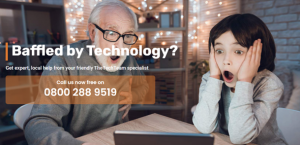 Local company TheTechTeam, are launching FREE digital skills courses for people who are looking to learn new skills on their iPads, Smartphones and Computers.
TheTechTeam are striving to support people (typically over the age of 55) in the community to better understand their digital devices.
 
Their first drop in session, led by knowledgeable Digital Champion's, is at Linskill Centre on Tuesday the 22nd February, 1pm – 3pm. Book your FREE place using the link below.
For more information call 0191 209 9088 or 0800 288 9519.  You can email hello@thetechteam.it or visit https://thetechteam.it/
---