Linskill Community Development Team Community Grapevine Newsletter –18 October 2020


Who knew it was Autumn with all this lovely sunshine!  We hope this issue finds everyone fit and well and ready for some more Covid safe activities including Bike Rides, Paper Quilling and Online First Aid.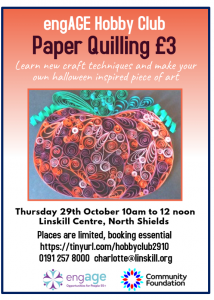 KEEP LEARNING
Halloween will be a bit different this year so why not decorate your house with these beautiful paper quilling pictures? Our super tutor Amy will guide you through the process and provide all the bits you need. This session will be taking place at the Linskill Centre on Thursday 29th October 10:00 – 12:00. Booking is essential. To secure your place, follow the link below. Any questions please email charlotte@linskill.org
---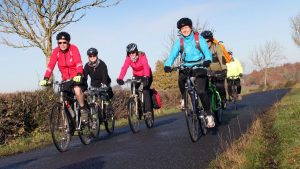 TRY PEDALLING 
Always wanted to join us on a Linskill Riders ride but need a bit of confidence first or maybe you never learnt as a child? Well we have just the thing for you…
WATBike are holding free "bikeability for adults" sessions every Friday and Saturday in various locations, including Linskill and Battle Hill.  These are aimed at novice and beginner cyclists, or those who feel they need assistance with any specific issues – for example, how to use the gears efficiently. 
WATBike have a fleet of hybrid and e-bikes which can be used for these sessions, so everyone can take part whether or not you already have a bicycle. 
The first sessions are taking place at Battle Hill Multi-Use Centre on Friday 30th and Saturday 31st October. If you haven't visited the centre before, this is the perfect place to learn as there's an enclosed, flat tarmacked area. Anyone interested should drop Claire Blake an email to cycling@watbus.org.uk
---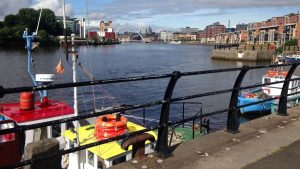 STAY ACTIVE
And for those already cycling we have two rides going out on WEDNESDAY 21st OCTOBER both of which will leave the LINSKILL CENTRE at 10:00. The intermediate ride is fully booked but we still have space on the beginners ride. 
 
Ride 1 – Rising Sun Country Park Beginners Ride 
Lucy will be taking a beginner's ride to the Rising Sun Country Park. This is a 10 mile ride which includes a bit of everything including muddy tracks, a few roads and a cheeky climb! The ride is anticipated to be out for 2 hours.
 
Ride 2 – Millennium Bridge – Intermediate Ride FULLY BOOKED 
 
Both rides are 'no-drop' (meaning no one is left behind) and due to current restrictions, we have to limit numbers to 5 participants plus the leader. We suggest you bring your own refreshments, although there will be toilet stops scheduled on both rides.
 
Due to current government guidance with regards to contact tracing and limited group size it is essential you book onto this ride in advance. Eventbrite isn't for everyone so if you need help booking on please get in touch by emailing lucy@linskill.org
Beginners Ride – Rising Sun Country Park
---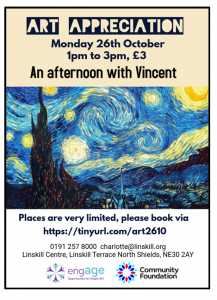 TAKE NOTICE 
Join in for an afternoon about the life and paintings of Vincent Van Gough.  We will be watching the film 'Loving Vincent' which is a painted animated feature film! Check out the trailer here
---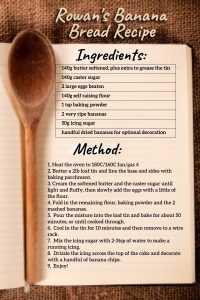 KEEP BAKING 
Our mini Community Development Team member, Rowan, (Alex's daughter) tested this recipe for us inspired by the BBC Good Food website It was a big thumbs up from her and the whole family.
---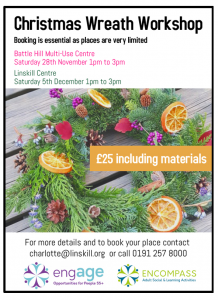 FEEL CHRISTMASSY 
Whether you give one as a gift or put it on your front door to spread cheer around your community, these Christmas wreath making workshops are a must!
Taking place on Saturday 28th November at Battle Hill and Saturday 5th December at the Linskill Centre, enjoy a festive afternoon with professional florist Traci to make your own wreath for your door.
Places are extremely limited for these sessions so book quickly by emailing charlotte@linskill.org or call 0191 257 8000.
---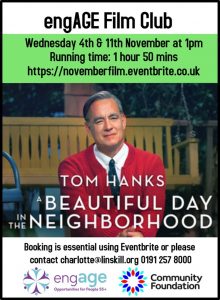 CONNECT
Who loves Tom Hanks? We do!  and his 2019 Film ' A Beautiful Day in the Neighbourhood' is showing at Linskill Centre on Wednesday 4th & 11th November at 1pm .  This is a timely story of kindness triumphing over cynicism, based on the true story of a real-life friendship between Fred Rogers and journalist Tom Junod. Here's the trailer for a sneak peek.
---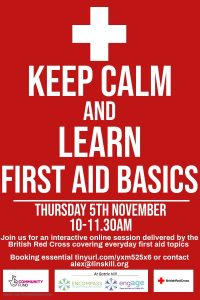 GIVE 
Are you interested in learning essential, life-saving first aid skills to help in an emergency?
Join us on Thursday 5th November at 10.00 for an interactive first aid session delivered by an experienced British Red Cross educator, where you will learn to deal with four common first aid situations. With plenty opportunity to ask questions, this session aims to give you the confidence and knowledge to apply basic first aid to improve someone's chances in an emergency situation. 
This is an interactive online session delivered by the British Red Cross covering everyday first aid topics. Please book via Eventbrite to receive the Zoom link.
---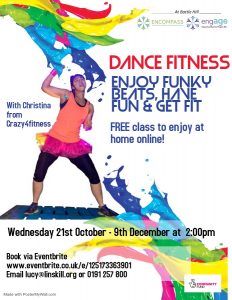 KEEP ZOOMING
After the success of our first 'blended' dance fitness classes with Christina we are delighted to offer another 8 week block. We have space in the virtual option only. By registering once via the Eventbrite link below you will be sent the Zoom meeting code for all the sessions.
Join two-times British Classical Sequence & Ballroom dancing champion Christina from Crazy4Fitness, for a fun dance fitness class!
Suitable for the whole family, this easy to follow class will have you moving in your living room through the power of Zoom.
You don't need any fitness equipment or experience, just a bit of space & a device to join the class from.
Dance Fitness 8 Week ONLINE Course
---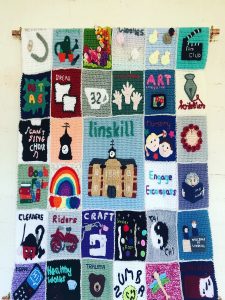 What's your favourite square? 
Our marvellous Woolies (plus honorary members Jen and Norma) put this together over lockdown. It's now on display thanks to our super volunteers Ian and Robbie. It's hanging on the side of Burnett Hall opposite the sensory garden – perfect for a look on your way round to the dance studio or NTLife.
---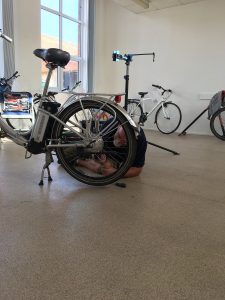 Catch Dr Bike for the final time in 2020
Cycling UK are supporting us to deliver free cycle servicing for our local community.
The next sessions will be at Battle Hill Multi-Use Centre on Tuesday 3rd November and Linskill Centre on Wednesday 11th November. 
All servicing is free and delivered by volunteer Velotech trained bike mechanics.
After a comprehensive 'M-Check' has been completed, minor repairs to ensure a cycle is safe and roadworthy will be carried out.
Due to government guidance and to ensure we can see all bikes booking is essential.
To book follow the link below, click on the bike drop off time you require, bring it along on the day, leave it with us and we will get in touch a few hours later when it is ready to collect.
Battle Hill – Tuesday 3rd November
Linskill Centre – Wednesday 11th November
---
Before you go, we are planning on bringing beginners crochet back. If you are interested please email charlotte@linskill.org. 
Plus look out for our Mini Autumn Challenge in the next edition. 
Take care and best wishes
Janice, Charly, Alex and Lucy 
Your Community Development Team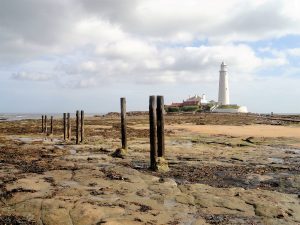 Finally, if you enjoyed the online heritage talk exploring our historic coastline why not visit our friends at the Old Low Light Heritage Centre's YouTube channel where they have uploaded some fabulous local history talks.