Linskill Community Development Team Community Grapevine Newsletter – 19 July 2020


It might be the summer holidays but we have still got loads for you to get involved with. Explore the local area with our active summer challenge, learn some new dance moves and record your experiences of the NHS in North Tyneside during the pandemic.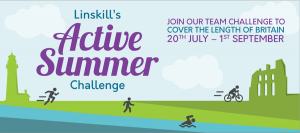 STAY CONNECTED
It's not too late to join the challenge. It officially starts tomorrow, Monday 20th July. So dust off those trainers and pump up the tyres and join us as we cover the length of Britain. 
Introducing Linskill's Active Summer Challenge!
Join our team and collectively let's cover 'Lejog' – which is shorthand for Lands End to John O'Groats. It's only 1198 miles if you follow the National Cycle Network! Pretty much everything counts including swimming, walking, running, cycling, scooting, skating etc….
Don't worry, this is a TEAM effort and every mile counts – whether you only log one or 100 it all adds up. Plus we have the whole summer to do it from 20th July to 1st September. 
It's free to take part and we have got loads of fun challenges along the way and some nifty prizes to give away too. 
All you need to do is follow the button to our registration page below. You will then be sent an email with all the details. You don't need any fancy kit to record your miles just your computer/phone/tablet to log your miles on our google form – easy!
Any questions email lucy@linskill.org
Register for Linskill's Active Summer Challenge
---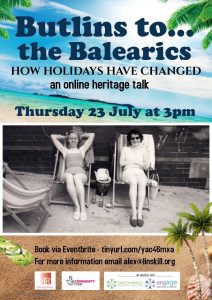 KEEP LEARNING
Don't forget on Thursday 23 July at 3pm you can join us for a trip down memory lane as we remember the summer holidays of the past and explore how holidays have changed over the decades.
Did you go to Butlins or Pontins? Did you have fun on the beach at Scarborough or Whitby? Did you go camping in the Lake District or did you prefer to stay local and take a trip to Spanish City or South Shields?
Alan, volunteer with Remembering the Past, will share some photos, memories and a brief history of summer holidays through the decades including the different holidays at home that were popular through to the package holidays abroad
 
This talk will be hosted via Zoom and you can get your meeting link via Eventbrite here.
Butlins to the Balearics online heritage talk
---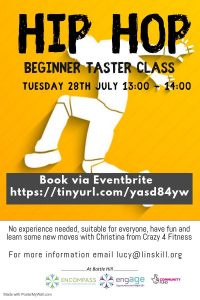 BE ACTIVE 
Don't be put off, Hip Hop can be for everyone and if you have done any of Christina's other classes you will know she will break all the moves down making it accessible for all.
Clear a bit of space in your living room, put on your dancing shoes and imagine you are on Strictly Come Dancing at 1pm on Tuesday 28th July. 
Suitable for all fitness levels, no experience or partner needed. 
Book your free place via Eventbrite below. You will automatically be emailed with the Zoom meeting ID. Any questions email lucy@linskill.org
---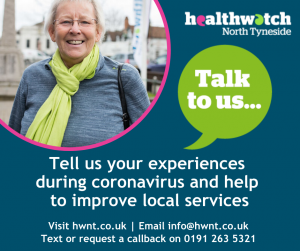 GIVE
Share your experiences during coronavirus and help to improve local services
Residents of North Tyneside are being asked to share their views and feedback on their experiences during the coronavirus outbreak in a new consultation being carried out by Healthwatch North Tyneside.
As lockdown restrictions ease and NHS and other health and care services plan their delivery, independent charity Healthwatch wants to ensure local people's voices are heard to help improve care for everyone.
Whether or not you have used services during this time, your feedback and views are really important and will be shared anonymously with service commissioners and providers to influence future provision. Tell us your experiences via a short online survey and look out for dates of Zoom focus groups coming soon!
---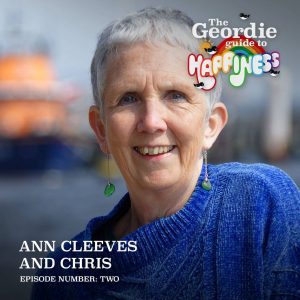 TAKE NOTICE
Episode two of The Geordie Guide to Happiness podcast is out now and 
features an interview with crime writer and creator of the Vera and Shetland novels, Ann Cleeves, who tells us about her writing routine and some of the places that have brought her happiness.
The Geordie Guide to Happiness – a brand new podcast exploring what makes the people of Newcastle smile! Funded by the Newcastle Cultural Investment Fund at The Community Foundation.
---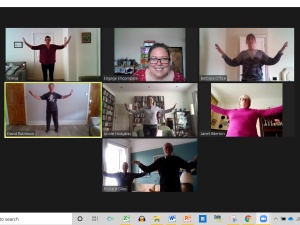 Over the next few weeks we will start to bring back some of our regular classes, although they will be a little different to what you remember. In the meantime here are the lovely Tai Chi group enjoying their class virtually. 
And don't forget…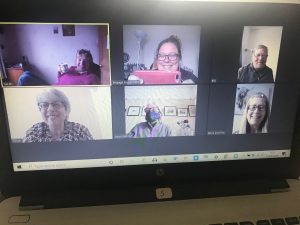 engAGE coffee morning and quiz happens every Friday at 11am. Just follow this  Zoom meeting link to join and don't forget your cuppa! 
Stay safe & best wishes
Janice, Charly, Helen, Alex & Lucy 
Linskill Community Development Team
---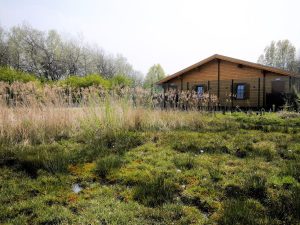 And finally,  
Groundwork South & North Tyneside are encouraging us to hug some trees for their latest outdoor learning video! When you get up close to a tree and you touch, smell and see it in detail, you really can get to know it well. They are showing us how to identify hawthorn, hazel, elder, ash and blackthorn in the summer.
---
Psst keep a look out for these upcoming events…
Christina will be teaching us some Salsa moves virtually on Tuesday 4th August at 1pm. 
The Art Appreciation group invite you to come and chat about how you would like future sessions to look.  Bring your cuppa and share your ideas on Monday August 10th at 1.30pm in the Melrose Garden Linskill Centre – booking details coming soon
The Hobby Club invite you to an afternoon demonstration on Eco Printing! Come and find out what it's all about from a safe distance!  Bring your own refreshments.  Thursday August 13th at 1.30pm – booking details coming soon.