Linskill Community Development Team Community Grapevine Newsletter – 2 August 2020


Another week of mixed weather but don't worry we have lots to keep you busy again. You can help us in the Linskill garden, have a go at tennis or join us on a bike ride.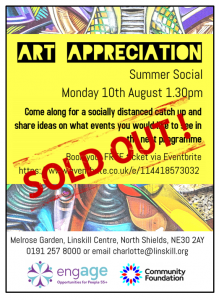 TAKE NOTICE 
Charly is delighted to say that all the tickets have been sold for the summer social but we would like to see what the interest would be for a second sitting at 2.45pm.  Please get in touch directly with Charly if this is something you would like to book onto by emailing charlotte@linskill.org
---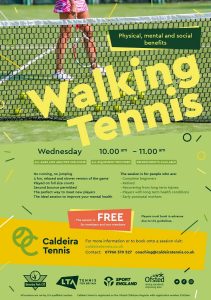 KEEP LEARNING
Check this out! Beverley Park Lawn Tennis Club in Whitley Bay have been awarded some funding to offer FREE weekly sessions in Walking Tennis!
---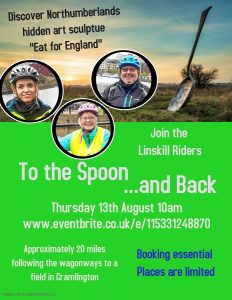 KEEP ACTIVE 
Join us for a socially distanced bike ride on Thursday 13th August at 10am. This ride is perfect for those who haven't been on their bike for a while or like to explore off road routes. Using National Cycle Network Route 10, this ride is virtually traffic free heading north in search of the fabled Giant Spoon. 
Due to social distancing restrictions we are having to limit numbers, so booking is essential. We also won't be able to stop for refreshments so please bring a drink and a snack. As always you need a road worthy bike (working brakes, inflated tyres etc) and it's a good idea to check the weather before you head out on the day. 
This ride will be meeting on the green opposite the Redburn pub and we expect to be out for approximately two hours.
---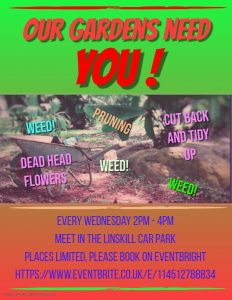 GIVE 
During lockdown our grounds and gardens at the Linskill Centre have obviously only had the minimum amount of care and attention. We are offering an opportunity each week for 6 gardeners to come for 2 hours and help us really improve the look and feel of the open spaces around The Linskill.
You will be working weekly with Helen from Encompass, a keen hobby gardener for 20 years and monthly with Howard Leslie who will be continuing his taught sessions for everyone with a small or confined garden space.
Book your places early via Eventbrite, and you'll get a confirmation email with all the details you need to join in and stay safe.
If this is popular we may be able to expand it to Tuesday and Battle Hill grounds as well…so don't forget to put yourself on the waiting list so we know what the demand is.
---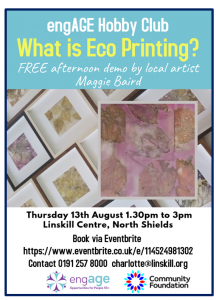 CONNECT 
We still have a few places left for our afternoon hobby club on Thursday 13th August at 1.30pm – Maggie will be bringing along some of her work to sell so a great chance to buy some handmade pressies from a local crafter.
---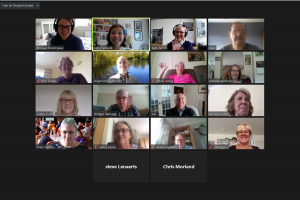 Although we are beginning to welcome groups back to Linskill we are continuing a virtual programme at Battle Hill. Last week Remembering the Past delivered a wonderful presentation on historic holidays with lots of attendees reminiscing about trips to Butlins. 
And don't forget…
Charly's engAGE coffee morning and quiz, which happens every Friday at 11am will be a bit different on Friday 7th August as she will be joined by Healthwatch who will be saying hello and giving a quick update. Just follow this  Zoom meeting link to join and don't forget your cuppa! 
Stay safe & best wishes
Janice, Charly, Helen, Alex & Lucy 
Linskill Community Development Team
---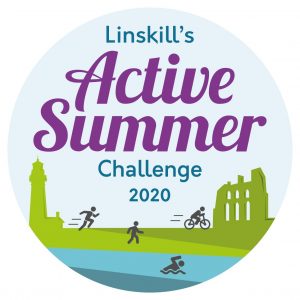 And finally,  
Another fab week (despite the rain) and we are now over in Norway! Our participants smashed the original target of covering Lands End to John O Groats so now we are trying to cover the North Sea Cycle Route – it's only 5480 miles (including the bit we have just done). Most participants aren't logging huge numbers, the majority (over 60 people are registered for the challenge) are logging a few miles a day and its really adding up. 
It's not too late to get involved and remember we have mini competitions every week too. Every step counts!
Register for Linskill's Active Summer Challenge
---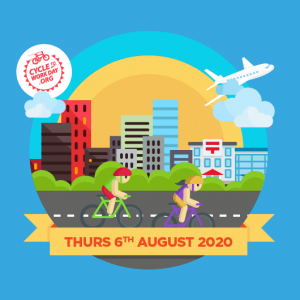 One more thing….
It's national cycle to work day on Thursday 6th August. 
A cycle commute isn't possible when you're working from home, that's why the organisers are shaking things up this Cycle to Work Day. You can cycle anywhere, for any reason and with anyone for the chance to win from their prize pot worth over £3,000. 
For more information visit the Cycle to Work Day website.